Marmot Eos 1P Tent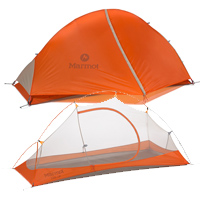 I have wished on many occasions that an ultra lightweight tent would magically appear in my pack after arriving somewhere spectacular on a day hike and not wanting to go home. With the Marmot EOS 1 Person tent, my wish has been answered. Along with my light and small Exped down mat, summer bag, and minimal cooking equipment, backpacking solo seems a lot more appealing with a tiny little tent to carry along.
There are 3 tents in the Marmot 1 Person tent line up: the EOS, the Pulsar (similar to the EOS but with more head room and a bit heavier), and the Starlight (closer to a bivvy than a tent, and the lightest, weighing just over 2lbs). Take a look at our review of the Marmot Pulsar 2P tent here.
If you plan to sleep under the stars or at a hut, having an ultra lightweight tent in your pack is not a bad idea either, for nights when unpredictable weather rolls in or the hut is jam packed when you arrive. It packs down so small you'll barely notice it's there.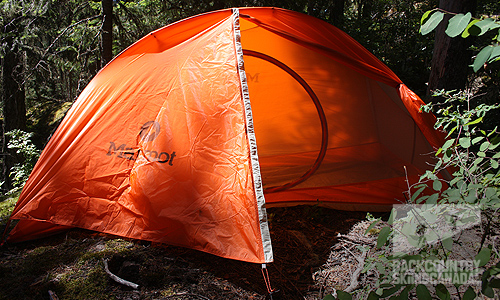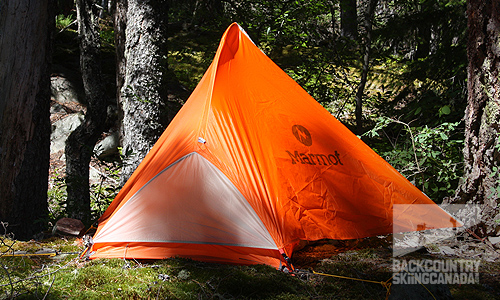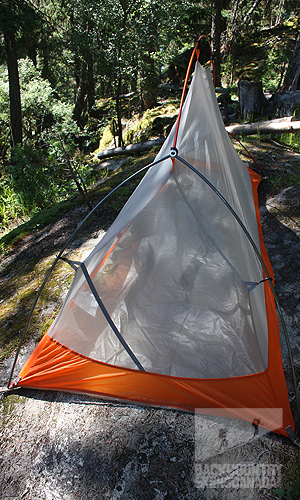 Features:
- Colour Coded 'Easy Pitch' Clips and Poles
- DAC Featherlite NSL Poles
- Interior Pockets for Small Gear Organization
- Jingle-Free Nylon Zipper Pulls
- Light-Reflective Points
- One D Shaped Door
- Seam Taped Catenary Cut Floor
- Seam Taped Full Coverage Fly with Vents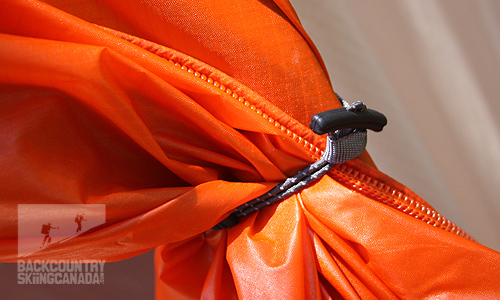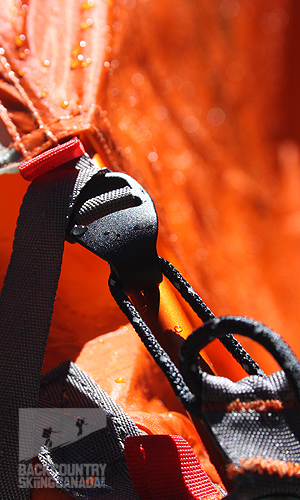 The EOS weighs in at just under 3lbs (or 2lbs 7oz with the bare bones). One litre of water weighs 2.2lbs, so the EOS is the equivalent of less than a litre and a half of water in your pack.. it's pretty darn light. It's always a drag to cart your 2 or even 3 person tent up the mountainside for a night on your own, so having a little 1 person tent on hand is extremely useful.
To keep the tent light, Marmot uses just one DAC Featherlight NSL pole (light and strong), lightweight clips, and nylon fabrics. Having only one pole to contend with sounds brilliant in theory but there are a few down points (more on this later). The big advantage to one pole however, is that it's dead easy to set up - stretch out the pole segments, line up the colours, and presto! Tent set up!
The EOS is has one large entryway, with the gear vestibule tucked to the side of the door, out of the way. The tent itself is all mesh aside from the floor, giving you 360 degree star viewing capabilities, right from your sleeping bag. The EOS tent is beautifully made, with technical, quality fabrics.
Depending on what kind of camping you're doing, you may need to add a couple of items:
1. The tent doesn't ship with a footprint (ground sheet), so plan to order this as well.
2. The EOS comes with 6 tent pegs and one piece of nylon cord which you'll need to cut into guy-wires yourself. I used a guy-wire from my other tent as a guide, and got less than 3 pieces out of the Marmot cord. If you camp in the alpine where there's rarely enough dirt to stick a peg in the ground, definitely bring some extra guy-wires for your first trip, as you'll need them.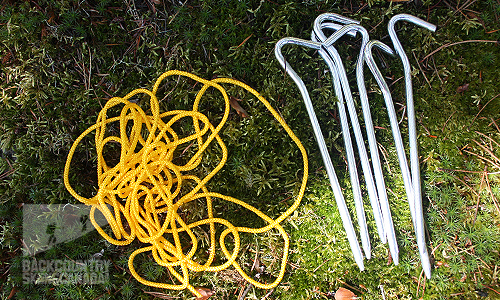 Materials:
- Tent Floor Fabric: 40D 100% Nylon 3000mm W/R, F/R
- Tent Canopy Fabric: 20D No-See-Um-Net F/R
- Tent Fly Fabric: 40D 100% Nylon Ripstop, Silicon/PU 1800mm W/R, F/R
- Tent Pole: DAC Featherlite NSL 8.05mm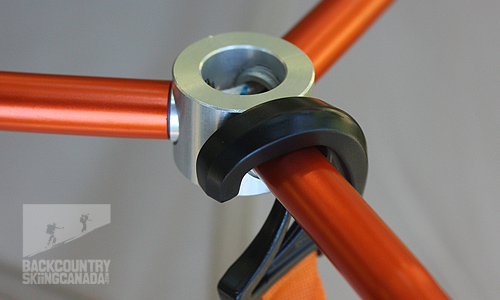 Marmot uses slightly tougher fabrics than some of the other tent manufacturers. The tent walls are made of 20D No-See-Um-Net mesh with a 40D nylon fly and floor.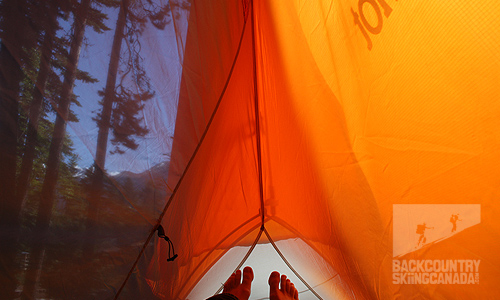 As I mentioned above, setting up the pole and tent are a breeze. The fly takes a little more time, as all of the guy-wires need to be pegged out. Skipping this will mean that the fly is sitting directly on the tent. This is due to the tent's shape. It is tall and narrow, so there is no structure on the side walls (ie. no poles) to keep the fly off the tent's mesh. I found this design disappointing, as it's nice to not have to tie guy-wires to the fly unless it's extra stormy or windy. There's often a toss up between having good features and being ultra lightweight, and the one pole design is where weight has been shaved off and the design has suffered a little bit for it.
At 5'3, I can sit up in the tent, although my head touches both walls at the top of the triangular peak. This tall narrow design is a little claustrophobic, and I would personally rather have a bit wider interior space, even if it meant sacrificing being able to sit up altogether. Having the door tied open makes the tent feel roomier, or skipping the fly altogether will do the trick as well. The pretty orange colour makes the interior bright and cheery, and lets a lot of light in.
The clips Marmot has chosen are great, and all of them are easy to use. Other pieces of Marmot gear I own have lasted beautifully, and it looks like this tent would be the same.. everything is well constructed and well stitched.

Verdict:
For a little person like me, I had plenty of space to stretch out in the EOS, and also had my 70lb dog inside at my feet. Despite how short I am, I still found the design of the interior claustrophobic, due to it's shape. Marmot's other 1 person tent, the Pulsar, looks like it has a better design for interior space (although it's also heavier too).
I'd like to see Marmot do a better job with the guy-wires, at the very least giving you enough cord even if they are not going to cut it into pieces for you. I think Marmot is onto something great with the one pole design, but it needs to hold the fly off the tent properly for me to be sold on it.
I loved the small little shape this tent folds into - it's easy to pack and doesn't take up much room in your bag. The colour is beautiful from the inside and outside, it hides the dirt, and the whole tent dries in a flash. In true Marmot style, all materials have been carefully selected, and the construction is top notch as you would expect.
SPECS:
Price: $249US
Color: Vintage Orange
Size: 91 x 94 x 220cm / 36 x 37 x 87in
Min Weight: 1114g / 2lbs 7oz
Max Weight: 1262g / 2lbs 13oz
Floor Space: 21sq ft
PROS:
- Bright cheery interior
- Easy to set up
- 360 degree star viewing
- Lightweight and packs down nice and small
- Dries quickly
- Quality materials and craftsmanship
- Big vestibule for gear that's out of the way of the door
CONS:
- The design is narrow and claustrophobic, and causes problems with the fly
- Doesn't ship with a footprint
- Need to cut apart your own guy-wires, and there's not enough of the cord
- The entire fly needs to be staked out in order to work
- No tie back for the vestibule side of the tent (you can only tie back one side of the fly)
Rating: 7/10
Interior Space     1/2
Design                1/2
Features             1.5/2
Weight                1.5/2
Quality / Price     2/2

This is only our opinion. Do you disagree? Did we miss something? Are we totally out to lunch? Join the discussion in the forums here, and let us know what you think. People like/dislike gear for different reasons so chime in and we'll get a well-rounded evaluation.
Back to the rest of the reviews.
---