Marmot Eos 1P Tent - Review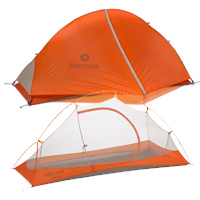 There are 3 tents in the Marmot 1 Person tent line up: the EOS, the Pulsar (similar to the EOS but with more head room and a bit heavier), and the Starlight (closer to a bivvy than a tent, and the lightest, weighing just over 2lbs). Take a look at our review of the Marmot Pulsar 2P tent here.
If you plan to sleep under the stars or at a hut, having an ultra lightweight tent in your pack is not a bad idea either, for nights when unpredictable weather rolls in or the hut is jam packed when you arrive. It packs down so small you'll barely notice it's there.
Read the full review of the Marmot Eos 1P Tent here.