Evolv Rasta Shaman and Prime SC climbing shoes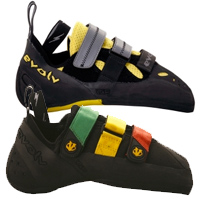 There are three things one must consider when purchasing a rock climbing shoe – fit, performance and rubber. For this review of the Prime SC (strap closure) shoe and the Rasta Shaman shoe, let's start with the rubber. Evolv says it's the only manufacturer that uses "environmentally friendly" rubber on its rock climbing shoes. The company decomposes selective pre- and post-consumer rubber waste and then reprocesses it to make a useable compound. Currently, 30% of the eco-TRAX compound used on select parts of their outsoles is recycled material. That's not a lot, granted, but at least they're trying. Does this "green" rubber actually work though? Like the glue on skins, rock climbing shoe rubber must perform in a variety of different conditions and temperatures. For this review, I took the Primes and the Rastas to a shaded bouldering spot, a few hot crags in the direct sunlight and the Primes came with me on a chilly, early morning alpine session on a north-facing route in the Valhalla mountain range. I can definitely say that the Trax rubber lives up to its "high friction" reputation. It felt solid on micro-edges as well as stuffed into cracks. The one downfall would be that, because both shoes are covered in black rubber, on the hot days my feet practically cooked in them. These are not the shoes you want for a sunny day in J-Tree in July.
The second thing to consider when purchasing a pair of climbing shoes is fit. Before I continue, I think it's important I tell you a bit about my feet because everyone is different. I'm a street-shoe size 9 but my left foot is about a 1/4-inch (0.6 cm) larger than my right. I do not suffer pronation, supination or Morton's Toe, and my arch is normal. I do have a relatively thin heel, though, and I require a large toe box (the width from the outside of my large toe to the outside of the knuckle on my small toe is 4.25 inches or 10.8cm. With that said, both shoes took about a month of climbing three times a week in them to feel comfortable. Evolvs are manufactured to street shoe specifications, which means that while I usually get a size 8.5 in other shoes, with the Evolvs I required a 9 and even then it took them both a long time to mold to my foot. (With the Rastas, I'm still experiencing some discomfort.) In both cases the heel cup definitely sucked my foot in and held it there even when I was bearing down on some hard heel hook problems in the boulder field. And the three Velcro straps on each were great for making minor adjustments enroute. However, with both, my pinky toe felt squished in the toe box (especially on my left foot) and, because of the amount of rubber on the toe cap, there isn't a lot of stretch. In the case of the Prime SCs, they felt better after a month but with the Rastas my toes continue to feel cramped in the toe box. This is normal in that every rock climbing shoes fits differently but in my case I'll be taking the Primes everywhere with me and I'll save the Rastas for short, hard projects.
Finally, let's talk performance, which is where both of these shoes excelled. In the case of the Primes, the down-cambered fit provided excellent edging control on vertical and overhanging terrain but the stiff soles also ensured excellent handling ("footing?") in the cracks. In one memorable moment I was in an overhanging 5.10d crack which had given me trouble in years past and this time, when I jammed the Primes in and locked them off, I felt like I could have dropped my arms and hung upside down on them. These are an excellent all-around climbing shoe that shines in crack environments.
Evolv Prime SC:
Price: $139 US
Sizes: 4 to 13.5 US men's (including half sizes)
Colour: Yellow and black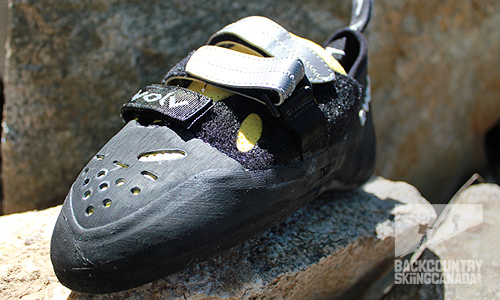 Features:
- Semi-symmetrical profile.
- Inner cotton lining.
- 9.3 oz per pair for a size 9 men's.
- 4.2mm TRAX® high friction rubber on the sole.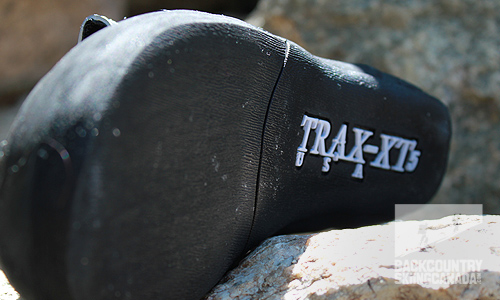 - VTR rand that's thicker in the front toe area.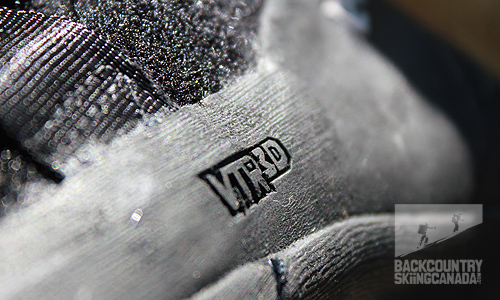 - Three opposing hook and loop Velcro straps.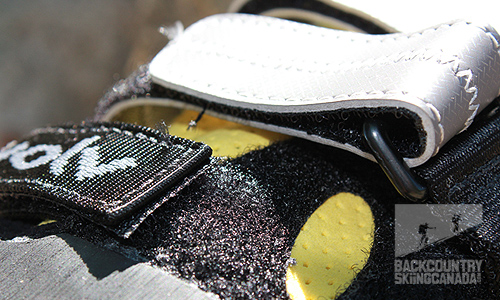 - One-piece toe patch with ventilation holes.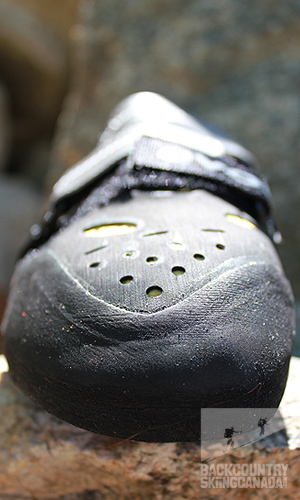 - Molded heel cup.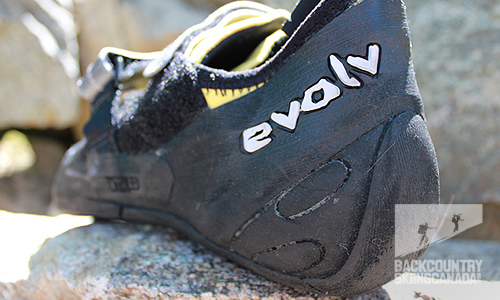 ---
Evolv Rasta Shaman:
Price: $165
Sizes: 4 to 13.5 US men's (including half sizes)
Colour: Rasta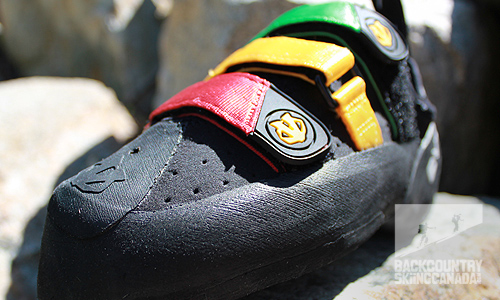 As for the Rasta Shaman, this is the company's most technically advanced and specific rock climbing weapon. Think of it as a Jedi lightsaber – you need some serious skill to wield it but when you do, the Force is with you. With it's über-aggressive shape that includes a highly asymmetric and down-cambered profile as well as a downturned toe, the Rasta is all about turning steep problems and overhangs into easy walks in the park. There's a 5.12 project at my local crag that I took these shoes on and I felt like they were laser guided to the dime edges and toe hooks that are mandatory on that climb. The two other aspects I liked about this shoe are the so-called "Love Bump" midsole, which forces the fleshy underside of your forefoot up and forward so even more power is transferred to your toes, and the "Knuckle Box" on the top part of the rand, which allows room for your big toe knuckle and keeps that toe wedged in a position of power. These two features combined remove any dead space behind the toes and maximize the amount of power you get out of your forefoot. Simply put, these shoes were created with 5.15 in mind – they're not what you'd want on a long, mellow alpine scramble.
Features:
- The lining is Microfiber in the forefoot, cotton in the heel and leather in the foot bed.
- 9.3 oz per pair for a size 9 men's.
- "Love Bump" midsole that fills the dead space behind your toes.
- "Knuckle Box" which forces your big toe to stay in a position of power.
- Three opposing hook and loop Velcro straps.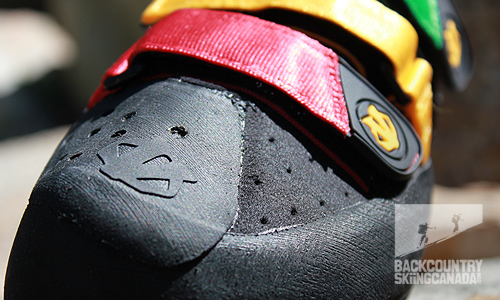 - Reinforced heel cup.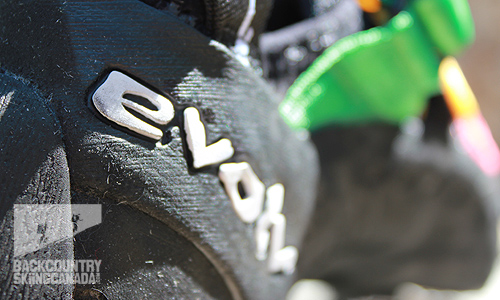 - Highly asymmetric and down-cambered profile.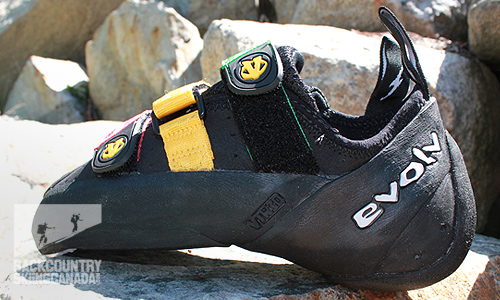 - Downturned toe.


- 4.2mm TRAX rubber on the sole.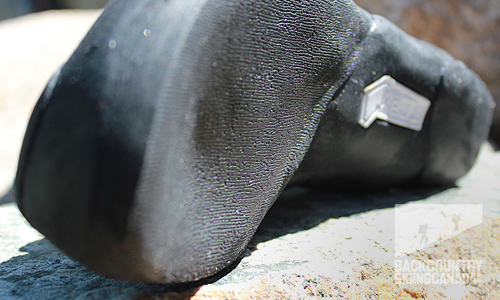 Verdict:
The Evolv Prime SCs are near the top tier of the company's performance shoes but with their semi-symmetrical profile and down-cambered fit they're comfortable for any type of climbing. Whether you're heel-hooking a V5 boulder problem, toe-hooking a 5.12 roof, edging up a 5.7 alpine climb or jamming a crack, the Prime SC will do it all. This is, quite simply, one of the most versatile shoes I've ever owned. The overall fit is fantastic – as mentioned above, the heel cup sucks my foot down and holds it there, the three opposing Velcro straps allow for a variety of adjustments and the toe box is relatively wide. Because of this rounded toe area, however, these shoes aren't the ones you'd want to use on a steep, heavily pocketed face. And, with all the rubber around the toe it takes longer to break these shoes in. Speaking of the Trax-XT5 rubber, it definitely impressed me. It has characteristics similar to Five Ten's Stealth in that it's sticky but stiff, but Evolv is environmentally conscientious in its processing. The shoe's tongue is padded and comfortable and, because of its clam-shell style, it's easy to get these shoes off and on. Just a reminder, though, that although these shoes perform well in all conditions, they have too much black rubber all over them to climb comfortably in hot, direct-sun environments.
As for the Rasta Shamans, these shoes are at the very top echelon of Evolv's offerings. (Which explains their hefty $165 price tag.) They are so technically sophisticated they look more like the head of an ice tool than a shoe. If you're an intermediate to advanced climber, the Rastas would be a good addition to your quiver for any steep, overhanging environment you may find yourself in. Their asymmetrical shape is all about driving your toes forward to maximize power, while removing any dead space underfoot and behind the toes. This shape is specific, though, and not all feet will fit comfortable. Plus, with all the rubber around the toe box and rand, these shoes take a long time to break in so you'll want to make sure you try them on before you buy and definitely don't get them too small as they're not likely to stretch. The Rastas aren't an "all around" shoe by any means but they were designed by Chris Sharma, one of the best rock climbers in the US, and presumably he knows what's needed in a shoe to climb the world's hardest routes.
Ratings: Evolv SC 9/10, the Evolv Rasta Shaman 8/10.
The Evolv SCs in action.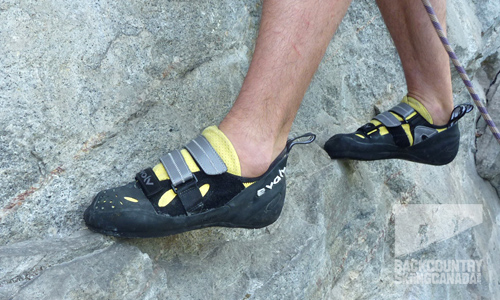 Glamour shot of the climber and the shoes.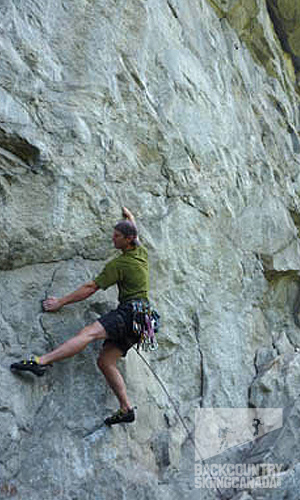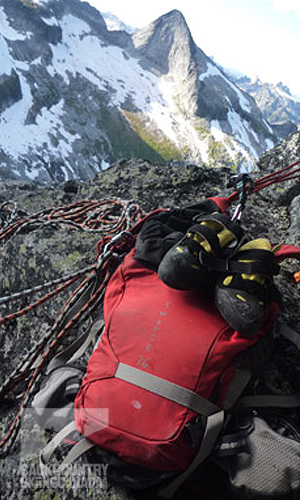 PROS:
- Sticky, yet stiff, Trax-XT5 rubber
- Three opposing Velcro straps for minute adjustments
- Comfortable semi-symmetrical fit for all climbing environments
Evolv Rasta Shaman:
- The "Love Bump" midsole and "Knuckle Box" on the top of the rand force your toes forward while minimizing dead space which translates to more power
- The 2012 version of this shoe has three opposing Velcro straps instead of two to maximize custom fit
- The specific design is perfect for toe-ing onto tiny edges and milking two hooks
CONS:
- Expensive at $139
- Because of all wrap-around rubber, it takes longer to break these shoes in
- The plethora of black rubber on these shoes makes them hot in direct sun environments
Evolv Rasta Shaman:
- One of the most expensive climbing shoes ever at $165
- Asymmetrical fit with a wrap-around rubber rand means lots of "breaking in" time is required
- Not an all-day, multi-discipline shoe
For other Evolv product reviews have a look at the Evolv Geshido SC rock climbing shoe and the Evolve Cruzer and Bolt approach shoes.

This is only our opinion. Do you disagree? Did we miss something? Are we totally out to lunch? Join the discussion in the forums here, and let us know what you think. People like/dislike gear for different reasons so chime in and we'll get a well-rounded evaluation.
Back to the rest of the reviews.
---