Evolv Cruzer and Bolt Approach Shoes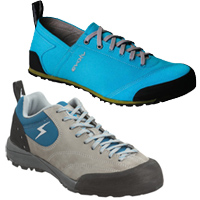 Evolv Sports & Designs Co. is a U.S. based climbing footwear company that is working towards being environmentally friendly and sustainable. They worked with TRAX® Rubber, to develop eco-TRAX, a recycled content high friction rubber compound that they put on their shoes. Evolv currently sells four styles of high traction approach shoes along with their climbing shoe roster. I reviewed two of them, the Cruzer and the Bolt.
"Approach Shoes" are a tricky label. If you walk into MEC, you will find a wall littered with probably 15-20 options of approach shoes, and peoples expectations from an approach shoe will vary just as much. A large number of folks think of an approach shoe as a light hiker. And some light hikers are labeled approach shoes. So fair enough.
Personally, I think of an approach shoe as a cross between a hiking shoe and a rock climbing shoe. When I buy an approach shoe, I want a shoe that will allow me to hike to the base of a climb, which may involve scrambling on steep or exposed rock. I would also like to be able to climb easier grades in said shoe and thus avoid carrying them in my pack all day. This breaks down into the following: a snug fit, flexible sole, and sticky rubber with the toe rand coming up over the toe to allow for smearing or a bit of edging. By comparison, a hiking boot or trail runner will have a sole that has deeper grooves or lugs in it to provide traction on the ground or in the dirt, as well as a stiffer sole.
The Cruzer fit the bill for me. The fit is definitely snug, which is great for climbing but I have heard complaints that they fit too tight, however I happily climbed easy face routes in them. Keep in mind that these are a low profile shoe. This means they are great for stuffing into your tiny multi pitch climbing pack, or hanging off your harness by the heel tabs, but there is a price to pay for this minimalist shoe. They do not offer much cushioning or arch support and my feet fatigued from hiking long distances in them. And if you have to descend a scree field, your ankles will suffer, as will the shoe. Made of cotton canvas, I do not think these are the most durable shoe. That being said, they are stylish and I find them comfy to "cruze" around town. They come in 6 fun colors and are being compared to Toms shoes, but with sticky dot rubber! Their look and functionality, combined with the price tag, has them winning awards from various climbing magazines.
The Bolt is more humble than the Cruzer and has the look of your classic approach shoe with a nubuck leather upper and rubber wrap around toe rand. It has lugs better designed for hiking (0.5 cm under the heel, less under the toe), and I found it to be a more comfortable walking shoe, with a roomy toe box and more cushioning. I still wouldn't say this shoe is as supportive as a hiking boot, nor is it as bulky as a hiking boot. While the Bolt does have an edging platform underneath the toe (a smooth section under the toe), I found edging to be tricky while attempting technical climbing, probably due to the looser and roomier fit of the shoe. The rubber does provide good grip and I had no traction problems whilst boulder hopping in the rain!
So lets take a closer look at both of these two shoes: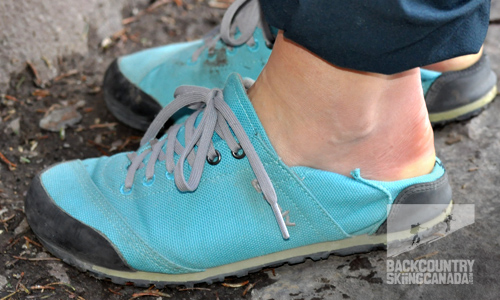 Features:
Closure: Has a lace closure system with two eyelets and a dual overlap tongue. The lace system is nice for keeping the shoe nice and tight. The dual tongue prevents it from slipping from one side to the other.
Heel Pull tab : can clip to your harness or pack
Folding heel: "For slipper like convenience". If you like to crag, you will appreciate this thin and flexible heel, as it allows you to quickly slip on the shoe and belay your partner between burns on your project.
Materials: The Upper is made of cotton canvas with medial vents, so provides good breathability, but has no water resistance at all.
Outsole: TRAX® high friction rubber with edging platform for the outsole and a durable toe rand.
Sizing:
The Evolv Cruzer fits snug, like a climbing shoe. With socks on, there is no wiggle room, and without socks, I think they are quite comfortable. Evolv recommends on their website to go one size down for the best fit. I found that by choosing my current foot size, they fit perfectly, (but found all their other shoes to be about a half size too big for me).
Verdict:
Perfect shoe for grabbing a coffee and sauntering over to the crag, or climbing a cruzer multi-pitch with an easy approach. The last is built on a running shoe but my feet couldn't handle walking long distances in them with a heavy pack. I have noticed a bit of fraying in the stitching and the pull tab tore out a bit when I reefed hard on it one day, so I question the durability of them, however the new generation of the Cruzer apparently has reinforced stitching on the upper forefoot and stronger glue to prevent blowouts. I think they are a great shoe for the price!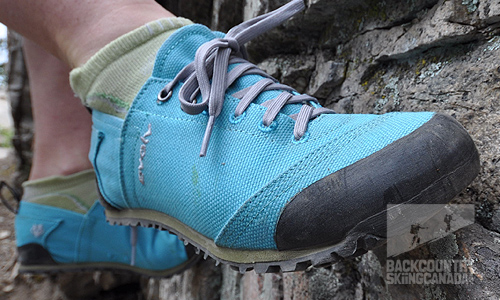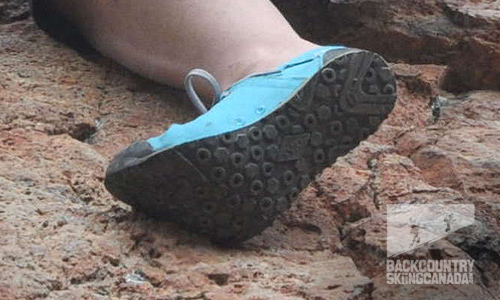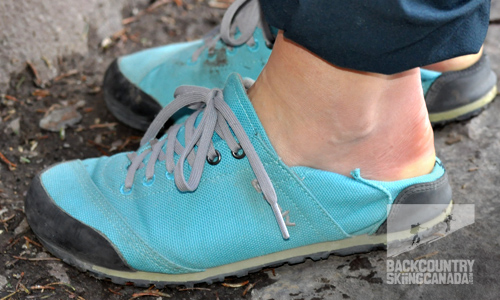 SPECS:
Price: $75 US
Weight: 218g / 7.7oz (1/2 pair size 9)
Sizes: US Men's 4-14 (incl. 1/2 sizes from 4-12) & Women's 5-12 ( incl ½ sizes available from 5-9)
Colours: Black, Slate, Red, Toffee with Purple and Turquoise for women.
PROS:
Great for multi-pitch routes. Super lightweight. Stylish.
CONS:
- Not comfortable for hiking long distances due to lack of cushioning and stability.
- Not great in scree fields due to low profile.
- Durability
Rating: 8.5/10
Innovation: 1.5/2
Function: 1.5/2
Aesthetics/Fit: 2/2
Features: 2/2
Price: 2/2
---
Evolve Bolt Shoe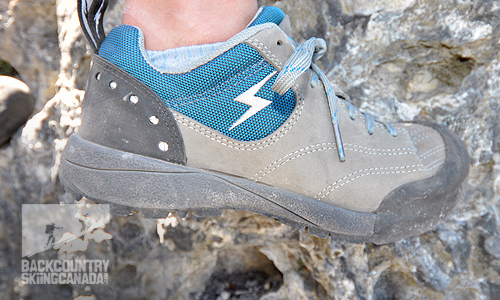 Features:
Closure: Simple lacing system and a padded tongue.
Heel pull tab: Useful for pulling on the shoe and clipping to your harness or backpack.
Materials: Nubuck and ballistic nylon upper. Although not waterproof, provides good water resistance.Toe and heel are reinforced with rubber. Mesh lining.
Outsole: High friction TRAX® rubber with edging platform (smooth section under the toes)
Sizing:
I found the sizing of the Bolt to fit about half a size larger than my regular shoe size. Quite different sizing from the Cruzer. I would recommend trying these on before buying.
Verdict:
Overall I really liked these shoes. I would use them for long scramble days or hikes, and consider using them for very easy multi-pitch climbs. I find the rubber to be very grippy, and think the shoe is quite durable and tough in all weather conditions.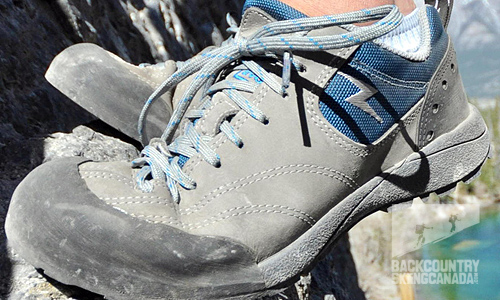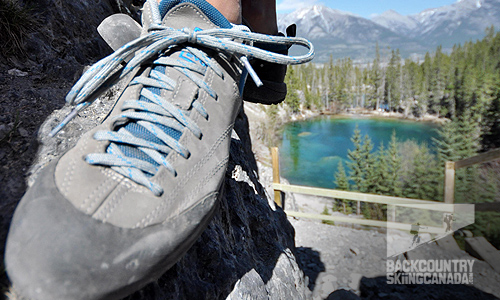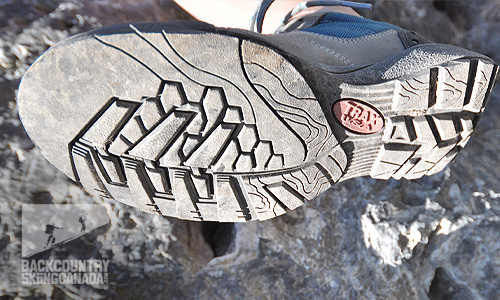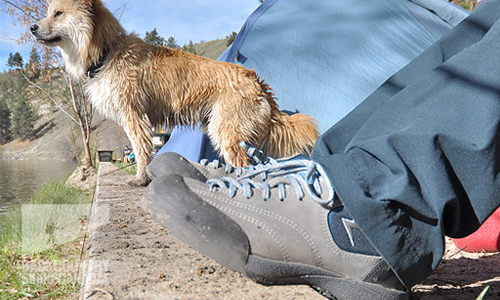 SPECS:
Price: 100$ US
Weight: 737g / 1 lb 10oz
Sizes: US Men's 4 to 13 (including half sizes)
Colours: Grey with blue or grey with orange.

PROS:
- price, sticky rubber toe is nice, comfortable
CONS:
- bulky, not great at edging, lugs aren't useful in a climbing application
Rating: 9/10
Innovation: 1/2
Function: 1.5/2
Aesthetics/Fit: 1.5/2
Features: 1.5/2
Price: 2/2
For other Evolv product reviews have a look at the Rasta Shaman and Prime SC climbing shoe, and the Evolv Geshido SC rock climbing shoe.

This is only our opinion. Do you disagree? Did we miss something? Are we totally out to lunch? Join the discussion in the forums here, and let us know what you think. People like/dislike gear for different reasons so chime in and we'll get a well-rounded evaluation.
Back to the rest of the reviews.
---