Evolv Cruzer and Evolv Bolt Approach Shoes - Review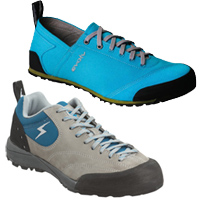 "Approach Shoes" are a tricky label. If you walk into MEC, you will find a wall littered with probably 15-20 options of approach shoes, and peoples expectations from an approach shoe will vary just as much. A large number of folks think of an approach shoe as a light hiker. And some light hikers are labeled approach shoes. So fair enough.
Personally, I think of an approach shoe as a cross between a hiking shoe and a rock climbing shoe. When I buy an approach shoe, I want a shoe that will allow me to hike to the base of a climb, which may involve scrambling on steep or exposed rock. I would also like to be able to climb easier grades in said shoe and thus avoid carrying them in my pack all day. This breaks down into the following: a snug fit, flexible sole, and sticky rubber with the toe rand coming up over the toe to allow for smearing or a bit of edging. By comparison, a hiking boot or trail runner will have a sole that has deeper grooves or lugs in it to provide traction on the ground or in the dirt, as well as a stiffer sole.
Read the full review over here in our Gear Review section.