Evolv Geshido SC Rock Climbing Shoes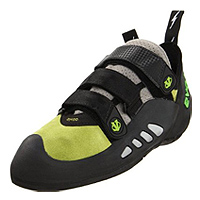 Evolv is a California based company that is striving to be environmentally conscientious and sustainable, while producing quality climbing shoes. Along with TRAX® Rubber, they developed eco-TRAX, a recycled content high friction rubber compound to make environmentally friendly climbing shoes. The other awesome revolutionary thing about evolve is that when you order a pair of shoes, they don't have to be the same size! Most people do have one foot that is bigger than the other and this difference is often highlighted in climbing shoes when we are looking for a tight fit. (I don't know how many times I have tried on shoes at MEC and opened up the box to find that some dirtbag climber has swapped one of the shoes out.) With evolv, you can order the size you want for both feet, (for an extra fee of course).
The Geshido SC is one of evolv's "Sharma signature series" shoes, meaning Chris Sharma had a say in the design of the shoe. If you want a generalized shoe that performs well at many things from climbing toe hooking on steep sport routes to jamming in cracks, this may be the shoe for you.
The Geshido has an asymmetric down cambered last – this translates to more aggressive edging. The "love bump, a design feature to reduce dead space under the toes and disperse energy to your toes for more power and edging control, flattens out while walking around on it, which makes it quite a comfortable multi-pitch shoe. This shoe has a thin, low profile forefoot which allows you to jam your toes into thin cracks, and thanks to the 1 mm full length midsole, your foot is nicely protected in the crack. The full length midsole also helps with edging, however I did find that the Geshido smears decently too, probably due to the flexible toe. (I would like to note that the Geshido lace up version has a 1mm half length midsole compared to the full length in the SC.)
The shoe also has a split tongue, which I didn't like at first because it takes an extra second to flatten it out and I am that lazy. However once I took the time to adjust it properly, I found it makes the shoe super comfortable. The closure system consists of three multidirectional velcro straps which secures your foot snugly in the shoe. The high heel cup seems to be standard on evolv shoes. I actually felt that the heel cup felt a little loose on my foot, but I have a typical womens narrow heel, and this shoe is a unisex shoe so I wasn't expecting a good fitting heel cup. Overall I found the fit to be true to my actual shoe size. I could have maybe gone down ½ size but I am pretty happy with the fit overall.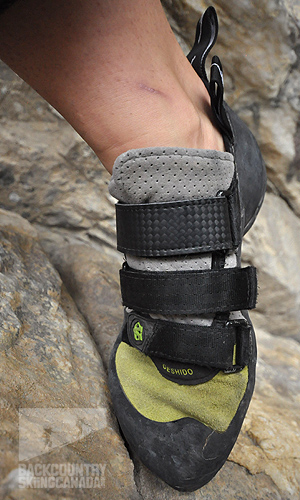 So you are probably wondering how this "green" rubber tests on the rock. Not bad. I find that temperature and rock type, as well as how worn the shoe is, all affect the stickiness of the rubber. Switching from La Sportiva shoes, it took me a few weeks to trust my feet and get used to the different feel of the shoe, and at first I didn't like the rubber, but it feels bomber now. Another neat gimmick with evolv's shoes is their VTR rand, which stands for Variable Thickness Rand. The idea is to have strategically varying degrees of thickness on the rand. For example, the toe is an area of the shoe that gets a lot of use, so evolve made the rand thicker (4.2mm) in that spot to increase durability, but has a thinner rand in areas of less wear (so as to reduce hot spots and pressure points).
Features:
Upper: Asymmetric downturned last
Closure: Three multidirectional Velcro straps with the hook and loop system
Sole: 4.2 mm TRAX high friction rubber
Rand: VTR3D variable thickness rand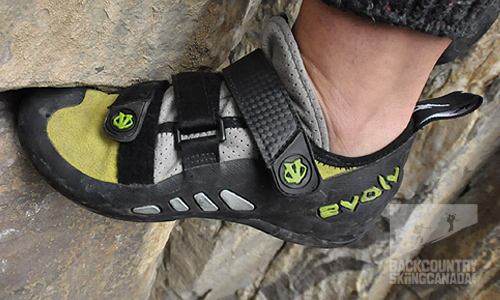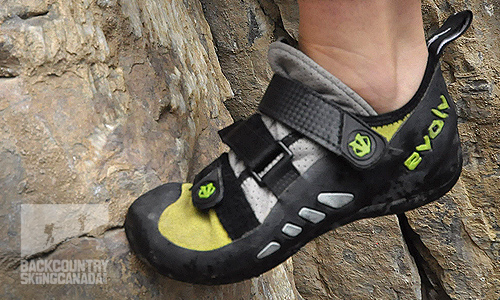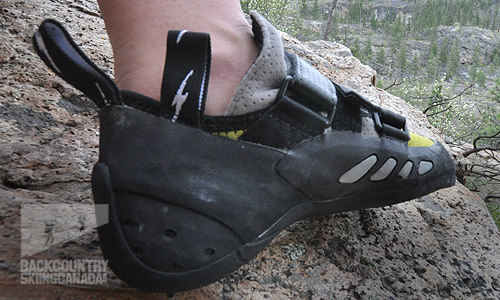 Verdict:
If I was only going to own one pair of shoes, this would be it. It is a "jack of all shoes". It is a comfortable shoe that I can wear all day crack climbing and not get foot fatigue, but I also find it to be great on steeper sport routes. If I am getting on a super hard, technical face climb I will switch shoes, but as a general all rounder shoe, this gets two thumbs up!
SPECS:
Price: $130 US
Sizes: 4-13.5 US
Weight: 9.8 oz (1/2 pair mens size 9)
Color: yellow/black
PROS:
- Comfortable asymmetric shoe
- 3 opposing Velcro straps for quick on/off and snug fit
- Low toe profile and full length midsole makes this shoe great for jamming in cracks
- Durable rubber
CONS:
- It does not come in a womens specific version
- Price is steep at $130 but maybe that is the price you pay for going green
Rating: 8/10
Innovation 2/2
Function 1.5/2
Aesthetics / Fit 1.5/2
Features 2/2
Quality/Price 1/2
For other Evolv product reviews have a look at the Rasta Shaman and Prime SC climbing shoe and the Evolve Cruzer and Bolt approach shoes.

This is only our opinion. Do you disagree? Did we miss something? Are we totally out to lunch? Join the discussion in the forums here, and let us know what you think. People like/dislike gear for different reasons so chime in and we'll get a well-rounded evaluation.
Back to the rest of the reviews.
---