Casio-Pathfinder-PAW-2000-1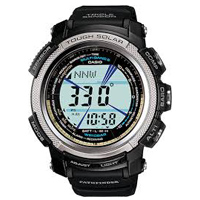 The Casio Pathfinder PAW-2000-1 features the triple crown of sensors/features with an altimeter, compass, and barometer/thermometer. Oh, and it tells time too. Casio is no stranger to watch making—as well as other electronics. In fact, the multinational electronics company, HQ'ed in Tokyo, manufactures calculators, mobile phones, cameras, musical instruments and watches.

The Pathfinder/ProTrek series is intended for the more outdoorsy set, with features designed specifically for navigating, and being comfortable, in the backcountry. When many people think of Casio watches, they think of the G-Shock series. 'know the ones I mean? They look a little like the transformer toys with lots of stuff going on? Well the Pathfinder series is a lot cleaner—but still has a bit of a "busy" aesthetic.

I may not be the best qualified to write this review. My eyesight is failing and I have trouble with stuff like nested menus. When you hear "idiot proof" I am the "idiot" to whom they are referring. There are some things I really like about the PAW-2000-1, and some things I think could be improved upon. It's an uphill battle for watches like this and I think some other makes on the market have done a better job at navigation and functionality. The new breed of watches (Suunto/Garmin) have integrated GPS technology which opens up many doors (or cans or worms, depending on how you look at it). To see all the "technology" we've reviewed on the site, go here. The Garmin Fenix 3 watch may be the bestest and brightest, with the Suunto Ambit3 coming in a close second.

What better way to show you the features than with a whack of pictures, starting with the more basic features first.

Yes, it even tells time. Here is the "base" setting featuring the time in the middle zone, day of the week and date up top and seconds below. The little tiny triangle below the 26 is the battery level indicator—L – M or H. The watch almost always seems to be charged to "high."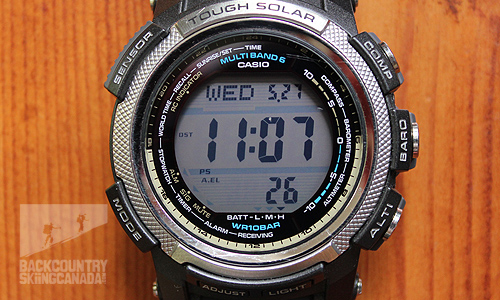 Here's the compass and the duplex LCD screen at work. The compass points go to three letters (eg., SSW, NNE, etc). The compass is accurate but ensure you hold the watch flat for a good reading. The compass button, as you can see, is top right. The thickest, three-band arrow always indicates north.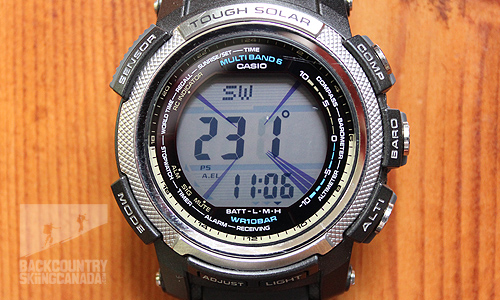 One button down is the barometer—always handy to help determine whether weather is about to get bad (or good). See the screen's top left for a graphical representation of the barometric history/trends. A downward trend means deteriorating weather or precip—often good news for backcountry skiers. The temp is top right (be sure to take it off your wrist to get and accurate reading). The barometric (or atmospheric) pressure is provided centre stage in hPa's. Note the duplex LCD here allows for a little arrow reinforcing your selected function. The type is so small, though, that it's tough to read the functions on the perimeter.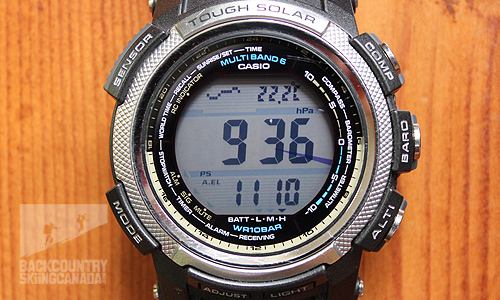 Next up, the altimeter. Which, like the barometer, works on atmospheric pressure. As with the baro, top left is the little graphic indicating elevation gain/loss, top right is the differential, altitude is centre stage (I have it set for metric). The time of day appears at the bottom.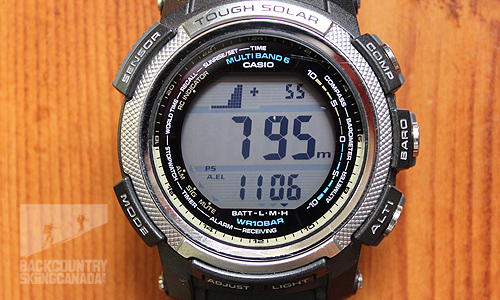 Here is record mode when you want to mark and record your highest and lowest altitudes. The printed user's guide provided with the watch is like The Joy of Cooking in that, in explaining or instructing, it refers you to other pages. This, coupled with the micro print, makes for a tough go.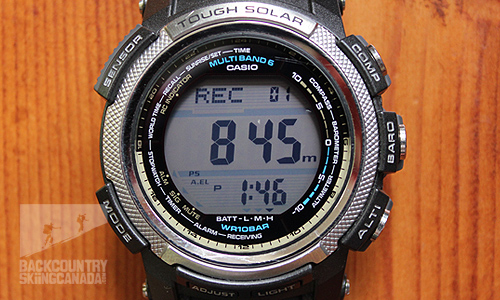 Here's where I get lost. This, I believe, is the max altitude that I inadvertently recorded. I can follow one submenu—but not two. I'm not saying someone more skilled than I couldn't figure this out. It's just not idiot proof. Not by a long shot.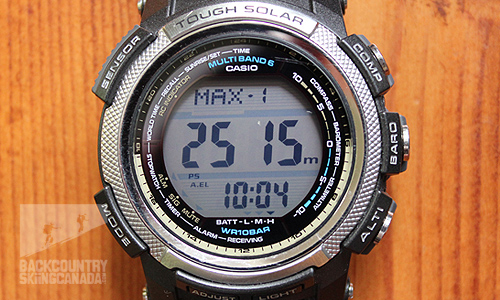 This is a cool feature. It enables you to indicate your home city. Here in Nelson, BC, Vancouver is the nearest city included so that's what I picked. Without dragging you through all the gory details, indicating your home city helps with receiving the time calibration signal and daylight savings time.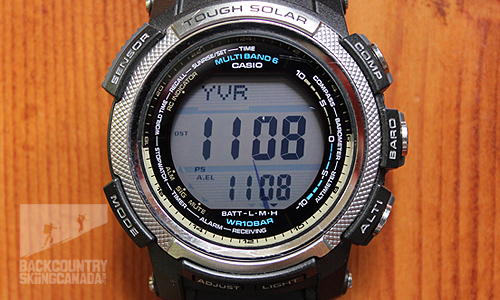 Here's the stopwatch mode. Pretty straightforward.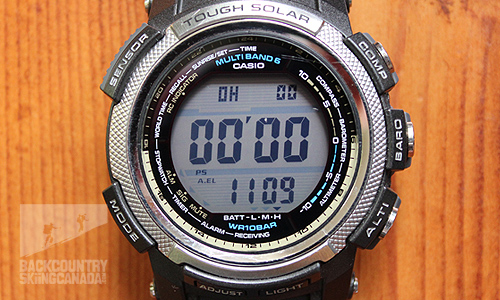 Self explanatory. See the mode buttons.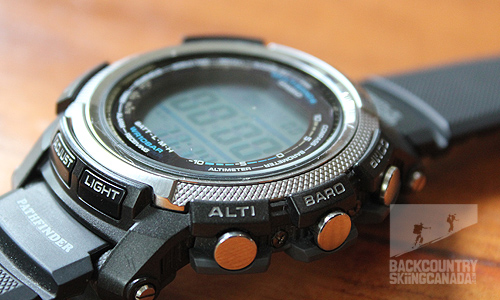 The watch-to-watchband interface is well thought out. The little "paddles" you can see contribute to comfort.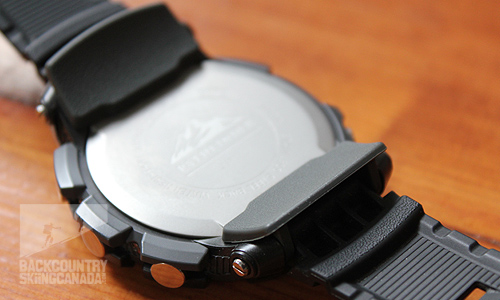 Comfortable resin strap.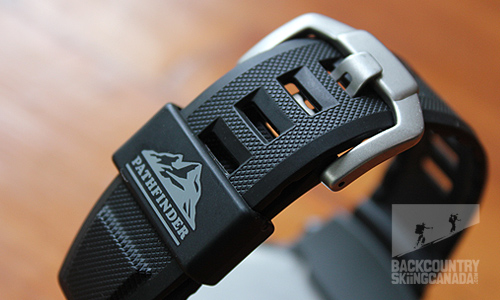 A good looking timepiece. Not humungous like so many watches of this type. Suitable for a casual office or on the trail.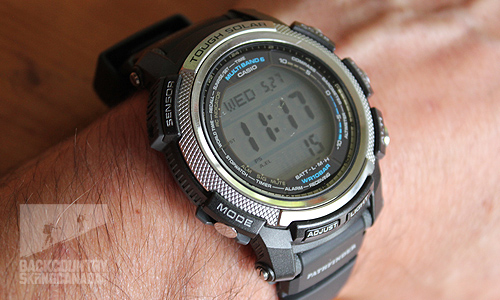 Features:
- Multi-Band Atomic Timekeeping (US, UK, Germany, Japan, China)
- Tough Solar Power
- 100M Water Resistant
- Sunrise/Sunset Data
- Duplex LCD
- Digital Compass, Altimeter, Barometer, Thermometer
- Full Auto EL Backlight with Afterglow
- World Time
- Countdown Timer
- Hourly time signal
- Battery power indicator
- Power saving function
- Full auto-calendar (pre-programmed until the year 2099)
- 12/24 hour formats
- Button operation tone on/off
- Accuracy: +/-15 seconds per month (with no signal calibration)
- Storage Battery: Solar rechargeable battery
- Approx. battery life: 5 months on full charge with Power Saving Function (without further exposure to light)
Verdict:
I think it's a tough time for basic "ABC" altimeter watches. With the advent of iPhone apps (which often provide better altimeter readings than the Casio Pathfinder PAW-2000's, in my experience) and full featured GPS-enabled units like the Garmin and Suunto, which I mention up top, the Casio Pathfinder may be more of a "weekend warrior" altimeter watch. It's for people who like to check out their altitude occasionally, or who like to know whether the barometric pressure is falling. Don't get me wrong, this watch could totally save your bacon in some situations. I found that if I set a reference altitude, for example, and used the compass at the same time, the watch was very handy for setting a course to an objective.

My point is that, the Casio's functions don't come together or "talk to each other" the way they do in some of the next-level watches. It feels like the watch's developers didn't always put themselves in shoes of people in the backcountry, consider the most valuable features, and work backwards from there. It's more like a standard watch with some really cool and handy features added on.

It'd be great if there was some more flexibility to feature things like elevation gain or loss in the watch's large, "centre stage" position rather than tucked away in the top left corner where it's hard to really see the trends. With some watches now offering "Apple watch" style navigation, colour screens and pinpoint GPS, the PAW 2000 is less full-featured; albeit less expensive.
The Casio PAW-2000-1 in the field.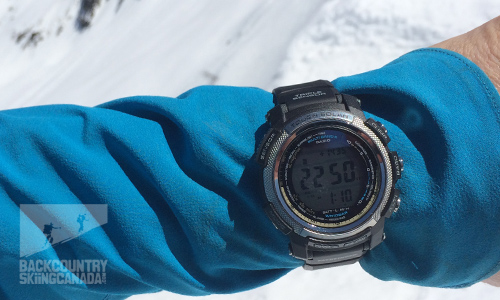 SPECS:
Price: $449 CAN
Dimensions: 56.2 x 50.2 x 11.3mm
Weight: 69.1g / 2.4oz
Colour: Black with silver
PROS:
- At 11.5mm, the PAW 2000-1 is part of the Slim Design series and way thinner than some of the behemoth-sized alti-watches out there
- I like the flick-your-wrist-and-the-light-comes-on feature
- Solar power means never having to wind it
- The duplex LCD screen is super cool and allows for viewing two attributes at once
- Comfortable resin band
- Doesn't look too "geary" – works in the office
CONS:
- Watchface is too busy—many elements are illegible
- Menus are a little complex and difficult to remember/navigate
- Provided manual also features tiny font
- The radio controlled atomic timekeeping is cool but it doesn't seem to work in my middle-of- nowhere town. It probably works great in the big city.
Rating: 7/10
Ease of use: 1/2
Features: 1/2
Quality: 1.5/2
Size: 2/2
Price: 1.5/2

Back to the rest of the reviews.
---