Design and use:
Most GPS watches tend to be large and uncomfortable on your wrist but the Garmin Fenix 3 is actually smaller and lighter than the very popular Suunto Ambit3. Not by much, 2mm smaller and 4 grams lighter but every little bit helps mind you. The Fenix 3's appearance is not as bulky as the Ambit3 as it has a larger screen which makes it appear flatter and it does not have the large GPS module on the band like the Ambit3 does. The design of the Fenix 3 is technical, however it's all metal housing is sleek and stylish and the Fenix 3 can easy be worn as a formal time piece with a simple switch of the screen face to perhaps an analogue design. The buttons around the screen are large and easy to use and their placement is relatively intuitive. You can power off the Fenix 3 with the push of a button to save battery power. To charge the Fenix 3 you simply attach it to your computer's USB port, perhaps while you are downloading data or you can use the provided plug adapter to charge it from a regular wall socket. With a battery life of up to 50 hours in tracking mode and 6 weeks in watch mode the Fenix 3 can provide data for multi-day trips as well as the time for over a month thanks to the e-ink LCD display which is power efficient. This display is also designed to be 'transflective', which means it's still visible in direct sunlight, a nice feature.
The sequence and layout of menu screens is very intuitive and easy to read thanks in part to the high resolution 218x218 pixel colour screen. Data is crisp and clear and the colour adds some fun and focus to important items. Garmin has paid special attention to type and layout as is evident on the default time screen which is beautiful in its simplicity. You really do have to view the Gamin Fenix 3's display face for yourself to appreciate how beautiful it is.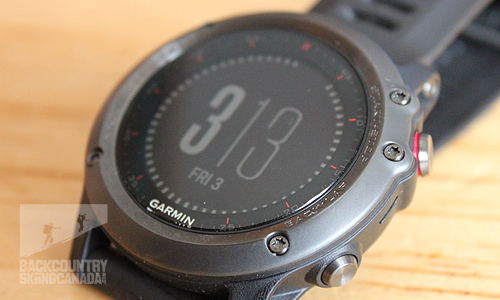 GPS:
Acquiring a GPS signal is super quick with the Fenix 3. It also locks on for the duration of your tracking which has to do in part to the new "EXO antenna" built into the face of the watch which helps with signal reception. The rest of the credit goes to the GLONASS (GLObal NAvigation Satellite System) which is a Russian-controlled satellite system that is said to have improved accuracy over regular GPS. Once you lock onto a GPS signal and are tracking your activity you can place up to 1,000 waypoints by simply clicking the up button and selecting save. You can also pause your tacking and resume later which is handy for multi-day trips and activities or perhaps just stopping for lunch.
The list of features in the GPS mode goes on to include an 'auto-climb' mode which will automatically change to pertinent data screens for you when you're gaining elevation. In terms of viewing previous logs, you can view saved logs on the Fenix 3 itself as well as on 'Garmin Connect' which is the on-line resource/community where all your data can be stored for free. A program called Garmin Express seamlessly connects the Fenix 3 to the Gamin Connect web site via your computer. Once there you can view and manipulate your data in a multitude of variations as well as re-play your route over time. You can even view your sleep analysis if you wear your Fenix 3 to bed with the Activity Tracker turned on. A separate website but one also well worth exploring is the Garmin Connect IQ store, this is where you can download apps for all Garmin devices as well as some pretty cool watch faces for the Fenix 3!
Aside from the features and technology mentioned above one of my favourite things about the Gamin Fenix 3's GPS mode is that it shows you a graphical image of your route in real time as you are tracking your activity. This is one feature that is sorely missed on the Suunto Ambit3. Being a visual person I really value the ability to view my route at any time as well as also being able to zoom in for more detail or pan around to see any point along the route.
Real time graphical display of your route is very useful in the field.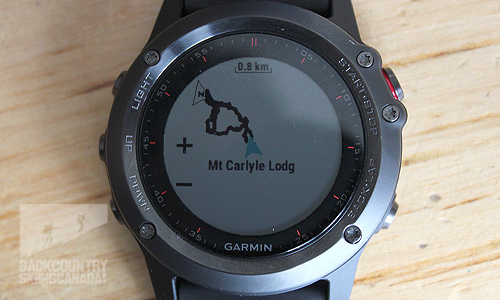 Acquiring a GPS signal is very fast with the GLONASS system.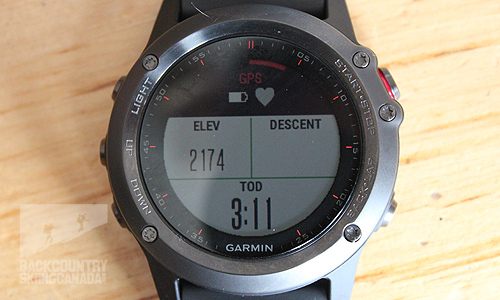 The customizable split display shows several data fields at once in an easy to read fashion.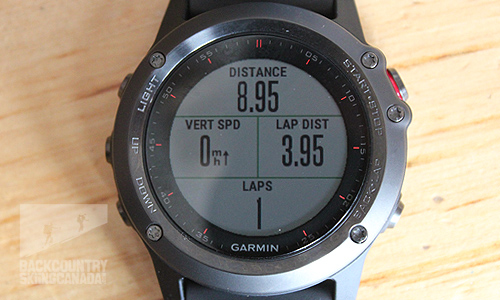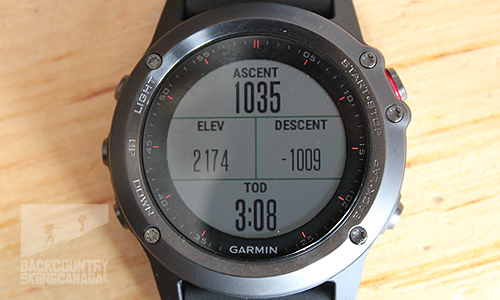 The Fenix 3 summarizes your data and stores it for you.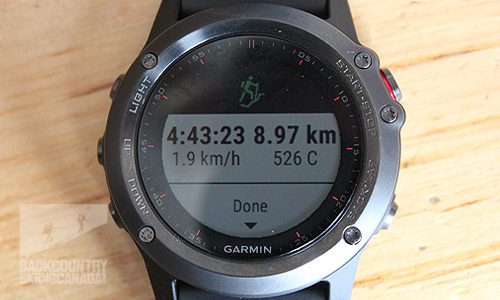 Location data comes in many forms, here the Fenix 3 displays lats and longs.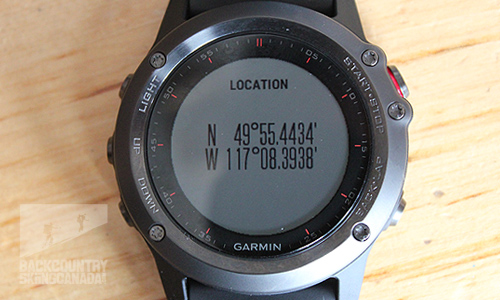 Garmin Fenix 3 benefits over Suunto Ambit3:
- Vibrating alerts and alarms
- Colour screen
- Higher screen resolution of 218x218 pixels vs 128 x128 pixels
- Inactivity alerts - detects when you are inactive too long and alerts you
- Compatible with Android
- Support ANT+ devices
- Graphic awards are displayed for reaching achievements or goals
- Navigation displays a graphic route
- Navigate back feature shows route and not just directional arrows
- Auto calibrating compass
- Comes with a USB wall adapter
- 2mm thinner
- 4g lighter
What does the Garmin Fenix 3 track?
Running: Distance, Pace, VO2 Max, Recovery timer, Virtual pacing, Trails
Climb: GPS, Compass, Altimeter, Weather
Cycling: Cadence, Bike power, Speed
Swimming: Lengths, Distance, Pace, Stroke count, Stroke rate, Calories, Stroke identification
Skiing: Number of runs, Run distance, Total descent, Speed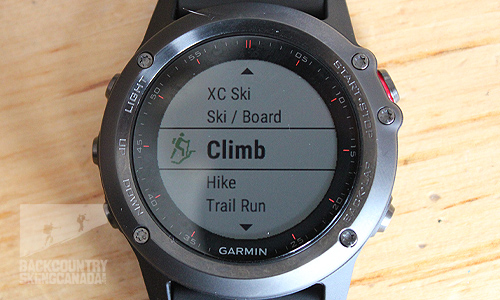 Features:
- GPS-enabled with GLONASS (GLOal Navigation Satellite System)
- High-sensitivity receiver
- Barometric altimeter
- Electronic compass
- Smart notifications (displays email, text and other alerts when paired with your compatible phone)
- Vibration alert
- Colour display
- Negative mode display
- Music control
- Wifi enabled to sync data with Garmin Connect web site wirelessly
- ANT+
- Bluetooth
- Connect to IQ store to download apps and watch faces
- Advance activity tracking including running, swimming, and skiing modes
- EXO Antenna is omni-directional and provides a faster fix and accurate position than GPS alone
- Move alert function reminds you to get up and move after sitting for long periods
- Sleep tracking tells you periods of restful sleep and periods of movement
The heart rate monitor is small and synchronizes easily with the Fenix 3.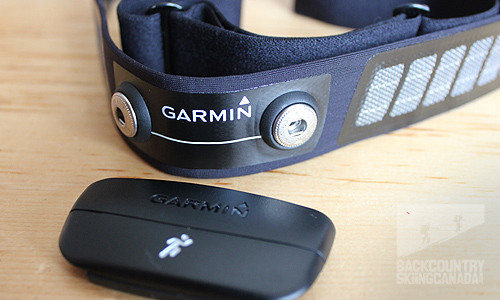 The charging cradle works with your USB port on your computer or any standard wall plug thanks to the included adapter.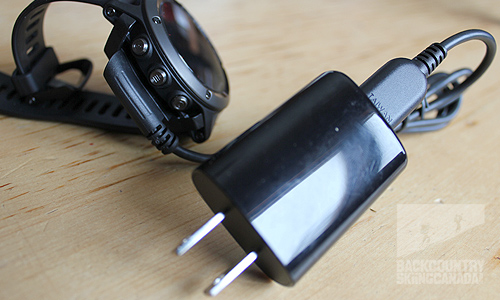 Garmin Connect stores all your data and displays charts and graphs of your route.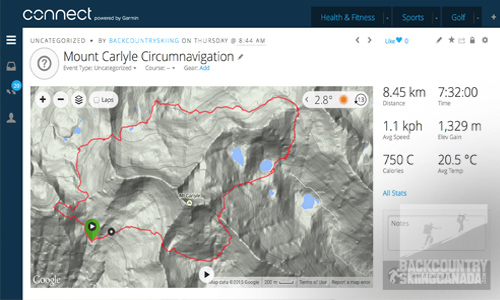 Verdict:
In creating the Fenix 3, Garmin has managed to pack a heap of technology (GPS, barometer, altimeter and compass), wifi, bluetooth, an activity tracking and other cool features into a small, function space with an efficient battery. On top of all this, they've also made the Fenix 3 intuitive to use and a shade smaller and lighter than the Suunto Ambit3 which is no easy feet. I've been a dedicated Suunto user for over 15 years and have been impressed with their products year after year, so I was not optimistic that the Garmin Fenix 3 could fulfill, never mind surpass, my expectations. After using the Fenix 3 for the past few months on multiple backcountry skiing adventures, a week long ski touring trip to Mount Carlyle Lodge in the Selkirk Mountains and several day hikes around the Selkirk Mountains I can vehemently say that the Fenix 3 has made me a Garmin believer and the Suunto Ambit3 has been replaced.
So what made the Fenix 3 better (in this reviewer's opinion) than the Ambit3? It comes down to a few key technology features and then also a few fun items that just made using the Fenix 3 that much more,… well, fun. For starters the screen resolution is double that of the Ambit3 so everything is easier to read and looks much more crisp and precise. It's also in colour which improves the usability and wow-factor. During my testing I found the GPS functionality quicker and really appreciated the graphic output of the route being tracked as it just makes finding your way that much more efficient. Once you've collected data the built-in wifi capability enables you to download it directly to the Garmin Connect website without having to synch the Fenix 3 with a cable - super easy, and cool! While the customization of data screens is nothing new to GPS watches the way that Garmin splits the screen into quadrants makes them easy to view and shows a plethora of information on a single screen. Garmin has done a great job of using the high-resolution screen to its full potential and the type and layouts are beautiful. The battery life is also very impressive, after a 6 hour ski tour wearing the heart rate monitor the Fenix 3 still had 67% of battery life remaining which is unmatched on other GPS watches in my testing.
On the fun side of things, the multiple of apps and watch faces that are available for (free) download from the Connect IQ Store add some fun to an otherwise pretty tech heavy gadget. As well, after completing an activity if you achieve a personal best time, distance or speed a graphic award is displayed on the Fenix 3, which is pretty fun and also a good confidence boost. On a recent road ride I returned home with a new personal best time and maximum speed so I received a welcome (virtual) pat on the back from the Fenix 3 which was a nice way to finish the ride.
Although the additional 5th button and unconventional button layout (up and down on the left side and start/stop on the right) initially caused me to experience a slower learning curve than with other GPS watches such as the Suunto Ambit3, I was able to overcome this and become fairly efficient with switching between menus. I still feel that the up and down buttons are not intuitively placed as they would be better located on the same side, and surrounding the start/stop button, which is essentially the 'ok' or 'enter' button for most menus.
Beyond the fun and technological wizardry that Gamin was able to pack into the Fenix 3, the one thing that most impressed was its refined good looks and smaller size. There's no obvious GPS bulge on the wrist strap as on the Ambit3 and this makes the Fenix 3 look and feel much more compact. The design of the Fenix 3 is just the beginning however, there is plenty more that makes this a really fun technical watch to use. I highly recommend you check one out if you are in the market for a GPS watch!
(If you want to read another review of a Garmin GPS watch have a read of the Garmin Forerunner review here.)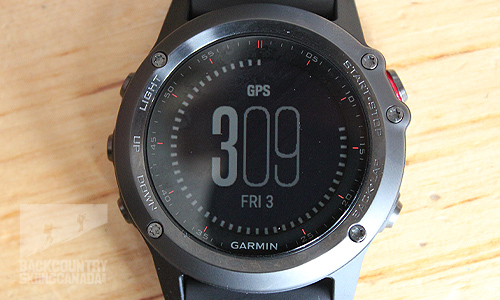 SPECS:
Price: Silver/Grey: $549.99 CAD, Silver/Gray Bundle: $599.99 CAD, Sapphire: $699.99 CAD
Dimensions: 51.0 x 51.0 x 16.0mm / 2.0" x 2.0" x 0.6"
Display size: 30.4mm / 1.2"
Display resolution: 218 x 218 pixels; transflective MIP color, sunlight readable color e-ink display
Weight: 82g / 2.9oz
Water rating: 10 ATM
Battery: Rechargeable 300 mAh lithium-ion
Battery life: Up to 50 hours in UltraTrac mode; up to 20 hours in GPS training mode; up to 2 weeks in watch mode
Built-in memory: 32 MB
PROS:
- Colour display
- Simple on/off mode to save battery power
- Very high resolution display
- Menu interface is very large and intuitive to use
- Multiple watch faces available with elegant use of type and fonts
- Wifi enabled so you can upload data without the use of a cable
- Saved locations can be named
- Navigation displays a graphic route
- Shows recovery time after a tracked route
- Acquiring satellite signal is reliable and fast, graphic around edge of face is intuitive with red then green indicators
- Adapter for wall outlet charging
- Vibrating alarm option
-Transflective watch face
CONS:
- 5 buttons instead of 4 makes things more difficult to remember and the configuration could be more intuitive with 'start/stop' in middle of 'up' and 'down' buttons
- Activity Tracker requires GPS so battery life is used up more quickly
- HR monitor has no clip so you have to step into it or place it over your head
- No backcountry skiing sport function, skiing function is for resort based skiing so I had to use the climbing mode for ski touring adventures
- Charging cradle is large
- Can only set one alarm and there is no snooze function
Rating: 9.5/10
Ease of use 2/2
Features 2/2
Quality 2/2
Size / Weight 2/2
Price 1.5/2

Join the discussion in the forums here, and let us know what you think. People like/dislike gear for different reasons so chime in and we'll get a well-rounded evaluation.
Back to the rest of the reviews.
---