Garmin Fenix 3 GPS Watch - REVIEW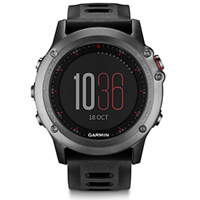 Most GPS watches tend to be large and uncomfortable on your wrist but the Garmin Fenix 3 is actually smaller and lighter than the very popular Suunto Ambit3. Not by much, 2mm smaller and 4 grams lighter but every little bit helps mind you. The Fenix 3's appearance is not as bulky as the Ambit3 as it has a larger screen which makes it appear flatter and it does not have the large GPS module on the band like the Ambit3 does. The design of the Fenix 3 is technical, however it's all metal housing is sleek and stylish and the Fenix 3 can easy be worn as a formal time piece with a simple switch of the screen face to perhaps an analogue design.
In creating the Fenix 3, Garmin has managed to pack a heap of technology (GPS, barometer, altimeter and compass), wifi, bluetooth, an activity tracking and other cool features into a small, function space with an efficient battery.
Read the full review over here and find out why the Garmin Fenix 3 GPS watch won our Gear of the Year Award and watch the video review below: