Summer Gear Roundup - Our Top picks
Over the summer we here at Backcountry Skiing Canada received a bunch of products and a select few totally impressed us—so we just have to tell you about them. Some products are new for Summer 2022 and some are classics, but each of them was indispensable for our summer adventures and we're pretty sure that you'll think so too once you give them a try.
Arc'teryx Gamma SL Hoody
The Arc'teryx Gamma SL Hoody is one of our favourite summer layers thanks to its amazing versatility. It's a super-light (hence the SL in the name) softshell with generous amounts of stretch so it is ideal for summer hiking and mountain adventures when you need a little protection from the wind or light rain. When venturing out on a run, hike or paddle you should always take along a layer to accommodate the changing weather and microclimates. The Gamma SL Hoody is super light and packs down incredibly small so it's easy to take anywhere. The durable Fortius 1.0 double weave fabric resists wind and breathes well so it is ideal even on warmer days when you just need some shelter from the sun's rays. With a built-in StormHood the Gamma SL provides a little more sun and rain protection without impacting your peripheral vision. What we liked best was the Gamma SL Hoody's articulated trim fit and efficient design which makes it very streamlined and feels like it is barely even there—perfect for when you just need a little added shelter from the elements. A great summer and fall layer, the Arc'teryx Gamma SL Hoody will also make a good mid/wind layer for ski touring come winter. If you are looking for a women's specific version, Arc'teryx provides those in sizes XXS to XXL.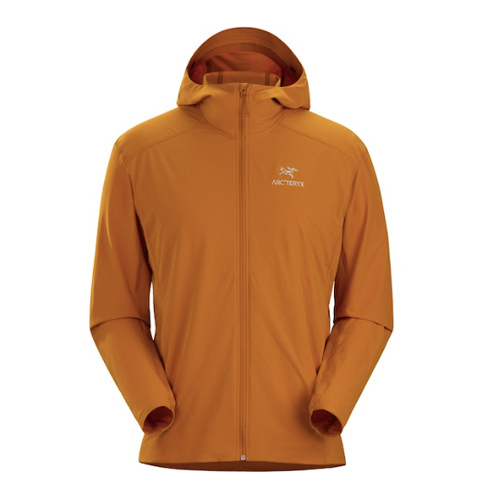 Features:
Weather-resistant mid or outer layers with stretch.
Highly breathable and abrasion resistant.
Versatile high performance design for diverse activities and conditions.
Superlight materials and design, emphasizing lightweight and packability over durability.
Air permeable four-way stretch woven textiles with superior abrasion resistance.
Specs:
Price: $220CAN / $225US
Colours: Revel, Black, Black Sapphire, Solitude, fluidity
Sizes: XS, S, M, L, XL, XXL
Weight: 310g / 10.9oz

---
Counter Assault Bear Deterrent with Belt Holster
Summer means hiking in the mountains and that also means that you need to have some sort of deterrent for bears. Counter Assault's Bear Deterrent is a spray that deploys a high volume atomized blast of concentrated pepper spray to help deter a bear attack. The spray contains 2% Capsaicin as well as other related capsaicinoids, which is the maximum allowed by law so you know it will be effective. It will spray up to 40 feet for 8 seconds so you'll have plenty of time to aim effectively at your target. Counter Assault's Bear Deterrent works on all bear species and is a must-have for backpackers and hikers. The included holster allows you to wear the canister in a handy location such as a belt look or pack strap. There is also a glow-in-the-dark safety switch to help you find the trigger in the dark and prevent unwanted firing. Counter Assault also sells a training canister so you can practice using the bear spray before you need to use it in a real-life situation and to ensure you are proficient. Be safe out there and for added security consider the Counter Assault Bear Deterrent.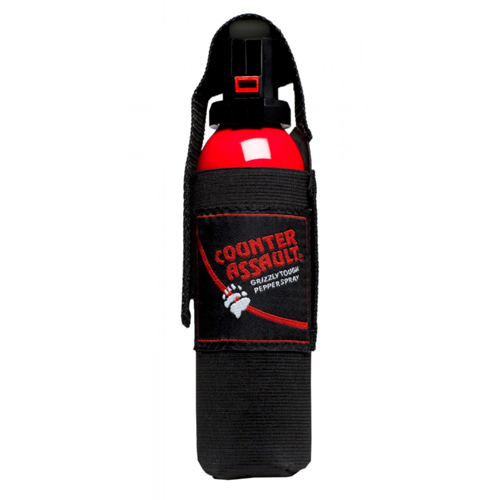 Features:
4 year shelf life.
Glow in the dark safety wedge with tie string.
Every can leak tested during manufacturing.
Originally developed in conjunction with the University of Montana.
Produced by a grizzly bear encounter survivor.
Recipient of the IGBC Stewardship Award for Research and Development of Bear Pepper Spray.
Cannot be carried on commercial airplanes.
Belt Holster fits both 8.1oz & 10.2oz Counter Assault Bear Spray canisters.
Great for hiking and Backpacking
Attaches easily to belts and packs
Specs:
Price: $73.99CAN / $59.95US
Size: 7.62 x 5.08 x 24.13cm / 2.5 x 9.87 x 5.75 in
Weight: 27.22g / 0.06lb

---
Adventure Medical Kits Ultralight / Watertight Medical Kits
Adventure Medical Kits makes a large selection of waterproof first aid kits and two of our favourites are the Ultralight / Watertight .9 and .3 Medical Kit. These numbers refer to the size of the waterproof pouches of each kit and the large the number the larger the kit and thus the more supplies they contain. The Ultralight/Watertight .3 contains the first aid essentials you need for solo day trips whereas the Ultralight / Watertight .9 is ideal for one to four people travelling for up to four days. The .3 Medical Kit uses a proprietary DryFlex bag which remains watertight even after use. The .9 Medical Kit is made of silicone-coated ripstop nylon and uses an Aloksak inner bag which serves as an added layer of weather protection, making the kit leak-proof, waterproof, and airtight. This inner bag is waterproof to 200 feet so you can use it for not only foul weather hiking and camping trips but also river and lake paddling trips.
Either of these first aid kits is ideal to keep you prepared without weighing you down and they are both small enough to fit in the side pocket of your pack. The .3 kit is filled with supplies to clean and bandage wounds, treat muscle aches, dress blisters, and treat other common outdoor injuries. The .9 kit is stocked with first aid essentials to treat common outdoor injuries, as well as emergency supplies to provide trauma care for bleeding, fractures, and sprains. Whether you're hiking, backpacking, mountain biking, ski touring, or canoeing, Adventure Medical Kits has the first aid supplies you'll need to be prepared for whatever comes your way.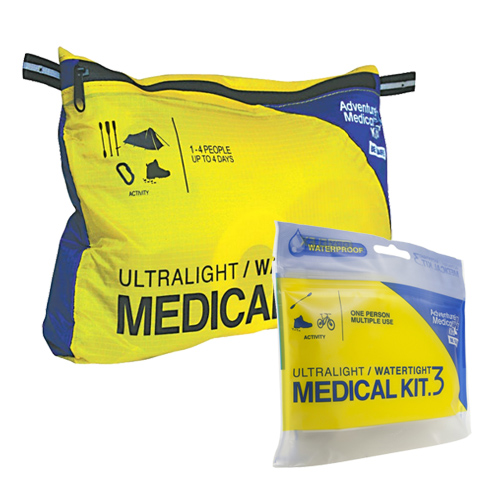 Adventure Medical Kits Ultralight / Watertight .3 Medical Kit includes:
2 – Butterfly Closure Fabric Adhesive Bandage
3 – Easy Access Bandages®, Knuckle Fabric
5 – Easy Access Bandages®, 1" x 3" Fabric
2 – Sterile Gauze Dressing, 2" x 2", Pkg./2
1 – Tape, 1/2" x 10 yards
3 – Antiseptic Wipe
2 – After Bite® Bite & Sting Relief Wipe
14 – Moleskin, Pre-Cut & Shaped (14 pieces)
3 – Safety Pin
Adventure Medical Kits Ultralight / Watertight .9 Medical Kit includes:
Bandage Materials
5 - Bandage, Adhesive, Fabric, 1" x 3"
3 - Bandage, Adhesive, Fabric, Knuckle
1 - Bandage, Conforming Gauze, 3"
2 - Dressing, Gauze, Sterile, 2" x 2", Pkg./2
3 - Dressing, Gauze, Sterile, 3" x 3", Pkg./2
2 - Dressing, Non-Adherent, Sterile, 3" x 4"
Bleeding
1 - Gloves, Nitrile (Pair), Hand Wipe
1 - Trauma Pad, 5" x 9"
Blister / Burn
2 - Moleskin, Pre-Cut & Shaped (11 pieces)
Duct Tape
1 - Duct Tape, 2" x 50"
Fracture / Sprain
1 - Bandage, Elastic with Velcro, 2"
Instrument
3 - Safety Pins
1 - Splinter Picker/Tick Remover Forceps
Medication
2 - After Bite Wipe
2 - Antihistamine (Diphenhydramine 25 mg)
2 - Aspirin (325 mg), Pkg./2
2 - Ibuprofen (200 mg), Pkg./2
2 - Acetaminophen (500 mg), Pkg./2
Wound Care
6 - Antiseptic Wipe
2 - Alcohol Swab
1 - Cotton Tip Applicator, Pkg./2
1 - Syringe, Irrigation, 10 cc, 18 Gauge Tip
1 - Tape, 1" x 10 Yards
1 - Skin Tac™ Topical Adhesive, Wipe
3 - Triple Antibiotic Ointment, Single Use
1 - Wound Closure Strips, 1/4" x 4", Pkg./10
Specs:
Adventure Medical Kits Ultralight / Watertight .3 Medical Kit
Price: $13.95CAN / $10.49US
Size: 15 x 13 x 3cm / 6" x 5.25" x 1.25"
Weight: 65g / 2.32oz
Group Size:1 Person
Trip Duration:1 - 2 Days
Adventure Medical Kits Ultralight / Watertight .9 Medical Kit
Piece: $44.95CAN / $45.99
Size: 23 x 15 x 5cm / 10" x 7.5" x 3"
Weight: 340g / 12oz
Group Size: 1 - 4 Persons
Trip Duration:1 - 4 Days

---
Yeti Roadie 48 Wheeled Cooler
This summer YETI unleashed 24L, 48L and 60L wheeled versions of their very popular Roadie Cooler. Known for its incredible ability to keep your food and drink cold for days, the Roadie Cooler is built sturdy (like all YETI products) and now has the convenience of wheels so it's easier than ever to take along on all your adventures. The impact and puncture-resistant wheels and super solid and easily roll over small obstacles while the retractable telescoping handle makes towing it along behind you a sinch. When not needed the handle stows out of the way so that the cooler can easily fit in your car.
We tested out the Roadie 48 Wheeled Cooler which has enough height to fit a bottle of wine inside standing up. If beer or soda is more your things then you can fit 42 cans with a 2:1 ice to can ratio, or 39lbs of just ice in the Roadie 48 Wheeled Cooler. Also included with the Roadie 48 Wheeled Cooler is a Dry Goods Basket to keep perishable items from getting crushed. If one basket does not provide enough storage space, you're in such as the Roadie 48 Wheeled Cooler can accommodate two. There is also a built-in drain in the front of the cooler for easy cleaning and lightening the load as the ice melts away.
Like all YETI products, the Roadie 48 Wheeled Cooler stands up to abuse and keeps its contents cold for days thanks to its PermaFrost Insulation. Load it up and rest assured that it won't be too heavy to maneuver as this wheeled version is super convenient to go from the house to the car and the car to the campsite or beach.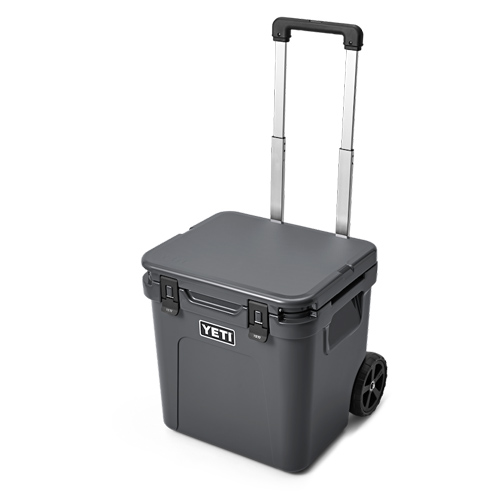 Features:
Periscoping Handle
NeverFlat Wheels
RockSolid Strength
AnchorPoint tie-down slots
PermaFrost Insulation
Specs:
Price: 24L $400 / $250US; 48L $600CAN / $450US; 60L $650CAN / $500US
Colours: Charcoal / White
Sizes: 24L / 48L / 60L
Dimensions: 50.3 x 50.5 x 52.1cm / 19.8 x 19.9 x 20.5" (48L)
Internal Dimensions: 36.8 x 29.5 x 39.9cm / 14.5 x 11.6 x 15.7" (48L)
Weight: 11.7kg / 25.8lb (48L empty)
Capacity: 18, 42, 53 (beer cans with 2:1 ice to can ratio) / 24, 39, 62lbs (with ice only)
Warranty: 5 years

---
Platypus Gravity Works 2.0
Safe and clean drinking water is a must on any adventure and it can often be hard to come by, this is why you need the Platypus Gravity Works 2.0 water filter. This ultralight and versatile water filter is designed to provide water for 2-4 people and is ideal for backpacking, hiking and paddling trips. The Gravity Works 2.0 is a gravity-fed system which means there is no pumping required. It can filter up to 1.5 litres a minute simply by hanging it and forgetting about it. It uses two 2L flexible water bags, one for dirty water and one for clean treated water with an inline hollow fibre microfilter that removes 99.9% of bacteria and 99.9% of protozoa and Giardia, Cryptosporidium, E. coli, Salmonella and Cholera. The reason we think this water filtration system is so great is that it doesn't weigh a lot and packs down small, plus it also works as a large water storage system so you can carry up to 2L of water with you until you find your next water source.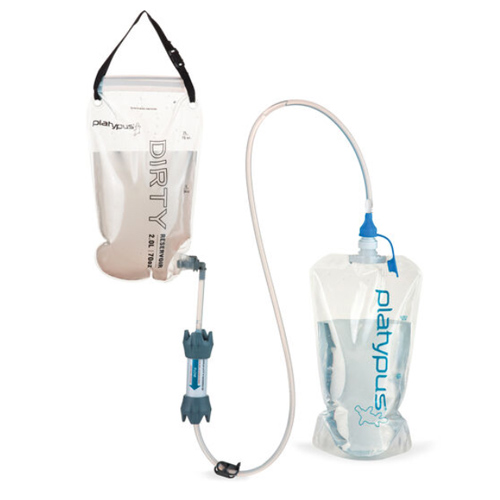 Features:
Complete Kit: Easily configure the system to your needs with the included 2.0L flexible water bottle and adapters* for maximum versatility and adaptability.
No pumping: Just fill the dirty reservoir, hang it, and let gravity do the hard work—yep, filtering water can be as easy as fill, hang, relax.
Fast: Filters up to 1.5 litres per minute; microfilter lifetime up to 1,500 litres of water.
Effective: Every microfilter is individually tested to ensure it meets EPA & NSF guidelines for the removal of 99.9999% of bacteria and 99.9% of protozoa (This includes Giardia, Cryptosporidium, E. coli, Salmonella and Cholera.)
Ultralight & Ultracompact: System can weigh as little as 6.3 oz. (180 g) and stows smaller than most 1L bottles (depends on configuration).
Field-cleanable: Microfilter can be easily backflushed in 4 seconds to maintain filter performance.
Hollow Fibre Advantage: Hundreds of tiny, hollow fibres, enable the microfilter to filter water faster than traditional filter media.
Easy collecting & dispensing: Collecting water is easy—simply open the top, scoop water, and close; control delivery of filtered water with hose shutoff clamp.
Includes:
2.0L Platy™ bottle, 2.0L Dirty reservoir, Hollow Fibre microfilter, Universal Bottle Adapter, Push-Pull Cap Adapter, hoses, storage sack.
Specs:
Price: $139.95CAN / $109.95US
Weight: 310g / 10.9oz
Dimensions: 8 x 23cm / 3 x 9in
Cartridge life: 1,500 litres
Flow Rate: 1.5L/min
Effective against: Bacteria and particulate but not viruses

---
Osprey Transporter WP Duffel
Osprey is well known for designing and producing top-notch backpacks but they have yet to create a 100% waterproof duffle bag, until now. Their new line of Transporter WP Duffels come in 40L, 70L, and 100L sizes to fit the gear you need on your next paddling adventure. The Transporter WP Duffels are IPX 7 rated which means they are waterproof and fully submersible. These tough gear-haulers are designed to stand up to not only water but also some rugged abuse. Their durable YKK AquaSeal zippers provide quick, wide access to the gear inside while the built-in grab loops at each end of the zipper provide the leverage needed to smoothly open and close them. The built-in backpack straps are removable for a more streamlined and lighter duffel but they also double as carry handles so you may just want to leave them on. On both ends of the duffel there are wide grab loops as well as one on each side to make for easy handling. Inside the Transporter WP there are internal compression straps to help secure the contents and help take the pressure off the zipper which makes it easier to open and close. There is also a removable internal mesh pocket for safely storing more important smaller items. If you are a paddler then this duffel is for you, but they will also work well in the snow on those heli-in backcountry lodge trips and ski resort days.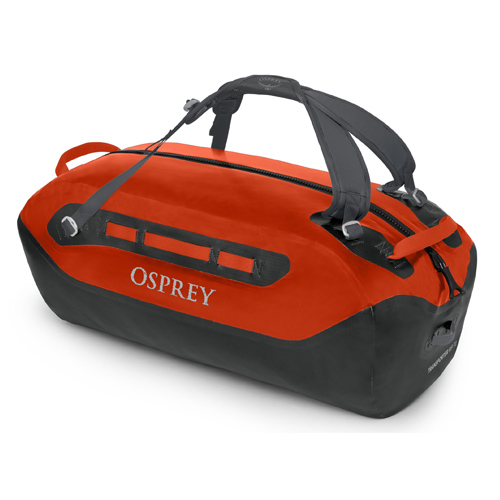 Features:
Waterproof IPX 7 rating, fully submersible
Durable YKK AquaSeal zipper is completely waterproof when fully zipped
Grab loops at each end of zipper path provide leverage for smooth opening and closing
Fully removable backpack straps/carry handles with durable non-corroding aluminum hardware
Wide grab loops on ends and sides make for easy handling
Multiple lash points make it easy to secure to vehicles, rafts, pack animals
Internal compression straps help secure the contents and take pressure off the zipper to ease operation
Removable internal mesh pocket
Specs:
Price: $425 / $460 / $525CAN (40L / 70L / 100L)
Weight: 1.12kg / 2.48lb (70L)
Volume: 40L / 70L / 100L

​​​​​​
---
Arcade Performance Stretch Belts
We received a few belts from Arcade here at Backcountry Skiing Canada HQ and tested them out over the summer and can't wait to get them into our hardshell resort pants and soft shell touring pants this winter. Their low-profile design works really well under a lot of layers or a backpack hip belt. And, not only is the belt itself very low profile but also the buckle, which means you won't know it's there and it won't rub you the wrong way when you have a pack or harness on. Arcade uses a super stretchy fabric in all their belts which are made up of 85% post-consumer recycled REPREVE polyester. This fabric is made from repurposed post-consumer plastic bottles that would have otherwise ended up in landfills and instead gives them a second life. Not only does this fabric make less of an impact on the environment, but it is also really durable and performs well over time.
We tested out the Arcade Ranger belt for everyday adventures since it is their original design and has just the right amount of stretch and uses a low-profile, micro-adjustable buckle which is easy to use and allows you to dial in an exact fit. A more casual option than the Ranger belt is the Arcade Lookout Belt which combines comfort and style and goes from the trailhead to dinner out with friends. The Lookout features a stylish weave and a more premium buckle design while maintaining the same low-profile fit that is found in the Ranger. If you are an adventurous person then check out Arcade's line of Performance Stretch Belts, you can thank us later.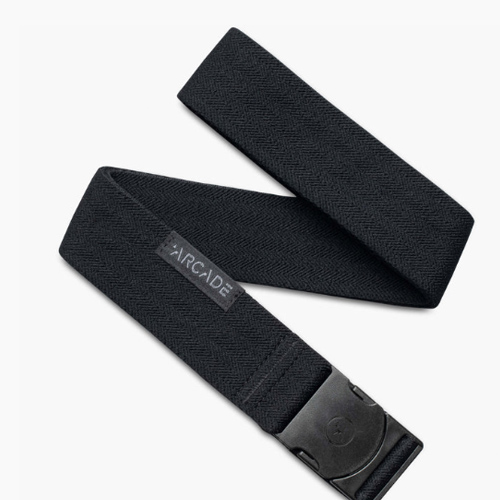 Features:
Performance Stretch - Freedom of motion to move with your body, providing a secure hold with no pinching.
Custom Fit - More precise than holes, micro-adjustable buckle dials in your exact fit.
Recycled Materials - Webbing is made with 85% post-consumer recycled REPREVE polyester.
Low-Profile Buckle - Minimizes bulk where you bend.
Long-lasting Materials - Our buckle is moulded with high-density plastic that is durable, yet lightweight, designed to endure the toughest outdoor adventures.
Machine Wash and Dryable - Throw 'em in the laundry with your pants.
Travel Friendly - Metal-free buckle makes airport security a breeze.
Specs:
Price: $44.95CAN / $37.95US
Colours: Heather Black, Black, Heather Navy, Ivy Green, Brown, Navy, Charcoal, Vermillion Red
Warranty: Lifetime

​​​​​
---
Dragon Billie LL Glasses
Dragon's Billie LL Glasses not only look good but are also better for the planet than most other traditional sunglasses since they are made from a plant-based resin. The natural bio-based plastic that Dragon uses in the Billie LL Glasses is their way of helping to protect the oceans we surf, the mountains we climb, and nature in general. On the technical side, the Billie LL Glasses use Dragon's signature Lumalens colour optimization for pretty amazing clarity. These unisex sunglasses are both sleek and functional and are equally at home on your next adventure as they are in urban settings. Check them out as we're sure you'll like them as much as we do.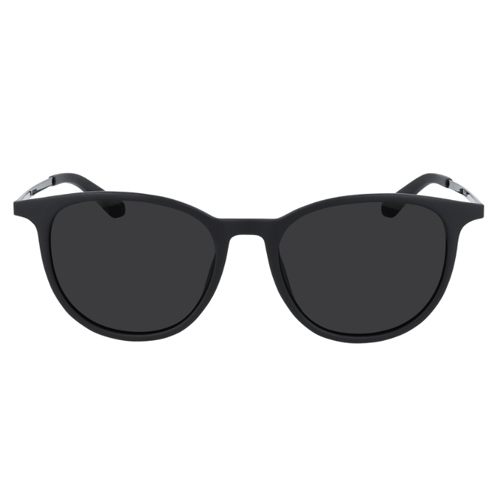 Features:
Injection moulded plant-based resin front
Metal temples
Lumalens colour optimization
6-Base polycarbonate lenses
100% UV Protection
Engraved wordmark logo in metal temples
Specs:
Price: $190CAN / $150US
Colour: Matte Black with Lumalens Smoke, Shiny Tortoise with Lumalens G15

---
The Unscented Company Deodorant
We profiled The Unscented Company this spring
in a blog post
but I wanted to mention them again as they have a new product out to help you stink less—which is always a good thing. It's The Unscented Company Deodorant and if you're not familiar with them, they create sustainable, environmentally conscious products that support the 'Leave No Trace' movement. They make products for home, body and pets which are all fragrance-free, eco-friendly and made from plant and mineral-based ingredients and are designed to leave the smallest carbon footprint possible. Their line of cleaning products helps reduce the use of excess water and packaging materials which makes them lighter and more convenient for camping trips. Their new deodorant is natural, unscented, vegan and best of all it provides all-day freshness—really! It doesn't contain any aluminum or other harsh chemical and is made from Lactobacilli, which is a probiotic that restores the balance between the "good" and "bad" bacteria present on our skin. It also contains arrowroot powder to keep you dry as well as a fatty acid, vitamin and antioxidant filled coconut oil, and shea butter–to moisturize. If you are like me, traditional deodorants are too smelly and made with things I cannot understand—The Unscented Company's Deodorant is different in so many ways and yes,… it really does work!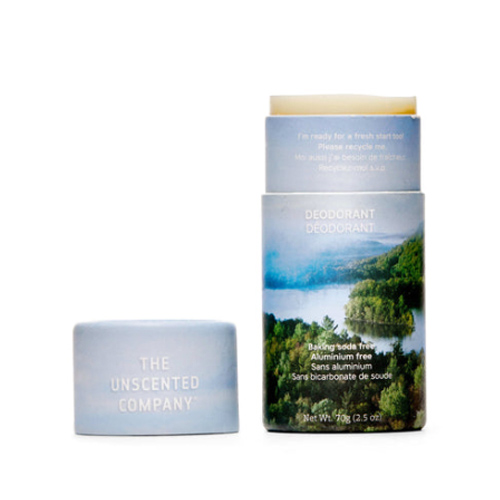 Features:
Made in Canada
Never tested on Animals
100% vegan
Plastic-free packaging
Works to fight the cause of bodily sweat, rather than the consequences
Ingredients:
Caprylic/Capric Triglyceride*, Maranta Arundinacea (Arrowroot) Root Powder*, Euphorbia Cerifera (Candelilla) Wax*, Theobroma Cacao (Cocoa) Seed Butter*, Cocos Nucifera (Coconut) Oil*, Zea Mays (Corn) Starch*, Glycerin*, Cyclodextrin*, Butyrospermum Parkii (Shea) Butter*, Kaolin*, Citrus Grandis (Grapefruit) Seed Extract*, Lactobacillus*, Benzoic Acid, Tocopherol (*organic)
Specs:
Price: $13.99CAN / $9.99US
Size: 70g / 2.5oz

---
Platypus QuickDraw Microfilter System
Unlike Platypus's Gravity Works 2.0 water filtration system (that we take about above) which uses two bags of water and gravity to do the work, the Platypus QuickDraw Microfilter System has a single 1L bag with a removable micro filter. This fill-and-squeeze method of filtering water is simple and instantaneous. The 1L QuickDraw reservoir is durable and won't make your water taste funny. It also packs down small when not in use but comes in handy carrying water on the trail. The QuickDraw Microfilter System uses a hollow fibre filter cartridge that weighs just 95g / 3.3oz and is able to filter up to 3L per minute. To clean the filter you simply 'shake-to-clean' or perform a tool-free backflush to ensure the fast flow rate is maximized. The QuickDraw system ensures quick and easy access to clean water along the trails and is ideal for personal use, but if you need more fresh water then there is also the Gravity Works 2.0 as mentioned above.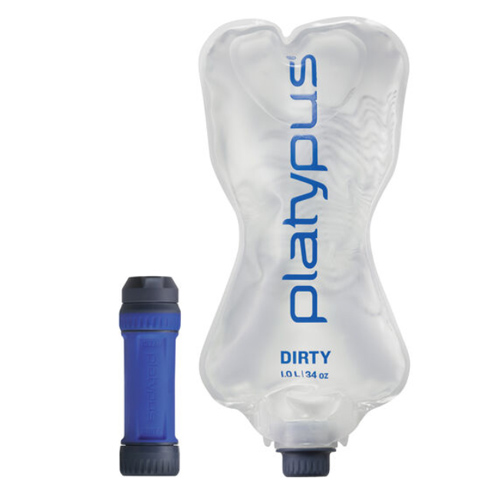 Features:
Ultralight & Compact: The entire system (filter + reservoir) weighs just 3.3 oz (95 g) and packs smaller than a rolled-up t-shirt.
Premium Reservoir: Made of our proprietary tri-layer film, the 1L QuickDraw reservoir is taste-free, durable and features a wide mouth and handle for easy filling at any water source.
Build Your Own System: The I/O dual-thread design allows the filter cartridge to natively attach to the QuickDraw Reservoir, smartwater® bottles, the Platy Hoser™ Reservoir, Platy 2.0L Bottle, Platy SoftBottle™, Platy Water Tank and certain common 28mm PET soda/water bottles.
Ultrafast Flow Rates: Hollow fibre cartridge filters up to 3L per minute with normal squeeze pressure.
Easy, Effective Cleaning: Shake-to-clean or tool-free backflush methods make for quick and easy cleaning of the filter, so you can have fast filtration for your entire trip.
Thoughtfully Rugged Design: Attached clean side cap flips open and creates a secure seal when closed, while the soft-touch filter housing is grippy even when wet and won't pick up dirt from the ground.
Hollow Fiber Advantage: Hundreds of tiny hollow fibres enable the microfilter to filter water faster than traditional filter media.
Effective: Each microfilter is individually tested to ensure it meets all EPA & NSF guidelines for the removal of 99.9999% of bacteria and 99.9% of protozoa. This includes Giardia, Cryptosporidium, E. coli, Salmonella and Cholera.
Specs:
Price: $59.95CAN / $44.95US
Weight: 100g / 3.3oz
Dimensions: 47.6 12.7 x 5cm / 3 x 5 x 2in
Cartridge life: 1,000 litres
Flow Rate: 3L/min
Effective against: Bacteria and particulate but not viruses

---
Let us know in the comments below which items you plan on purchasing and which ones you think we may have missed and should add to this list?