Arcteryx Caden Gloves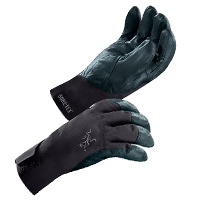 The Arc'teryx Caden glove is yet another deliciously designed-and-built item from Arc'teryx's secret lair in North Vancouver, Canada. We are long-time fans of Arc'teryx kit and have reviewed many items over the years—most all of our impressions have been very positive. To learn what we think about a sampling of these items, click away for the: Arc'Teryx Beta FL Jacket and Acto MX Hoody, Arc'teryx Theta SV Pants, Arc'teryx Khamski 48 Pack, Arc'teryx Fission SL Women' Jacket, or the Alpha SV Gloves. We've tested more but these will give you an idea of what we've seen.
The Arc'teryx Caden glove is essentially a gauntlet-free version of the Alpha SV. Like all things Arc'teryx, the craftsmanship and design are exceptional.
Starting with the quality of the leather. Lezanova leather is "based on tiny fluoro-chemical molecules that can permeate leather evenly in a way never before possible." Whatever that indicates, the leather remains supple and buttery after repeated abuse sessions. It does tend to wet out in some situations and I have used SnoSeal a few times to keep the gloves happy (warmed up with my paint remover/heating gun, natch)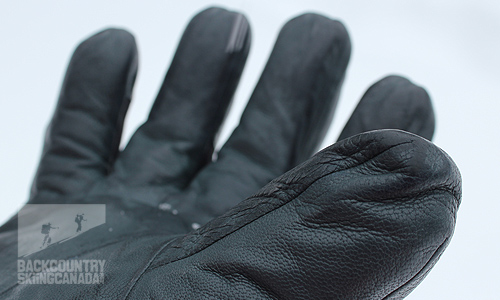 The leather is actually laid over the N80p-X GORE-TEX® Pro 3L to ensure weatherproofness. Note the finger's extreme articulation.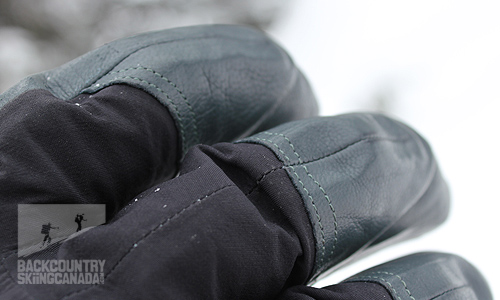 Here is the inside of the shell, showing the micro-stitching and taped seams around the thumb zone. This is one of the design features that contributes to such a remarkable fit.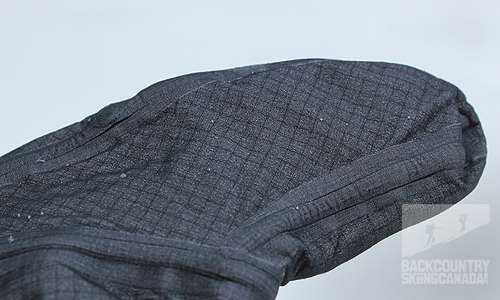 The removable liner is very similar to the ones in the Alpha SV gloves. Their articulation and seams match the outer shell, making for a very precise fit. Like all materials of this ilk, they "pack out" a bit. 'reminds me that I should throw them in the wash to rejuvenate them.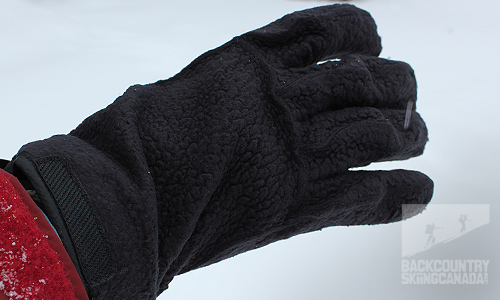 The asymmetrical wrist closure allows for a super exact, adjustable fit. I love the wide, non-faffy Velcro closure.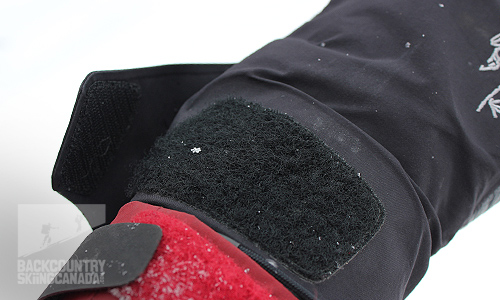 Dead bird in da house. Nice colours.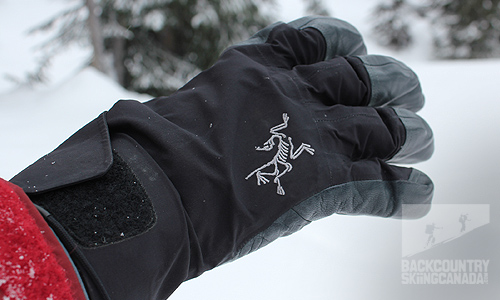 Materials:
- N80p-X GORE-TEX® Pro 3L
- Polartec® Thermal Pro® Tweed
- Polartec® Wind Pro® High Loft
- Lezanova Leather
Verdict:
These are exceptional gloves for lift service or heli/cat skiing. If I am touring, I prefer the gauntlet style for the down and lighter weight gloves on the uptrack. This is a personal preference—if there are many up-to-down/down-to-up transitions, a gauntlet style glove is easier to slip on. There's no need to fuss with skootching (sp?) the wrist closure under the cuff of your jacket. The best part of the Cadens is how they fit. I don't ski lift serviced or backcountry with pole straps and I really appreciate how well the Cadens let me grip and manipulate my pole handle. If you've ever tried the Alpha SV gloves, you'll know what I mean. They, and the Arc'teryx Caden gloves, are next level, never-go-back-to-another-glove, kind of gloves.
They aren't a one glove quiver, unless you are way less gear obsessed than this tester. They are too warm for the uptrack, and not warm enough for very cold days. They work perfectly right in the middle, I'd say for days between -10 and 0C.
SPECS:
Price: $250 CAN
Colours: Black is the only one listed on the site now. Other funkier colours will likely be offered.
Sizes: S, M, L, XL
Weight: 180 g / 6.4 oz
PROS:
- Awesome fit
- Bomber construction
- Allows for remarkable dexterity (with ski poles or gear fiddling)
- Look cool
- Handy wrist leash
CONS:
- Won't fit under the cuff of every jacket (like the Beta FL)
- That's really more about the jacket than the gloves
- Sticker shock
Rating: 9/10
Fit / Dexterity 2/2
Warmth 2/2
Durability 2/2
Features 2/2
Quality / Price 1/2

This is only our opinion. Do you disagree? Did we miss something? Are we totally out to lunch? Join the discussion in the forums here, and let us know what you think. People like/dislike gear for different reasons so chime in and we'll get a well-rounded evaluation.
Back to the rest of the reviews.
---