The most appealing feature about this pack is its versatility; it can be used both as a small overnight pack as well as a reasonably sized day pack. 48 litres is a decent volume for overnight trips such as a hut to hut traverse. Alternatively, the pack can be transformed into an average size day pack by tightening the side compression straps and removing the extendable lid/top pocket.
With and without top pocket. Flexible options!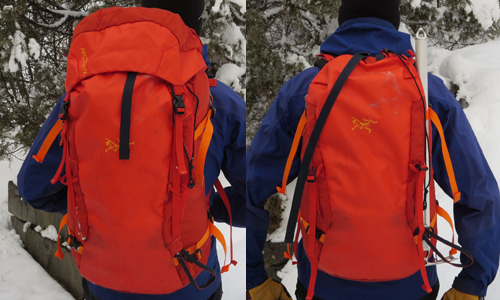 The back panel is thin, somewhat flexible and comfortable. The removable M-bar stays design seems a little retro; however, it allows for adequate load distribution on the waist when needed. I found that this was particularly effective when the pack was heavy and fully loaded. When carrying less gear on a day tour, I found the M-bar stays not as useful; the back panel seemed to transfer the load on the hip belt adequately. Of note, the thin laminated hip belt and contour shoulder straps are very comfortable.
Removable M-bar stay frame design.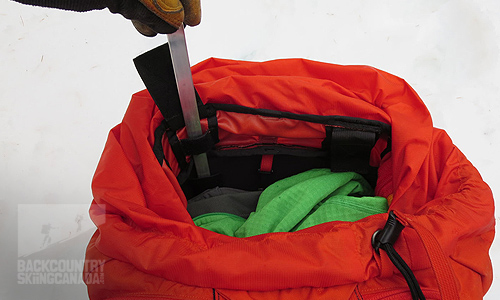 Comfy hip belt.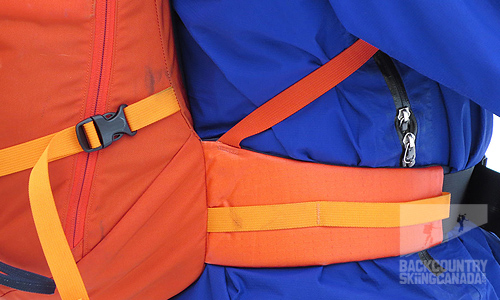 Another appealing feature of this pack is its waterproofness. The AC2 technology fabric used on the front panel and parts of the top lid is strong & pretty water resistant. The rest of this pack is made of highly resistant and waterproof 420D nylon with 6,6 plain weave. Considering how tough this pack is, it is surprisingly lightweight (53oz or 1.5kg). 
I found the front "Kangaroo pouch" useful for a variety of things. Skins and avalanche gear fit quite well in this space and provide quick access. It also makes a great storage area for guidebooks, maps and writing material. Although not really designed for that, it could potentially be used as a crampon pouch for ski mountaineering trips. 
The full length side zipper is very useful for accessing gear lower down in the main compartment. It also provides quick access to the internal security pockets. I had difficulty opening and closing this zipper when my pack was full. There could be a lot of force pulling the fabric apart near this side zipper; it has the potential for being damaged if overused.
Handy full side zip.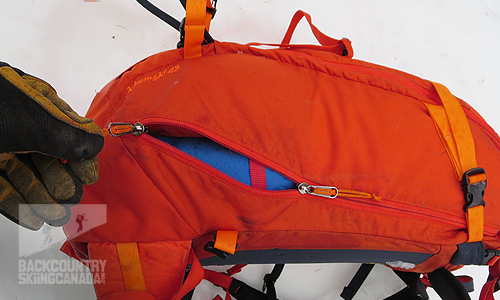 The top skirts and collar draw cords (corded zipper pulls) are equipped with functional pull tabs making it easy to open the main compartment even with gloves on. I found this system a little difficult to get used to at first; however, it eventually became intuitive and proved quite efficient.
Main compartment skirt for snow proofness and expandability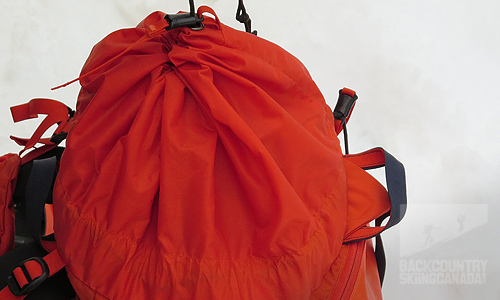 You can also just tuck in the shirt as seen here. Also pictured is the collar release tab.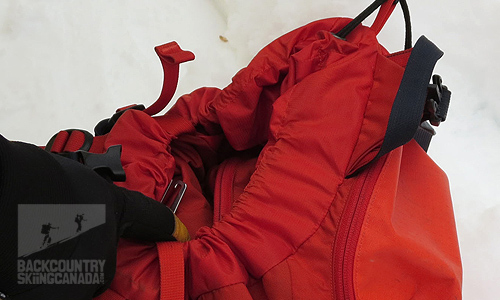 The removable top lid is simple, sized adequately and can be extended easily. Like the rest of this pack, it is sturdy and waterproof. The zipper is dressed with a nice pull tab as well as some neatly designed webbing tabs that are glove friendly.
Simple top "pod" zipper.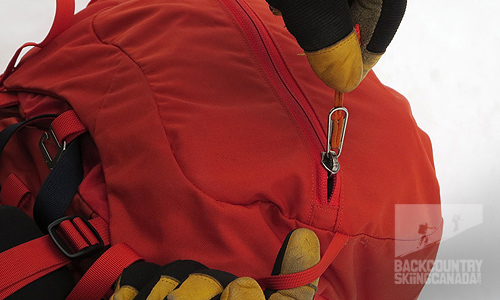 The dual haul loop system is a neat idea but perhaps not necessary. At any rate, it is well built and definitely a good anchor point for clipping in or hauling the pack up a short distance.
Dual haul loop. Overkill perhaps?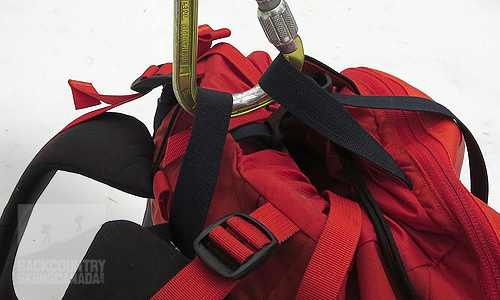 There are two carry options with this pack: the A-Frame or the diagonal system. It is important to note that it is designed to carry skis or split boards, not a regular snowboard. The A-Frame system is fairly intuitive and utilizes the side compression straps. The diagonal carry option is not as intuitive; I had to do a little research to figure out how to use it. According to the Arc'teryx pack designer, the proper way to tie the top of the skis using this carry option is by using the blue compression strap on top of the main compartment. Passing the compression strap through the dual haul loop system is very helpful to secure the skis firmly. This is possibly the fastest way to strap your skis to your pack – but it offsets your center of gravity backwards a little bit.
A-frame and diagonal carry programs.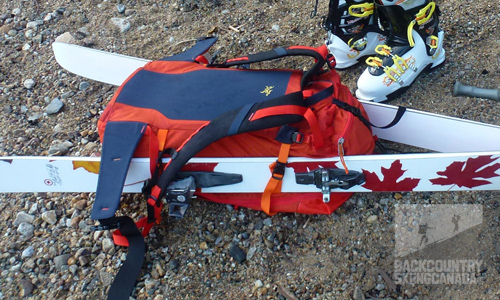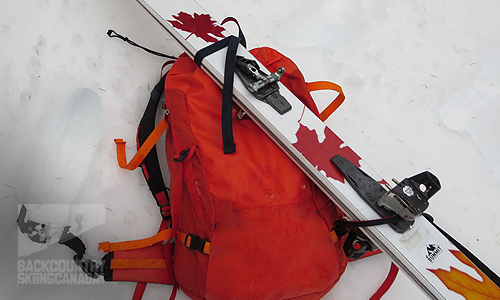 The ice axe attachment design is simple and is independent of the compression straps or carrying system. At first impression, the Dual P'ax one-hand axe attachment system seemed a little bit gimmicky. This system allows you to remove your ice axe using one hand without taking your pack off. After a little bit of practice, I found this useful system to be working well. It was fairly easy for me with my long arms to reach back and unclip the ice axe buckle. Sold!
One-hand ice axe attachment.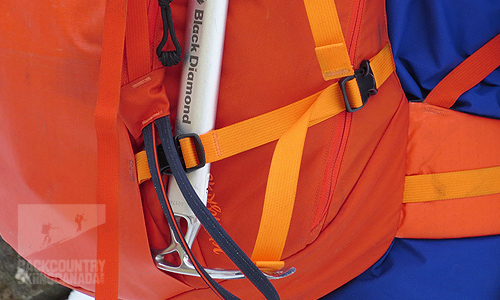 With a little practice, it works like a charm.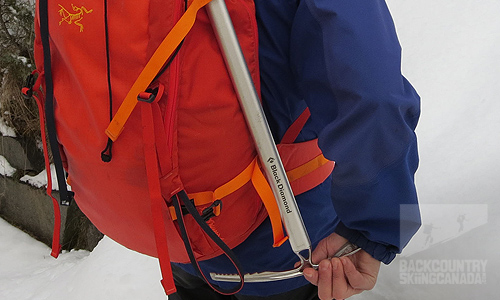 Features:
- Fully seam-sealed for waterproofness
- Rigid, formed back panel provides support and structure while remaining comfortable against the back
- Front Kangaroo pocket
- Main compartment pocket
- Internal security pocket with key clip
- Extendable collar with draw cord for additional capacity
- Large, webbing pull tabs for quick and easy glove friendly access
- Top loading lid closure with two buckles to secure pack contents
- Full length side zipper for access to main compartment during transit
- Corded zipper pulls
- Removable, extendable top lid with zippered compartment
- Key clip in lid pocket
- Four compression straps, two on each sides
- Hidden pocket inside bottom of pack
- Dual haul loops/carry handles permit hauling or clipping off at a snow anchor
- Adjustable sternum strap
- Padded contoured shoulder straps
- Arc' teryx C2 (Composite Construction) suspension system
- Laminated hip belt
- Removable aluminium stays
- A-Frame or diagonal ski/split board carry options
- Dual P'ax one-hand axe attachment system allowing for one-handed access to tools
Verdict:
If you are looking for a versatile pack that can be used both as a light overnight pack or as reasonable sized day pack, then this is the pack for you. The simple design and varied capacity is very suitable for the avalanche professionals or folks who like to carry a complete assortment of gear. I found it quite useful for a variety of uses, including: teaching avalanche courses, regular day tour guiding and short overnight trips. This pack is very comfortable, ergonomic and, simply, well built.
(David Lussier is an IFMGA Guide & owner of Summit Mountain Guides in Nelson BC. For a review of the Summit Mountain Guide AST 1 course,head on over here.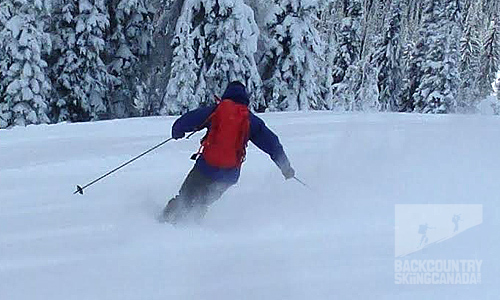 SPECS:
Price: $324.95 CAN
Volume: 45L to 64L (size dependent)
Color: Orange
Sizing: S, M, L
Weight: 1.5kg / 53oz (size dependent)
PROS:
I see way more pros then cons with this pack. Mainly, it is versatile, simple and well built. It feels good on my back, is ergonomically intuitive and very waterproof. For the most part, the features are useful, well thought out and simply designed. Definitely one of the best packs I have used in a while.
CONS:
The aluminium stays are good for heavy loads but they require some adjusting. I had to bend mine a bit for better fit and comfort around the waist belt. The diagonal ski attachment was not super intuitive at first but after some research, it all made sense. Versatility has its drawbacks; this pack is great and it is sizable. If you are looking for a small daypack, the Khamski 38 might be better.
Rating: 9/10
Comfort / Fit       2/2
Features              1.5/2
Durability            2/2
Function              2/2
Quality / Price     1.5/2

This is only our opinion. Do you disagree? Did we miss something? Are we totally out to lunch? Join the discussion in the forums here, and let us know what you think. People like/dislike gear for different reasons so chime in and we'll get a well-rounded evaluation.
Back to the rest of the reviews.
---