Westcomb Apoc Jacket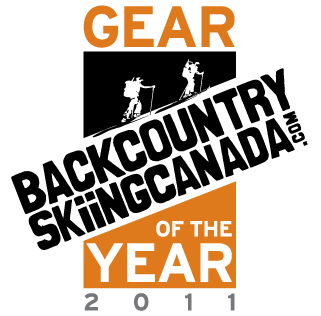 The Westcomb Apoc Jacket has been named "Gear of the Year" for the 2010/2011 season by the Backcountry Skiing Canada testing team. One of only a handful of gear items selected from a pool of many many, the Apoc wins for its innovative, minimalist design (including the use new Neoshell fabric), its performance and fit. Bravo Apoc!
The Backcountry Skiing Canada Team.
---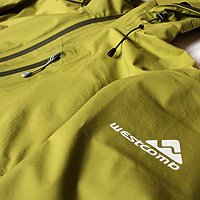 The reining king of the waterproof/breathable outdoor fabric market has long been Gore-Tex. Last fall Polartec launched the Neoshell which is claimed to be the most breathable waterproof fabric on the market today. A hefty claim given the industry's long affair with Gore Tex and the challenges by many of the 'next big thing' manufacturers.
I have always been sceptical of these new fabrics and their claims. I have, after all, been let down by their performance in the past. I have owned many hard shell jackets with GoreTex as the waterproof/breathable fabric used in one form or another and they performed reasonably well but when push came to shove they would consistently make me feel clammy and cold. When I first heard of Polartec's Neoshell I wasn't convinced this would be any different.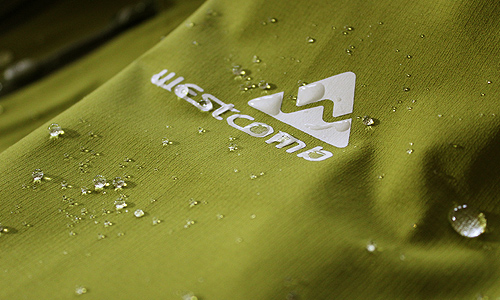 Westcomb
Home grown Canadian company Westcomb Outerwear of Vancouver BC has just incorporated the new Neoshell fabric into their soon to be released Apoc Jacket. Believe it or not, their apparel is all still made in Canada and according to them they plan to keep it that way. We here at BackcountrySkiingCanada.com have been fortunate enough to have received a sneak peak of the Apoc Jacket and have been testing it over the past few weeks under a variety of conditions to see if the claim by Polartec is in fact true.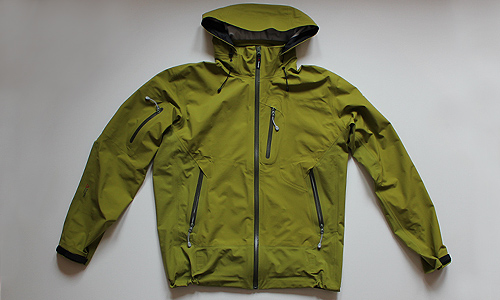 Apoc Jacket
Upon first impressions, the Neoshell fabric is soft and does not have the typical loud crunchy thick Gore-Tex feel. It is more 'soft shell' hybrid than 'hard shell' as the fabric has some stretch to it and is soft to the touch. Westcomb has done an impressive job with the design of the Apoc as it is true minimalist design with only the tried and true features that work. Namely: articulated hood with micro adjustments, 4 water proof zippers with zipper garages (two lower, one chest and one arm), interior pocket with MP3 compatible media access, articulated arms, velcro cuff and waist adjustments. The only noticeable item missing from this feature list is 'pit-zips', this may be due to the fact that the jacket is much more breathable than traditional fabrics (honestly, I always like having this feature but seldom ever use it). The sample jacket that we received was a soft olive green (which they call 'acid') and is a successful colour given the myriad of other less than appealing colours on the market - this will look good in front of the camera while not showing the grime as fast as brighter colours. Westcomb knows how to reduce weight by limiting the bells and whistles and by keeping the lines clean and smooth they are able to create a minimalist design which is very appealing. For a small company in a big market they are deserving of more attention.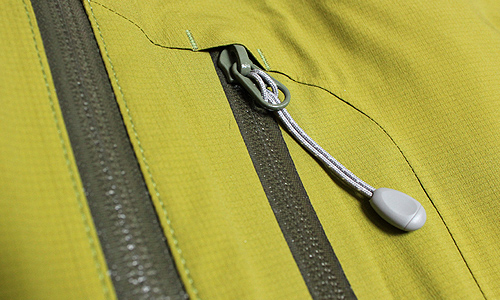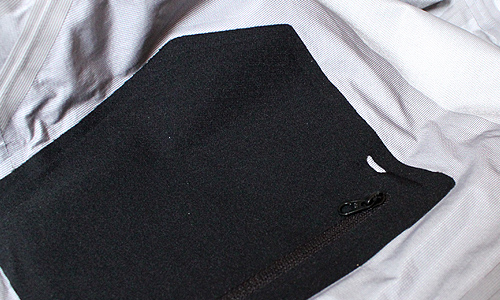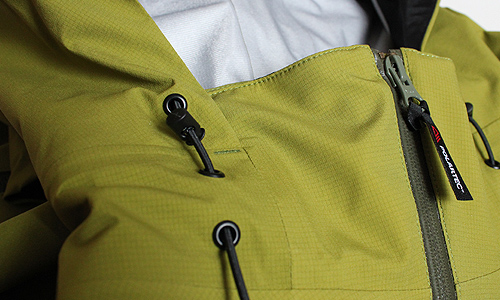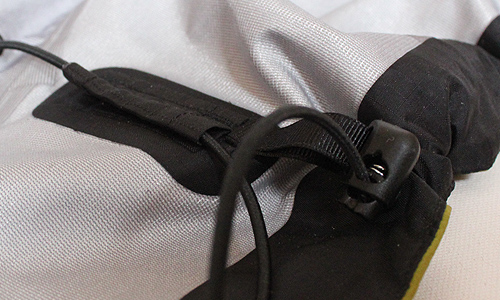 Technical Mumbo Jumbo
The Westcomb Apoc Polartec NeoShell is completely waterproof (rated at 10,000mm which is the industry standard) while still allowing an air permeability rating of 0.5 CFM or 2 l/m2/sec - which in english means it is over twice as breathable than the industry standard. This accelerates moisture vapour transport significantly ie. prevents you from sweating. Traditional shell fabrics require heat and pressure to build inside the garment before the membrane begins to work (meaning you sweat), Polartec NeoShell transport more moisture vapour due to an exclusive sub-micron fibre membrane which is more permeable to air. This is not to say that you will feel every breeze on those exposed ridge tops as they claim 99.9% of wind is blocked. The NeoShell is essentially comprised of many more smaller holes to let out more moisture and air while not allowing water back in where as traditional waterproof/breathable fabrics have fewer and larger holes.
The fabric has a stretch to it, so much so that some apparel brands will market it as a "waterproof soft shell" while others will place the fabric squarely in the "hardshell" category. This is a testament that this new hydrophobic, microporous polyurethane membrane truly offers the best of both worlds.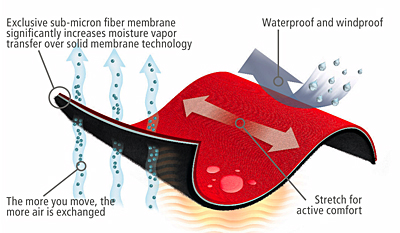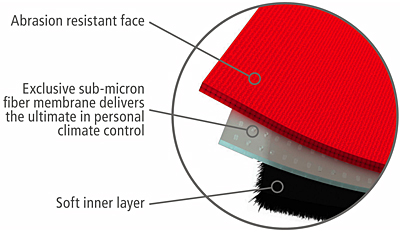 The Facts
- 100% more breathable than the best waterproof/breathable fabric on the market
- Waterproof
- 99.9% of wind blocked
- Stretch for active comfort
- Warmth without weight
- Less noise than a hard shell
The Verdict
So, what do we think of the Apoc Jacket by Westcomb? They have made serious claims about the Polartec Neoshell fabric they use in the jacket and most you are no doubt say "yeah right" right about now. I would easily have counted myself as a sceptic. But now? I am a believer. Westcomb got the fit and design of the jacket just right and completed the one-two punch with the use of the Polartec Neoshell fabric. The Apoc really does keep you dryer by breathing more - sure you can eventually 'sweat it out' but you have to work hard to do so. In my testing I delayered less on the uptrack and could even keep the Apoc on for the entire up and down of a day of touring. Comparing Westcomb's Apoc jacket to the almighty Gore-tex hardshell is like comparing David to Goliath. Move over Goliath.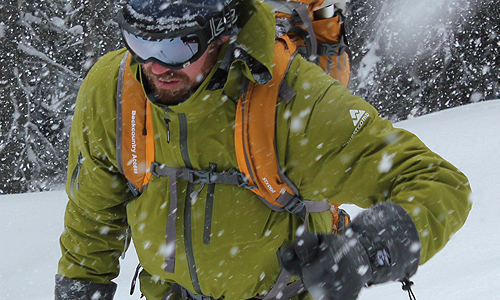 SPECS:
Price: $480 (not confirmed yet)
Colour: Acid (green), more to be announced
Sizes: S, M , L, XL
Release: fall 2011
PROS:
Light, comfortable, quiet, efficient design, waterproof and VERY breathable.
CONS:
Minor things mostly due to preference, would like an option to stow away the hood and a more beefy main zipper tag which you can easily grab with gloves on. The interior overlay for the main zipper is quite generous and tends to get caught on the collar area.
For additional reviews of Westcomb products have a look at our reviews of the mens Westcomb Cayoosh LT Down Sweater, Westcomb Revenant Jacket, Westcomb Focus Hoody, Westcomb Shift LT Hoody, Westcomb Boreal Fleece, Westcomb Tango Hoody and the Westcomb Orb Sweater. On the womens side check out the Westcomb Drift Hoody.
Rating: 9.5/10
Fit / Mobility 2/2
Packability 2/2
Waterproof / Breathable 2/2
Features 1.5/2
Quality / Price 2/2

This is only our opinion. Do you disagree? Did we miss something? Are we totally out to lunch? Join the discussion in the forums here, and let us know what you think. People like/dislike gear for different reasons so chime in and we'll get a well-rounded evaluation.
Back to the rest of the reviews.
---