Viewranger Mobile Map App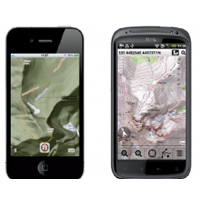 I had the opportunity to try out Viewranger's "GPS app for adventure" over the past couple months and wanted to share a bit of my experience with you, the backcountryskiingcanada.com community.
Viewranger is an easy to use application that turns your smart phone into a fully functioning GPS, at least when you're in cell range. With that obvious limitation, the true beauty of View Ranger isn't the application itself – which could be improved for front/backcountry skiing (more on this later) – but rather the remarkable licensed database of topographic maps available for purchase.
Viewranger not only uses open source web maps available on many similar mapping applications, but also detailed government-issue topographic maps that are available for purchase. Why is this a benefit? The user can download maps onto the mobile device and view them when out of cell range, providing the same information you would have in a regular topographic map. You can even plan and plot tracks on the maps before you depart for use in backcountry settings, regardless of cell coverage.
Mobile device display of your route.

On-line view of your route.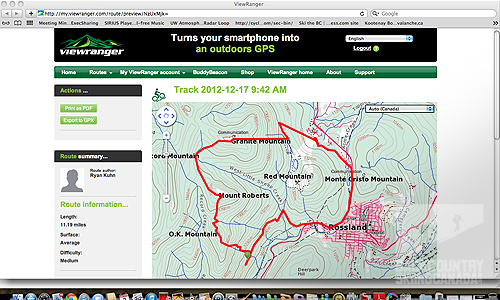 When in cell range, the Viewranger is essentially a fully functioning GPS with better functionality than many GPS' I've used. You can plan, plot, navigate, track, locate, record, be guided, analyze and share your outdoor adventures.
Currently Viewranger offers detailed topo maps for 14 countries around the world and is expanding its database all the time. This can save a lot of effort in sourcing topos for destinations around the world, all in the convenience of your mobile device regardless of having cell coverage or roaming fees. The Canadian map is 1:50,000 scale.
Another cool feature, though admittedly I haven't used it yet, is the "Buddy Beacon," which allows you to track the location of a buddy with the same app installed and running on his phone. This could be useful in numerous ways, be it knowing where friends or family are on the ski hill to search and rescue purposes.
As for the application itself, it wasn't designed for backcountry skiing specifically and has a few limitations. Most notably, you can't track number of runs. With some playing around in Trip View mode, I managed to unlock some of the other settings such as total vertical gain/descent, max speed, maximum altitude, etc. These are basic functions – and often desired – of other skiing-specific applications. Hopefully View Ranger can consider looking at "modes" in future versions of the application for specific activities to make this more intuitive.
Overall, Viewranger is fairly intuitive and straightforward…and after all, who wants a complicated phone app while fidgeting with cold fingers? Not enough can be said about having a detailed topo map in your pocket regardless of where you are (I have all of North America on my phone). And continual access to UTM coordinates and Latitude/Longitude is invaluable should you find yourself in a sticky situation (read: getting help quickly).
Viewranger also has a rapidly expanding community of users who are continuously posting new routes, Geocaches and other points of interest if you're into that kind of thing. And of course you can upload your own adventures if you're not concerned about divulging your secret stashes of powder.
A word of caution should be noted here: if you are tracking a route with the phone GPS and application open, it can drain the phone's battery life relatively quickly. If you are in slack country and aren't as concerned about the battery life, no biggie. However, if you are on an extended backcountry trip it is advised to maintain maximum battery life in case you need it in an emergency (or bring an extra battery or charging device). In no way can this replace the value of having a compass and map if you're venturing into the wilderness.
Features:
See your mapped location & path taken
- Virtually anywhere in the world using open source maps or upgrade to topo maps (in USA or 13 other countries)
- Maps can be downloaded on the move
- Easy to read maps with Head-up and North-up view options
- Clearly marks the path you've taken (as a track) on the map in real-time
- Works even without mobile coverage - as maps can be stored on your phone (off-line)
Search & locate
- Find using map coordinate entry (ideal for Geocaching)
- Real-time on-screen map coordinate display
- Mark any important location as a Point of Interest (PoI)
- Search for places on the map by place name or postcode using Gazetteer and online databases
- Map views presented in 3D panorama (Symbian only)
Plan your route
- Create your own routes to follow using the app or on your pc using my.viewranger
- Download an expert guided route from their in-app directory (many come with photos and informative text)
- Import a route as a GPX file
Navigate your route
- Active waypoint-based Navigation with on-screen visual guidance Navigation alarms if you veer too far off track
- Waypoint proximity alarms during navigation
- Estimated time of arrival (ETA) while navigating
- Magnetic compass integration (where supported on phone).
Record & Save your activities
- Sports computer mode (Trip View) with 30 metrics (speed, distance altitude etc)
- View your recorded track on the map - store & upload to my.viewranger
- Record trip stats like time, distance, speed and max speed.
- View graphical profiles of trips
- Add photos using Picasa or Flickr to create Trip Journals
Share your achievements
- During: Share your real-time location using BuddyBeacon
- After: Upload, store and share your tracks using my.viewranger
- After: Export & publish your tracks (as a GPX file)
Switch between phones and use tablets
- Move the software and maps to a new phone or tablet free of charge (except for a small charge when you first switch to an iPhone or iPad)
- Use your maps and software on two devices, for example on a phone and on an iPad
Lots of Map options and detailed tracking information.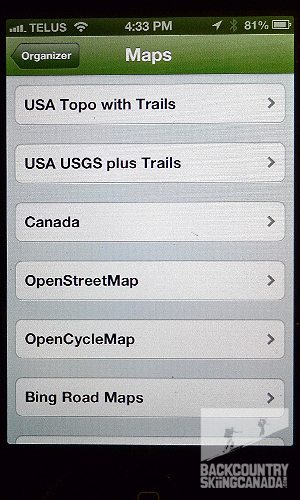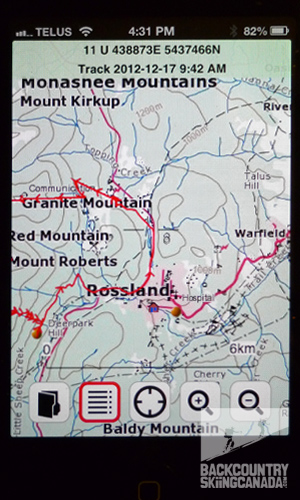 Text based results and graphical output.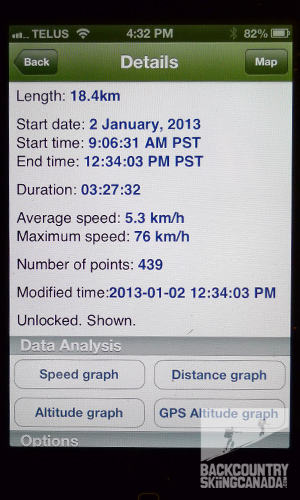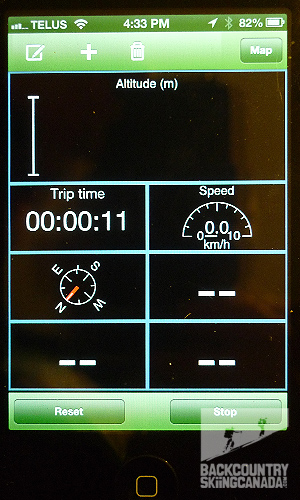 Verdict:
Overall, the Viewranger is a useful tool if you just want to record laps on the ski hill, track a ski tour and as a navigation device, particularly when you're sure you'll be in cell range and the mobile device's GPS is functioning. Even out of cell range, it's nice knowing I have all the topos I need in my pocket when I'm unsure of route choice. I have used this more than once in whiteout conditions and it proved useful. And for a mere $15, I have all of the United States topos on my phone without the additional cost of a GPS…that's a pretty darn good value.
SPECS:
Price: Application is free to download, additional cost for purchasing topographic maps.
PROS:
The Viewranger is a useful map application that is intuitive to use. It's remarkable selection of open source maps and government-issued topographical maps (for purchase) are what really stands out for this product. I have used it for both pre-trip planning as well as route tracking and navigation in situations of poor visibility. It is a good tool to have in your pocket.
CONS:
The Viewranger wasn't designed for skiing specifically and therefore lacks some ski-specific functions such as number of runs. While this can be unlocked in the Trip View mode, it would be nice to see "modes" for specific activities such s skiing added to unlock the full potential of the application more easily.
Also, when in track mode the View Ranger uses up the battery life much quicker. The View Ranger site has a list of ways to minimize this battery drain, but at the loss of the tracker function. Ultimately, the View Ranger app should not replace having a traditional compass and map, and knowledge of how to use them.
Rating: 8.5/10
Ease of use 1.5/2
Features 1.5/2
Quality 1.5/2
Size / Weight 2/2
Price 2/2

This is only our opinion. Do you disagree? Did we miss something? Are we totally out to lunch? Join the discussion in the forums here, and let us know what you think. People like/dislike gear for different reasons so chime in and we'll get a well-rounded evaluation.
Back to the rest of the reviews.
---
---
Backcountry skiing is an inherently dangerous activity that requires experience and knowledge to travel safely. Any of the routes on this site may be dangerous depending on conditions. You are responsible for your own safety in the backcounty—the team behind backcountryskiingcanada.com disclaim any responsibility for any injury resulting from people travelling on routes described on this site. To read our Terms of Use and get all the details, read HERE.
---