The North Face Superlight Down Sleeping Bag Review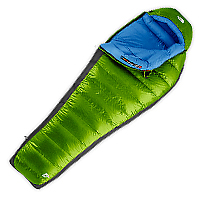 The Superlight sleeping bag is The North Face's 0º F (approx -17.5º C) one bag solution to carry you through variable conditions and 'year-round' mountain adventures. One sleeping bag to accommodate the full gamut of seasonal demands may not be enough if you're an avid multi-day backcountry skier or winter adventurer—your needs will depend on a number of variables including how sensitive you are to cold and the nature of the adventures you're into. We've taken a look at the Superlight to see where it's a good fit.
The Superlight has all the bling of other The North Face bags like the Blue Kazoo which we have reviewed previously. Comfort is a major focus: 
Fabrics are fine and velvety soft to touch.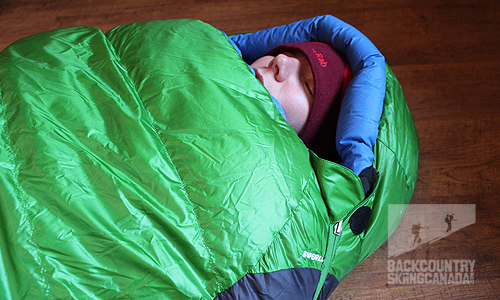 Loft is high (more on that in a moment).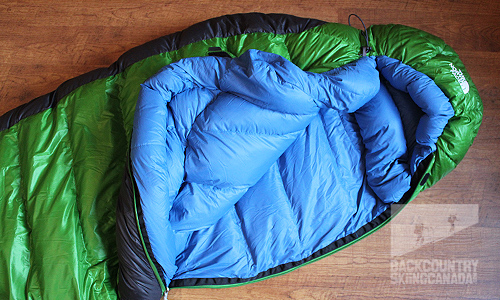 A loose mummy bag fit with a vaulted foot box gives the feeling that you are in a larger bag.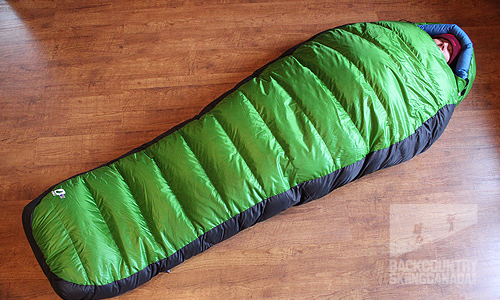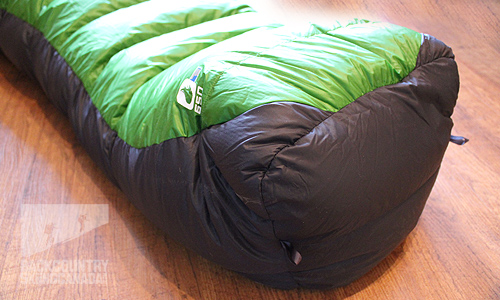 Ergonomic and ample face and neck gaskets are incorporated to keep the heat in.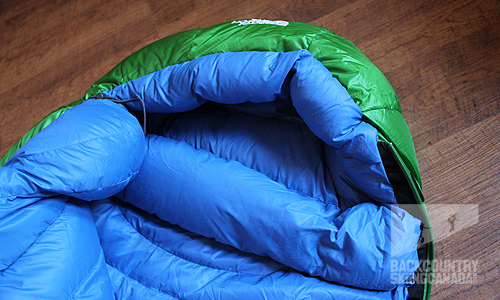 A down tube extends the length of the zipper to eliminate drafts.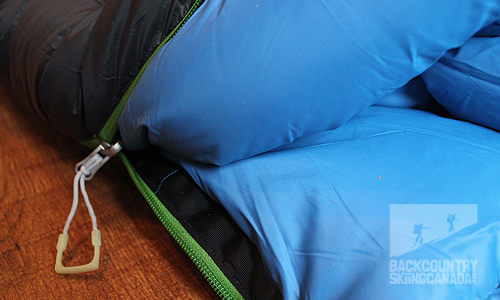 At the core of the Superlight is 650+ fill Hungarian grey goose down. Hungarian goose down is well-recognised for its consistency in plume quality and durability. To keep it even cosier The North Face also ensure that the farms partnered with are certified for the humane treatment of animals. When it comes to rating down the higher the rating the finer the down clusters meaning the greater the loft and also the greater the compressibility for it's insulation value. A rating of 900 is about as high as it goes but you will seldom find products that go that high as it is often prohibitively expensive due to it's limited availability. The 650 fill power rating indicates a decent warmth-to-weight ratio providing reasonably lightweight insulation. The '+' is The North Face's way of letting you know that you are getting more than 650—it's not an exact science so it looks like they err on the side of caution.
The Superlight is constructed with trapezoidal baffles, to keep down in place for the long term, this also reduces cold spots. A DWR coating has been applied to the entire fabric of bag to protect the down from perspiration and condensation.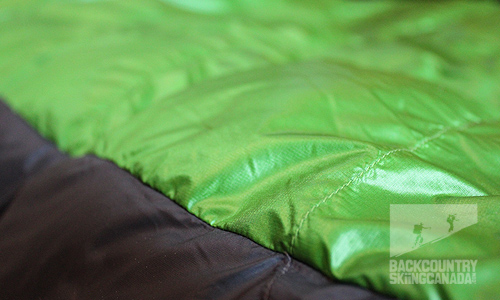 Durable fabric on the underside with four synthetic reinforced zones at the head, shoulders, hips and feet allowing for compression resistance and increased insulation at weight loaded areas.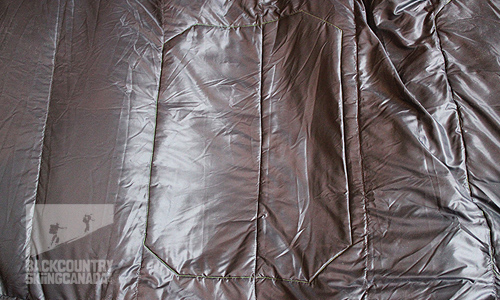 Other notable features include:
- Right-hand or Left-hand zipper option if you want to double up.
- Oversize, glow-in-the-dark pull-loop on zipper.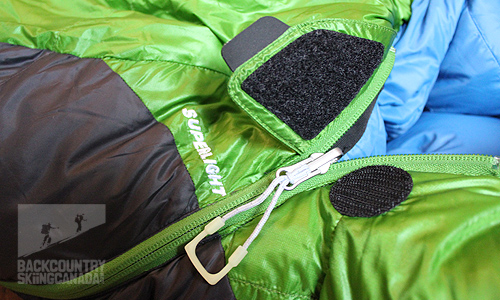 - Internal pocket for keeping essentials warm and handy.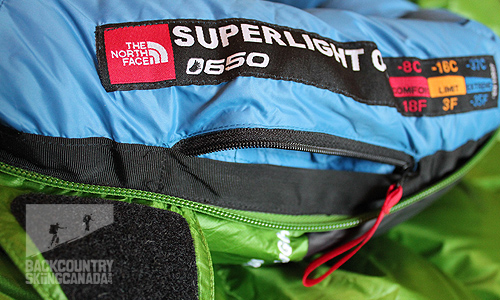 - Pull cord to cinch in the bag in around the head for extra warmth.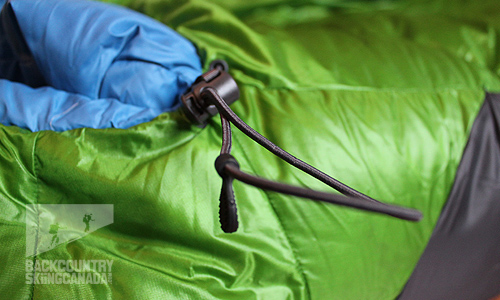 - Compression stuffsack and storage sack.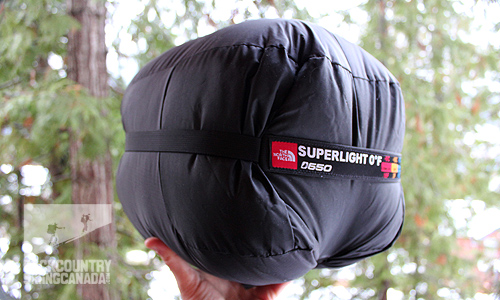 Verdict
As we found with the Blue Kazoo, The North Face have developed a solid formula for their range of sleeping bags. Extra bling such as a glow-in-the-dark pull-loop on the zipper and internal pockets are a treat but where it shines is in how it feels—and it feels plush. The Superlight is built for comfort. Unlike the old days of slick Nylon the Superlight's fabric feels velvety on the skin, the trapezoidal construction and high loft of the down provide ample draft-free insulation. The fit gave me plenty of room to move (this is something you will need to check for yourself as I am on the slighter side). The oversize, vaulted foot box is noticeable and could come in handy if you needed to dry boot liners (the long version would give even more room for this). The syntheitc zones on the weight loaded areas is a great idea, we noticed it on the feet and I suspect you would notice it in other places if your sleeping matt was on the thin side.
As the winter season is only beginning here in BC at the time of review, I haven't yet had a chance to test it to it's limits. Based on my research I would recommend understanding how The North Face rate their bags to see if this is a sleeping bag that will suit your needs. Whilst the Superlight is rated 0º F (-17.5º C) I would expect that this is the limit of the bag and it's comfort level is more likely around 23º F (-5ºC) for women or 10ºF (-12ºC) for men (based on European Norm Rating conversions) I would consider these ratings in deciding if this is the bag for me. What does this mean? The Superlight is a bag to insulate you well in cold weather and milder winter conditions but not extreme conditions. I would be comfortable taking this bag into the backcountry for a cabin trip where it was not going to be colder than -10º C outside. If there was a strong possibility that I was going to have to winter camp in conditions cooler than -5º or -10º C I would opt for a warmer rated bag such as The North Face Inferno which we may have an opportunity to review at a later date. If you plan on any serious winter camping, this is probably not the bag.
The other thing to consider with the Superlight, especially for backcountry ski trips and mountaineering, is weight and compressibility. The compression sack the Superlight comes with is an afterthought and doesn't do a great job of really compressing. Also at 7" x 23" compressed and 3lb 3oz the Superlight is not light-weight or small for it's class, a higher rating of down and lighter weight fabric would bring the weight and size down but it would also push the price up substantially which would make the bag less attractive for a few but the few is not who the Superlight is designed for. At the end of the day, it's a crowd pleaser.
SPECS:
Price: $350.00 CAD (long version)
Colour: island grass green
Temp Rating: 0 ℉ / -17.5 ℃
Weight: 3lbs 3oz / 1445g (regular size)
Fill: Hungarian Goose Down Fill 650+
Stuffsack Size: 7" x 23"  / 18.5cm x 58cm
 
PROS:
Quality construction and design. Superior comfort/tactility. Roomy foot box. Synthetic reinforcement on high pressure zones. Good value.
CONS:
On the heavy and bulky side for backpacking particularly for backcountry skiing. Will sleep cool at it's assigned rating (0º F) unless you have a built in furnace. Basic compression sack included.
Rating: 8/10
Warmth               1.5/2
Compressibility    1.5/2
Features              1.5/2
Weight                 1.5/2
Quality / Price     2/2

This is only our opinion. Do you disagree? Did we miss something? Are we totally out to lunch? Join the discussion in the forums here, and let us know what you think. People like/dislike gear for different reasons so chime in and we'll get a well-rounded evaluation.
Back to the rest of the reviews.
---