The North Face Superlight Sleeping Bag - Review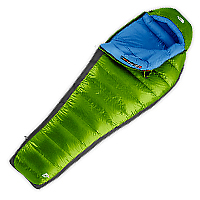 As we found with the Blue Kazoo, The North Face have developed a solid formula for their range of sleeping bags. Extra bling such as a glow-in-the-dark pull-loop on the zipper and internal pockets are a treat but where it shines is in how it feels—and it feels plush. The Superlight is built for comfort. Unlike the old days of slick Nylon the Superlight's fabric feels velvety on the skin, the trapezoidal construction and high loft of the down provide ample draft-free insulation. The fit gave me plenty of room to move (this is something you will need to check for yourself as I am on the slighter side). The oversize, vaulted foot box is noticeable and could come in handy if you needed to dry boot liners (the long version would give even more room for this). The syntheitc zones on the weight loaded areas is a great idea, we noticed it on the feet and I suspect you would notice it in other places if your sleeping matt was on the thin side.
Read the full review of the The North Face Superlight Sleeping Bag over here.