Surface Walk Free skis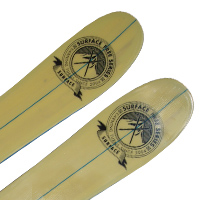 Amidst their every growing line-up of skis, Surface skis has ventured into the Backcountry Skiing realm with two skis: the Surface Live Free Skis and the Surface Walk Free Skis. We reviewed the Live Free skis last year, and the Walk Free skis are the focus of this review.
Thanks to their light Austrian poplar wood core and the Kevlar runners from tip to tail, the Walk Frees are lighter than the Live Frees. Surface didn't compromise shovel or waist width in order to keep things light, however, and at 132 / 100 / 122 the Surface Walk Free skis are the little brother to the Live Free but not by much. Despite their traditional camber construction, the Walk Free are designed with a flatter tail to allow them to be plunged into the snow and, therefore, be used as a mountaineer ski.
The Walk Frees come with a binding reinforcement sheet embedded in the skis. This sheet provides a sturdy mount for your AT binding of choice whether they are Fritschis or Dynafits. ABS sidewalls and extruded bases round out the construction of this performance-based ski. On the cosmetic side the top sheet of the Walk Free skis is a simple surf inspired design, which we found to be a nice change to all the busy ski graphics on the market today.
The forward view.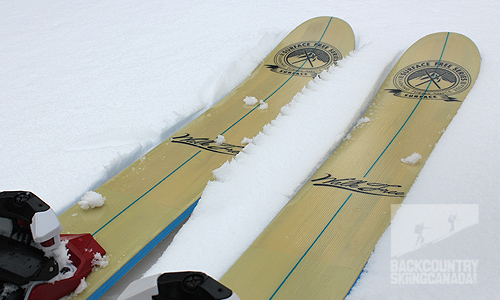 The rear view.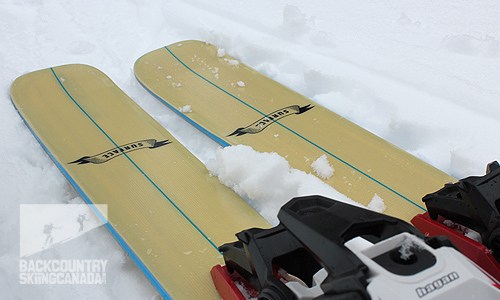 Tips front with surf inspired top sheet.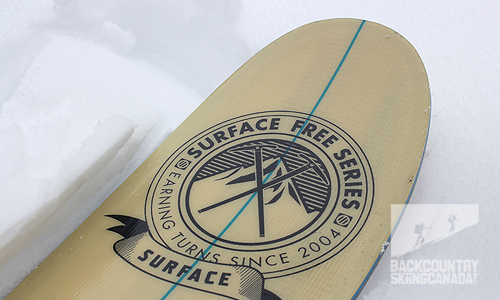 The beauty continues backside complete with extruded bases.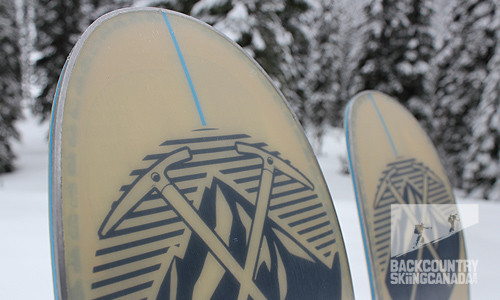 Construction:
- Traditional Camber Construction
- Directional Taper Shape
- Ultra-Light Poplar Wood Core
- Kevlar Runners Tip-to-Tail
- ABS Sidewall Construction
- Extruded Base
- 2.5mm Full Wrap Steel Edges
- Binding Reinforcement Sheets
- 2mm Mini-Cap
Tails and tips in profile shows of the early rise and touch of camber.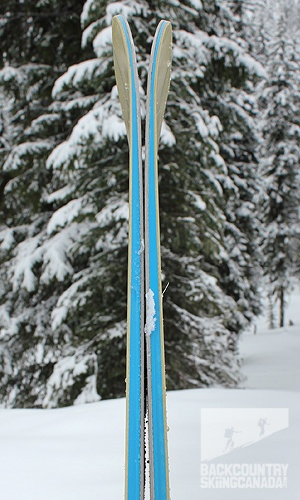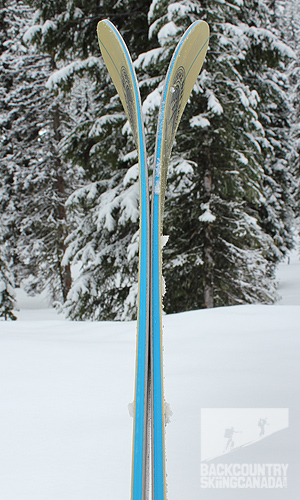 ABS Sidewall Construction and 2mm Mini-Cap.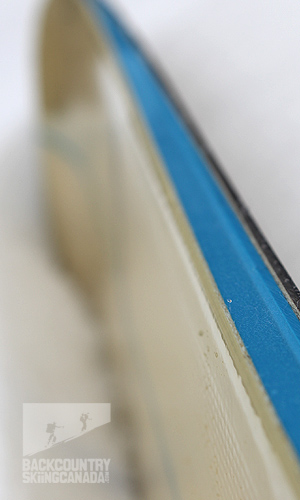 Diggin' the groovy top sheet texture.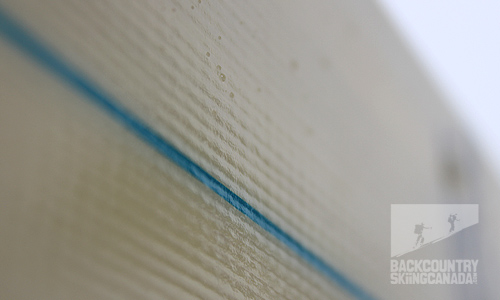 Verdict:
We mounted the Surface Walk Free skis with a pair of Hagan Z01 Alpine Touring bindings (link) which are very Fritschi-esque. We then skied them in a variety of conditions and terrain from deep pow to spring schmoo.
Overall, we found the Walk Free skis to be most at home in powder, thanks to their early rise tip and healthy dimension, and on the skin track, weighting in at almost a pound lighter than their bigger brother. We also found that they were pretty snappy in the turns with fast edge-to-edge transitions, which made for fun skiing in the trees. Although the Walk Free skis preformed surprising well on groomers, they were definitely more challenged by ice bumps and chunky crud. I also found that they had a little more flex than the Live Free, likely due to their lighter weight and more modest widths. The binding reinforcement sheet embedded in the skis is a great idea to prevent the binding from pulling out of the ski after years of use. Not sure that it ads any more stability to the ski but a good feature non-the-less.
In terms of the graphics, I am a big fan of the simplicity of the surf inspired top sheet, which is beautiful. The durability of the ski also seemed to be much better than previous iterations that chipped quite a bit more than this model.
This ski would be made even better if they offered it in a 181cm length rather than the tested 176cm. At 6'1" I found the 176cm a little on the short side where as the 186cm would have been just a little too much ski.
One item I was happy to see on the Surface Walk Free skis was the flatter tail. Although it may not be used everyday, that one instance when the snow is getting steeper and the couloir tighter, it's good to know that you can plunge the ski tail for added stability or a quick anchor.
In summary, if you are going for pure powder turns than the Live Free may be your match. If, on the other hand, you want to go a little lighter and look like an even bigger rock star on the skin track with the option to incorporate some ski mountaineering without giving up much on the powder performance side then the Surface Walk Free skis may be more to your liking. I would not qualify this ski as a quiver killer as it is more at home on the skin track and backcountry pow lines but it still held its own at the resort.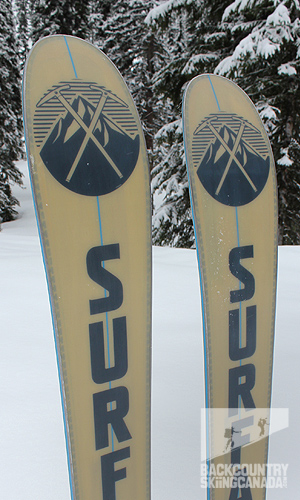 SPECS:
Price: $624.98 US
Length: 166cm, 176cm, 186cm
Radius: 18.5m 176cm, 19.5m 186cm
Dimensions: 132 / 100 / 122cm
Weight: 3.45kg / 7.6lbs (176cm), 8.2lbs / 3.7kg (186cm)
PROS:
- A light ski with plenty of punch
- Early rise plays well in costal and interior powder
CONS:
- A 181cm length would be a better fit for most my height/weight (6'1"/175lbs) as the 176 was a tad short and the 186 a tad long.
- The top sheet tends to chip prematurely
Rating: 8/10
Powder Performance 1.5/2
Groomer Performance 1.5/2
Stability 1.5/2
Weight 2/2
Value 1.5/2

This is only our opinion. Do you disagree? Did we miss something? Are we totally out to lunch? Join the discussion in the forums here, and let us know what you think. People like/dislike gear for different reasons so chime in and we'll get a well-rounded evaluation.
Back to the rest of the reviews.
---