Construction:
The Skevik Anton skis are a sandwich construction ski with a vertically laminated maple core for flex and carbon fibre stringers below this for pop. On top of the maple core, there is 22 oz triaxial fibreglass to give the skis strength along with a sublimated nylon top sheet that gives it those good looks. On the bottom, there is a 4001 sintered UHMW (Ultra-high-molecular-weight polyethylene) base for durability and glide with 3/4 wrap steel edges covered in rubber for dampening and durability. For wear and tear the tip and tail have a UHMW bumper that reduces chips and scratches that most skis tend to accumulate.
One aspect of the Skevik Anton skis (and all skis in the Skevik line-up for that matter) that sets them apart from most others on the market is their side walls. All Skevik skis have exposed sidewalls, which means that the vertically laminated maple wood core goes right to the edge, no plastics found here. On a purely aesthetic note, this exposes the natural beauty of the maple wood core. From a durability perspective, maple is plenty hardy and any nicks and dings can easily be sanded out and treated with a 50/50 mix of double-boiled linseed oil and mineral spirits to make them look like new again. Maple is also lightweight and strong so energy transfer is maintained through the ski. The same cannot be said for traditional plastic sidewalls.
Tips.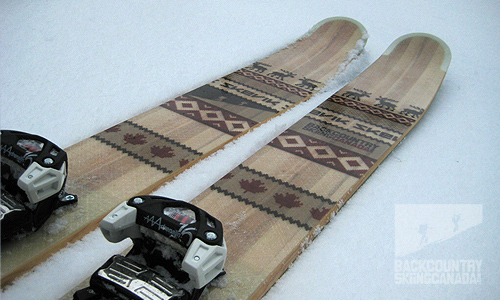 Tails.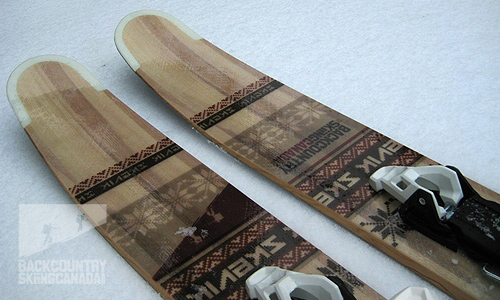 Top sheet beauty.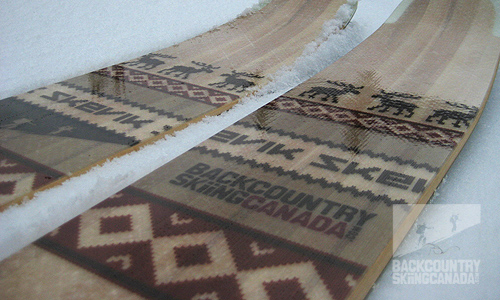 Sidecut and early rise.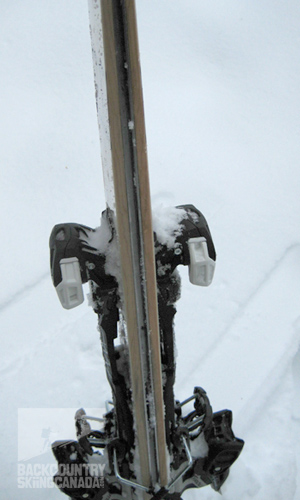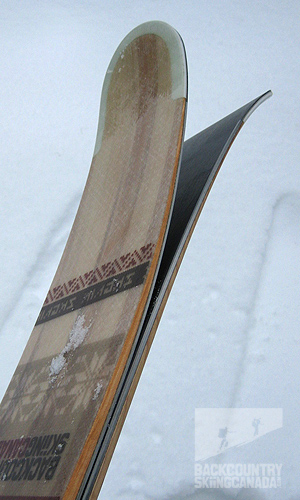 Verdict:
As I mentioned above the Skevik Anton Skis are big boys, the fattest we have tested to date. My initial thoughts were that the Antons are a big beautiful ski but I was apprehensive about their all round ski-ability in different conditions. I am a traditional camber with side cut kind of skier, throw in a bit of tip rocker to handle the pow and I am happy. Don't get me wrong though I like 'em fat (skis that is), but 122 under foot - wow! All this ski does have its advantages, however, and here is what we found on some on our test days:
- On crud and chop a great big fat rockered ski like this skied over it like it wasn't even there.
- Skiing west Ymir at Whitewater with 20cm of fresh light pow the Skevik Anton skis liked to go fast and make big turns. The float is unrivalled and allows the ski to bust through anything in their path and smooths out the choppiest of routes.
- A spring day in March at five degrees Celsius and the snow was smooey but the Steviks skied it flawlessly where narrower skis would have been pushed around.
I did find that the Antons took some effort getting on edge and initiating a turn on groomers and hard pack but at 122 underfoot this is to be expected. Stability on hard snow was good with minimal drift and just a slight amount of tip chatter given the rocker. There is almost no side cut to speak of so this is not a quick turning carver on the groomers but they can cruise and haul ass. Long radius turns are fun as they tracked nicely throughout the turn and the tips didn't catch at all since the wide point is pretty far out by the tip.
The Skevik Antons skis sport a beautiful top sheet that resembles a heritage sweater and this unique design always got attention and turned heads every time I skiied them. The durability of the tips and tails was the best I have seen, the Ultra-high-molecular-weight polyethylene tip and tail fill bumpers are not only a great idea but it adds even more beauty to the skis.
Overall, as I have said several times already, this is a big ski which means that you have to stay over top of them and drive them or they will drive you. It's not your one ski quiver but they are super fun when it dumps or when the conditions are not ideal. In fact, it's in these conditions that the Skevik Anton skis thrive. If you are looking to pick up a pair give Glenn a ring or visit one of the two retailers that currently carry them in both Vernon BC and of course Norway.
If you are interested in the Tyrolia Adrenalin 16 alpine touring bindings you see in all the pictures above, you can check those out over here.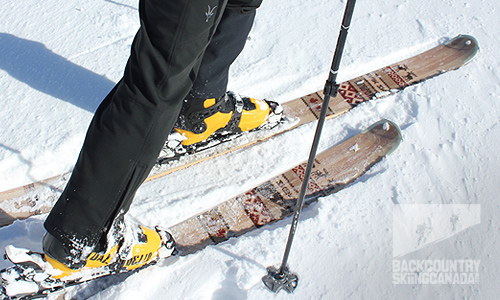 SPECS:
Price: $700
Lengths: 185, 175, 165cm
Effective edge: 122, 115, 109cm
Dimensions: 142/122/135mm, 140/122/133mm, 138/122132mm
Sidecut radius: 23, 23, 23m
Weight per ski: 2280g / 5lb, 2130g / 4lb 11oz, 1970g / 4lb 5oz
Warranty: One year
PROS:
- beautiful graphics
- hand made
- can master deep pow, schmoo and crud
- Ultra-high-molecular-weight polyethylene tip fill bumper prevents chips really well
CONS:
- not a ski for the groomers and everyday resort skiing
- A fat ski to get up on edge and carve with
- Too heavy for a dedicated backcountry set up
Rating: 8/10
Powder Performance         2/2  
Groomer Performance       1/2     
Stability                            2/2
Weight                              1/2
Value                                2/2

Join the discussion in the forums here, and let us know what you think. People like/dislike gear for different reasons so chime in and we'll get a well-rounded evaluation.
Back to the rest of the reviews.
---