Sierra Designs Lightening HT 4 Tent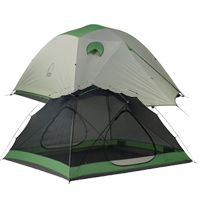 Every manufacturer has their specialty, something that they are well-known for and for Sierra Designs this seems to be their tents. They have a wide array of models from 3 and 4 season, to Base Camp and ultralight. As with most tents and definitely with any 4 person tent that last category is especially important as you can quickly top five kilos for a standard four-man-er. The Sierra Designs Lightening HT 4 Tent falls into their ultralight category coming in at just over three kilograms for trail weight. While you would think that Sierra Designs would skimp on features to keep the weight down they have actually jam-packed this one full.
With two D-shaped entries and two 14.5 square foot vestibules four people can co-habitate quite nicely inside the Sierra Designs Lightening HT 4 Tent but with a weight of 3.15 kg you could make this your ultra-cush three-man tent option. Also standard on the Lightening HT 4 are two cross flow vents with velcro stays, five DAC large diameter poles (two with hubs for easy assembly) and of course the innovative Jakes foot. The Jakes foot may have a unique name but its function is pure utilitarian genius. Simply put, it provides a light weight plastic receptor to securely connect the drop sheet, tent, tent pegs and rain fly all in one place. It's compact and easy to use once you get used to it and shaves time off set up and tear down. Watch this video to get a better sense of how the Jakes Foot achieves this. http://www.youtube.com/watch?v=PKsrJ9elL-g&feature=player_embedded The rain fly also comes with four unique features that pushed our like-meter into the red line. The reflective guy outs on the fly help prevent that midnight stumble-trip move that I seem to have perfected and the bomber 40D Nylon, 1500 mm fabric keep the rain out nicely. There is also a green top panel to help align the fly in set up and once inside, the 'Dye-Free Optic White Canopy' keeps things bright and cheery even when there is cloud cover or limited daylight.
We added the Sierra Designs portable attic and footprint to round out benefits of the Lightening HT 4. The footprint snaps into the Jakes Foot and protects the bottom of the tent from sharp rocks and pointy bits while not overlapping the tent so as to allow rain water to pool under you (a common mistake with rookie campers). The portable attic adds much needed pocket space to the Sierra Designs Lightening HT 4 Tent as it only comes with four very small hanging pockets. The portable attic provides out-of-the-way storage space for small necessities that you have to find quickly such as TP and headlamp. It includes a large mesh area that covers 1/2 of the tent ceiling and a zippered pocket and three hang pockets for sunnies pens and ipods. The elastic cords allows you to pull it up and out of the way so sitting up is not a problem.
The stages of set-up.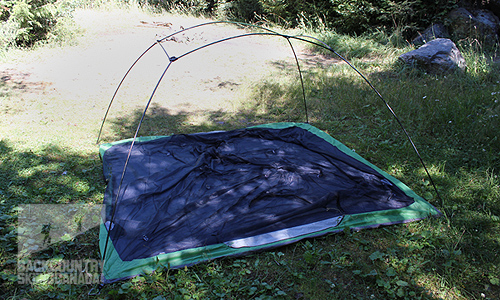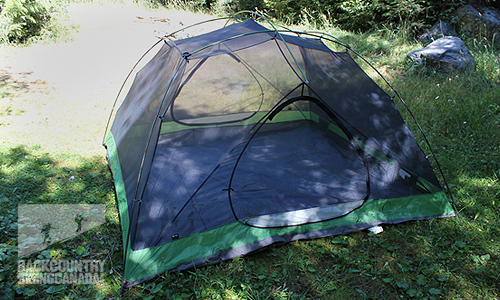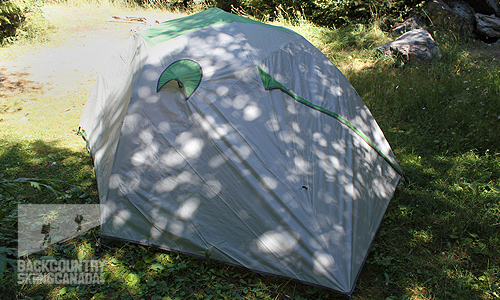 Features:
Doors: Two D-shape doors with lightweight zipper pulls save weight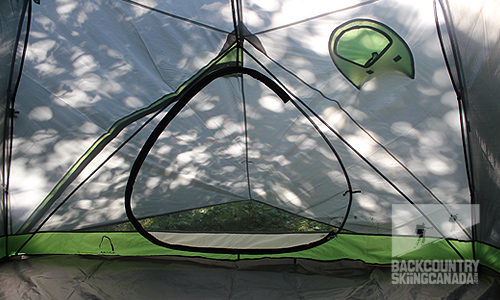 Pockets: 4 Hanging pockets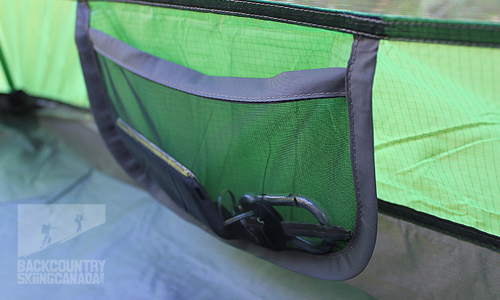 Vents: 2 vents for cross flow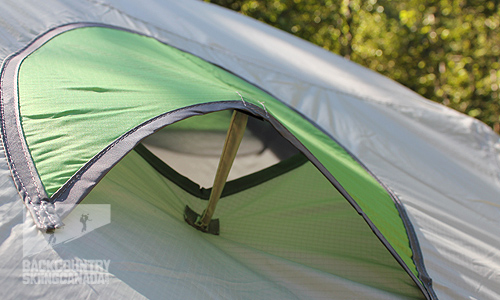 Tent: Long floor length with raised perimeter seam means guaranteed waterproofness, two vents, ultralight clips, Jakes Foot pole attachment, Ball Cap Connector™ and SQ Ring™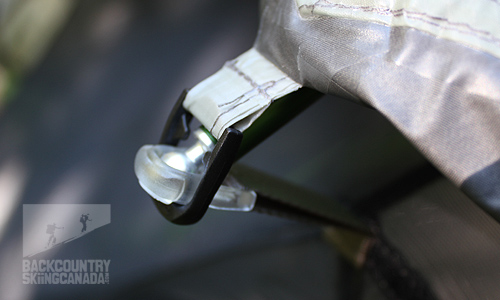 Vestibule: Two—one on each side with 14.5 sqft of space
Fly: Green top panel allows better alignment, PVC-free seam tape, reflective guy outs and Dye-Free Optic White Canopy to keep things bright
Poles: 5 (2 hubbed leg, 2 brow, and 1 ridge), DAC NSL diameter: 9.6 / 9.0 mm with 4 M hubs in an H like format
Fabrics: Floor: 70D Nylon, 3000 mm, Body: 20D Nylon, Fly: 40D Nylon, 1500 mm
DAC Featherlite NSL Poles:
The Sierra Designs DAC® Featherlite NSL Poles offer the best strength to weight ratio of any tent pole available. A larger diameter pole with a thinner wall increases strength and saves on weight. Combine this with a longer insert area and you get a stronger connection point between pole sections. DAC also uses a cleaner manufacturing process which use less phosphoric and nitric acid in their anodizing process.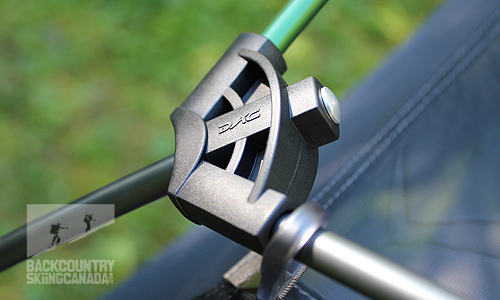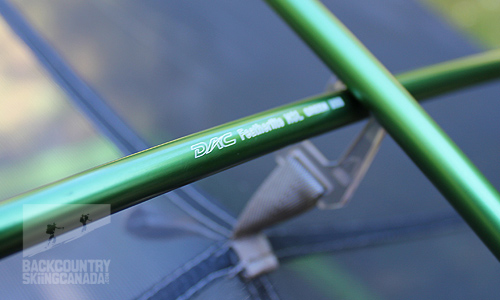 Dye-Free Optic White Canopy:
The Sierra Designs Optic white canopy transmits and incredible amount of light to the inhabitants inside and provides a brighter and more pleasant environment in which to spend a rain day. Best of all Sierra Designs produces the Optic White Canopy™ without the use of chemical dyes.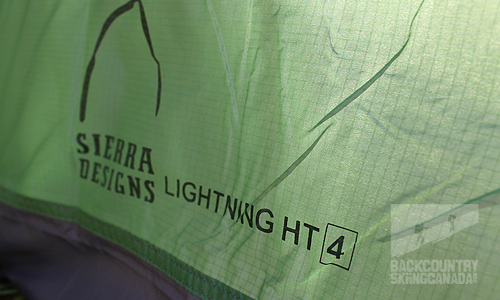 Jakes Foot:
The Sierra Designs Jake's Foot™ (not sure why it is called that) allows for easy attachment of the fly and foot print to the tent itself. Sure the standard clips work but this allows you to attach all three items together at one location with just one receiver. It simplifies set up and tear down time and provides a light and strong connection. You simply snap the tent pole ball ends into the Jake's Foot for a secure hold that is also able to rotate when needed while a quick twist of the foot allows you to quickly releases the pole.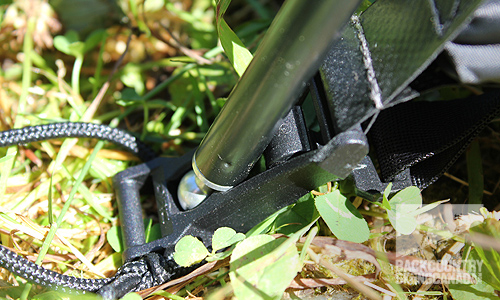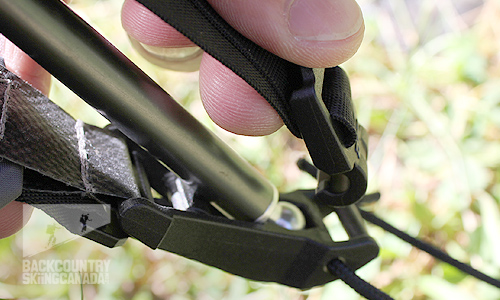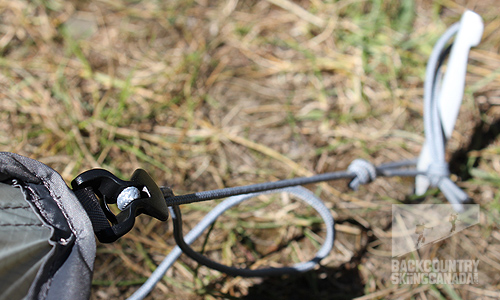 SuperSeal Floor:
Since 2004 Sierra Designs has been designing their tents with what they call a SuperSealed floor (also known as bathtub construction). This mens that the perimeter seam is raised off the ground and taped to provide guaranteed waterproofness.
Verdict:
As we mentioned at the start of this review Sierra Designs seems to know tents. They have integrated a bunch of great features into the Lightening HT 4 Tent that we touched upon above. Three of my favourites have to be the Jakes Foot for its simplicity and all in one solution, the Optic White Canopy for how bright and optically much bigger it makes the inside feel and the optional Portable Attic. I have seen lots of gear attic designs and they are typically just mesh fabric with 4 connection points,… pretty simple really. Sierra Designs actually put some thought into theirs, not only do you have a variety of pockets built in but it's also portable—meaning you can place it on the left or right side of the tent, your choice.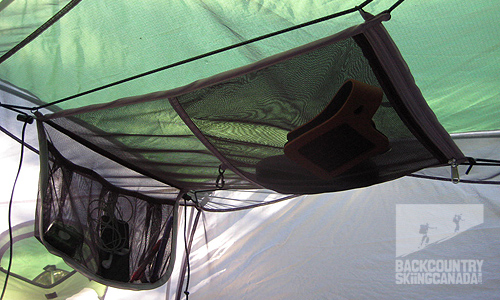 With all of these great attributes we naturally have a few points that we feel could improve it just a little bit more. Colour coded pole-ends and Jakes Foot would aid in smooth assembly, the paper based instructions are not that helpful and also the Lightening HT 4 is not a perfect square so there is only one right configuration for the poles. You already know we love the Portable Attic, but part of this enthusiasm is due to the fact that there are only 4 hanging pockets in the Lightening HT 4 tent, not enough in my mind if the house is full. Although some may feel the two D-shaped doors are small we found them ample enough but would have liked to see a double zip on them to be able to open from the top or bottom. We loved the DAC featherlite poles and the fact that their anodizing is more enviro these days but wish that the M hubs connected the two legs and two brow poles so it was one nice and tidy set up with less poles to mess with. The single ridge pole has a ball cap connector and SQ Ring and not the standard fabric pocket, once again brilliant! but it would be nice to have some additional velcro so that the ridge pole can be affixed to the brow poles and thus provide additional support and rigidity.
Overall, great value for your money and a lightweight four-man-er chock-o-block full of innovative features.
SPECS:
Price: $459.95 (Foot Print $69.95, Portable Attic $19.95)
Capacity: 4
Season: 3
Trail Weight: 6 lbs 15 oz / 3.15 kg
Packed Weight: 7 lbs 7 oz / 3.37 kg
Interior Area: 57.50 ft2 / 5.34 m2
Vestibule Area: 14.5 + 14.5 ft2 / 1.35 + 1.35 m2
Peak Height: 50 in /127 cm
Packed: Length: 20 in/50cm , Diameter: 8 in/ 20cm
Rating: 8.5/10
Innovation 2/2
Function 2/2
Aesthetics 1.5/2
Features 1.5/2
Quality / Price 1.5/2
PROS:
A relatively lightweight 3 season tent for 4 people, optic white canopy keeps you smiling inside even when it is grey and stormy outside. Roomy with two entrances and two vestibules. The price is reasonable and the weight and compactness are top of the line. Jakes Foot is the best thing in tents since the gear attic.
CONS:
Poles are not colour coded to aid in assembly, multiple poles make for a slower set up where as a single pole assembly is quicker with less fumbling for missing poles.
Rating: 8.5/10
Interior Space 2/2
Design 1.5/2
Features 2/2
Weight 1.5/2
Quality / Price 1.5/2

This is only our opinion. Do you disagree? Did we miss something? Are we totally out to lunch? Join the discussion in the forums here, and let us know what you think. People like/dislike gear for different reasons so chime in and we'll get a well-rounded evaluation.
Back to the rest of the reviews.
---