Sierra Designs Lightening HT 4 Tent - REVIEW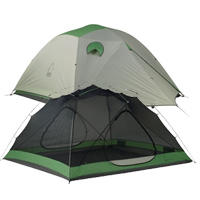 Every manufacturer has their specialty, something that they are well-known for and for Sierra Designs this seems to be their tents. They have a wide array of models from 3 and 4 season, to Base Camp and ultralight. As with most tents and definitely with any 4 person tent that last category is especially important as you can quickly top five kilos for a standard four-man-er. The Sierra Designs Lightening HT 4 Tent falls into their ultralight category coming in at just over three kilograms for trail weight. While you would think that Sierra Designs would skimp on features to keep the weight down they have actually jam-packed this one full.
Read the full review over here.