Ramp KaPow Skis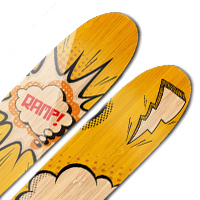 Being a fairly traditional guy when it comes to skiing I have always been partial to a moderate amount of early rise in the tip, zero in the tail and some good solid camber under foot. A fat ski to me is 105 or 110cm at most. This is why I was so surprised by the Ramp KaPow skis as they are anything but a traditional ski. At 150cm at the tip, 122cm underfoot and 139cm at the tails they are plenty fat with twin tips and "Freestyle Camber" underfoot. The huge early rise and reverse sidecut in the tip ensures these fat boys get you up on top of the pow and allow you to bust through chop with ease.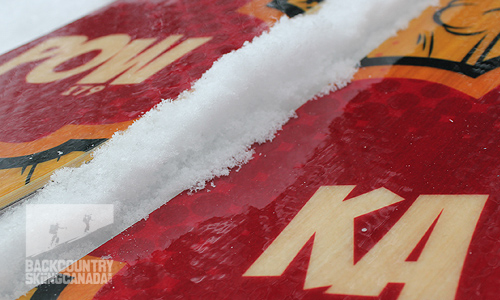 The KaPow's are made with a Kevlar and fully FSC certified (Forest Stewardship Council) bamboo core, which makes for a solid, strong ride while dampening vibrations. The "Razor Cut" sidecut as Ramp coins it, is an innovative sidecut shape that provides edge cutting power where you need it most. This Razor Cut sidecut simply means that the sidecut is straighter from the mid point of the ski then becomes curved again farther back for a better turning shape. This innovative shape allows the KaPow to grip and turn on soft groomers as it if was a 95cm carving ski. I know this is hard to believe but you'll have to take my word for it or test a pair for yourself and then you'll see.
The Ramp KaPow Skis are a big ski, there's no doubt about that, but looks can be deceiving. You might assume they could only be fully appreciated while skiing deep powder, and while this is where they truly shine, they're also fun in variable snow and on groomers. Heaps of fun in fact. I mounted the KaPow skis with the Marker F12 Alpine Touring binding so that I could test the KaPows out where deep snow abounds - in the backcountry. Here I found the KaPows ideal for slashing big mountain lines while also being nimble enough to crank out linked turns in the tight trees.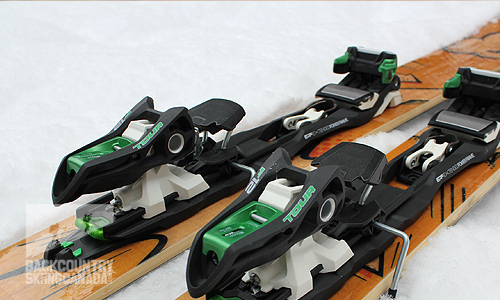 The KaPow Skis are built in Park City Utah, and Ramp offers web based factory-direct pricing to save you a bundle. Check them out online at Rampsports.com
Tip and tail rocker.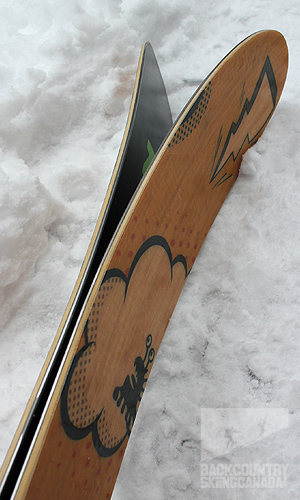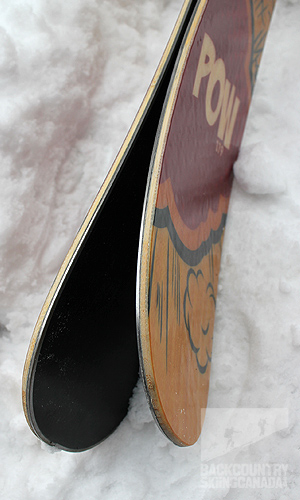 Features:
- Early rise tips
- Kevlar construction
- Bamboo Core
- Razor Cut
- Vacuum Moulding
- Maximum early rise and reverse sidecut in tip
- Strong tail with 20mm rise
Fun top sheet and camber underfoot.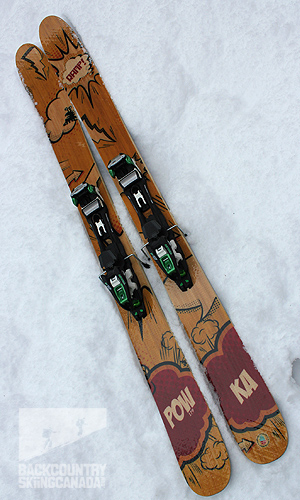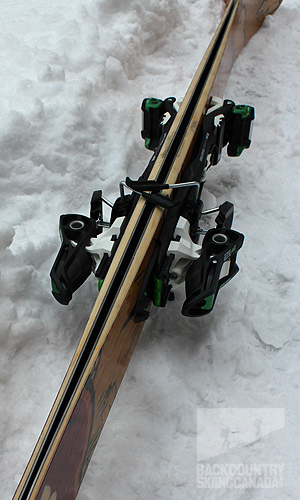 Sidewall close up.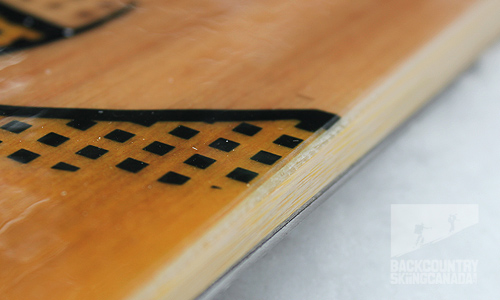 Verdict:
The Ramp KaPow is one of the funnest ski I had the pleasure of putting on edge. You get a pretty good idea that this is not a ski to take too seriously judging from the fun top sheet design and the super fat dimensions. In deep pow it excels but also floats over crud and miraculously still carves on hard pack and groomers (just not that well on super compact hard-snow and icy conditions). While they don't quite carve like a race ski I was amazed at how much fun they still were considering a large portion of the ski's edges are not in contact with the snow. The KaPows are a real smile maker in any condition, resort or backcountry as they just turn so effortlessly.
Hard pack is still fun and chop is no problem; the KaPows can ski it all. On groomers there is some tip chatter thanks to the early rise tip but it is negligible. Since there is very little camber under foot it allows you to carve or smear big wide turns in deep snow or simply crank them out uzi style in the trees. Where the Ramp KaPow Skis are a real knock-out though is in the deep, deep stuff (obviously).
Being a graphic designer in a past life I can appreciate the fun top sheet deign and how it accurately reflects the playful nature of the KaPow skis. I love the graphics, they're just as fun as the ski.
The only downside of the Ramp KaPow Skis is that it makes me consider that I really need a third ski in my current quiver of two. One for fast carving groomer days, one ultra light for ski touring and traverses and now the Ramp KaPow for deep-deep pow days.
While the weight is not 'light' at ten plus pounds per pair this means you'll really have to enjoy the down to consider taking the KaPow on big multi-day backcountry tours. I think the trade off of weight versus fun factor is still worth it though. Maybe not for multi-day tours or epic traverses but on those extra deep days the weight on the up track will all but be forgotten once you ski down.
As a final side note I wanted to talk about how Ramp has teamed up with Tyrolia to offer complete alpine touring and alpine ski packages. On the touring side you can get the combo-meal deal with Adrenaline 12, 13 or 16 AT bindings which we reviewed in the 2012/2013 ski season (have a read here). On the alpine side you can get the Tyrolia Peak 12 or 15 bindings with Carbon Poles. Great idea and big savings!
One happy Ramp Kapow customer summed it up best by saying, they're "a sports car on the groomers, and hovercraft in the pow". I couldn't agree more!
Tips and tails show off a whole lot of fun and if you put them the opposite way in photos they become the PowKa skis!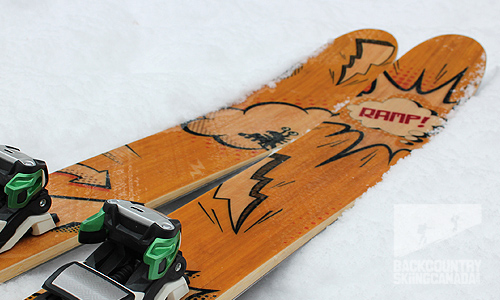 SPECS:
Price: $719 US (factory Direct)
Length: 169, 179, 189
Dimensions (Tip / Tail / Waist / Tail (mm)): 147 / 119 / 136, 150 / 122 / 139, 153 / 125 / 142
Weight (pair): 4kg / 8.8lbs, 4.5kg / 10lbs, 4.9kg / 10.8lb
Turn Radius: 12.5m / 15m / 19.9m
Awards: 2014 Freeskier Editor's Pick
PROS:
- Fun graphics
- Super surfy ski that is heaps of fun in deep snow and chop
- Likes to turn fast and run at full speed
- Still able to carve on soft groomers
- Ski packages offer big savings and available with Tyrolia Adrenaline 12, 13 and 16 AT bindings and Touring Poles.
CONS:
- A heavier dedicated touring ski
- Some tip chatter on harder packed snow
Rating: 9/10
Powder Performance         2/2  
Groomer Performance       1.5/2     
Stability                            2/2
Weight                              1.5/2
Value                                2/2

Join the discussion in the forums here, and let us know what you think. People like/dislike gear for different reasons so chime in and we'll get a well-rounded evaluation.
Back to the rest of the reviews.
---