Rab Zephyr Jacket and Rab Solar Jacket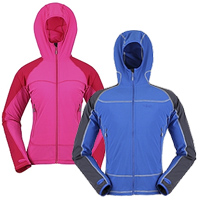 Rab has a new light weight soft shell jacket on the market called the Zephyr Jacket for him and the Rab Solar Jacket for her. Both are pretty much the same design but the Solar Jacket takes into account the a women's physique and their colour palette preferences. The men's Zephyr Jacket weighs in 120 grams more than the Solar Jacket but given the larger sizing this is only natural. Both the Rab Zephyr and Solar Jackets are relatively light and compact-able given they are a soft shell layer. They are essentially the little brother (and sister) to the Rab Scimitar jacket (and pants) which we reviewed previously here. They are more of a summer outer layer and spring, fall and winter mid layer given the diminutive thickness of the fabrics. Both the Rab Zephyr and Solar Jackets have full front YKK zips with storm flap and chin guard built in to keep weather out and warmth in. They both come complete with a non-adjustable under the helmet hood and thumb loops so you can keep the sleeves in place under layers or even a pair of gloves.
So what's the big story with the Rab Zephyr and Solar Jackets you ask? It really comes down to the fabrics. The soft shell Matrix SWS and DWS fabrics offer up a great deal of stretch for those mountain activities that require a good range of motion. They are pretty light weight so they will cut the wind for you and also provide good protection from the sun with out warming you up too much. Rab produces a similar product called the Boreas Pull-on. The Zephyr and Solar jackets use the same Matrix SWS in the main body but Rab has added the more beefy Matrix DWS to the shoulders and outer arms for added durability. This all adds up to a really breathable piece that gives you some protection from the elements without taking up half the space in your pack like a full soft shell can. The quick dry capabilities of the fabric and it's natural wicking properties also make this an ideal layer for climbing, ski touring and just general wear. Rab didn't stop there though; they also added in a Polygiene anti bacterial treatment in the fabric so it won't stink up on you after a multi-day trip in the backcountry.
The Rab Zephyr Jacket for him.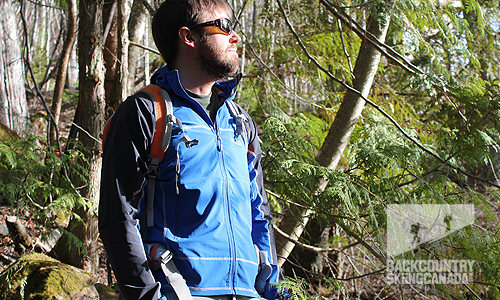 The Rab Solar Jacket for her.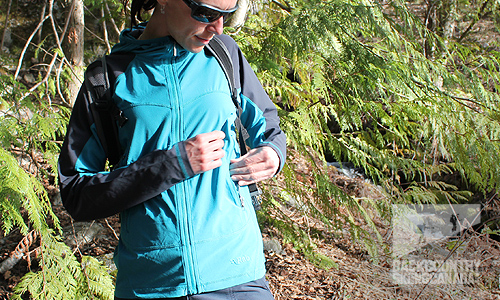 Features:
Fabric: Matrix SWS fabric for the body and Matrix DWS in shoulder and upper sleeve, both with Polygiene STAY FRESH odour control treatment
Zipper: YKK front zip, internal storm flap, chin guard
Pockets: 2 YKK zipped A-line handwarmer pockets
Hood: Under helmet hood
Cuffs: Thumb loops
Fit: Slim
Mesh pockets allow heat to escape when it gets hot.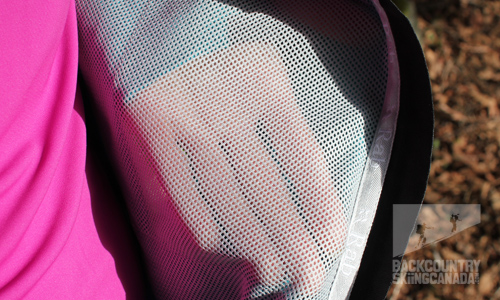 Thumb loops on both the Rab Solar and Zephyr Jackets.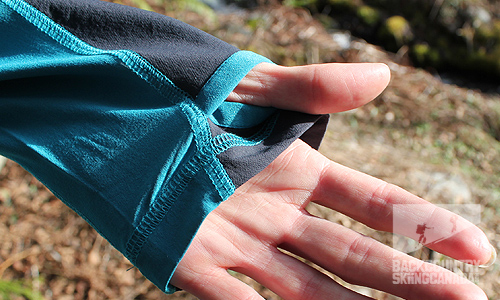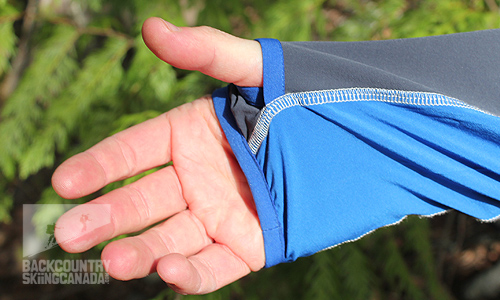 A simple under helmet hood with no adjustments.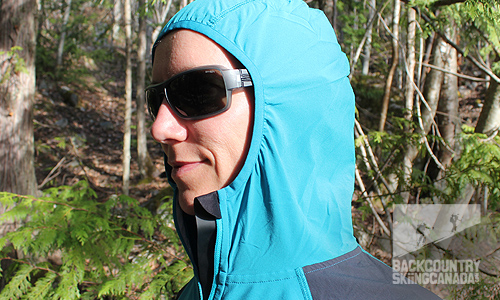 Famous Rab pockets that are massive (this is a good thing).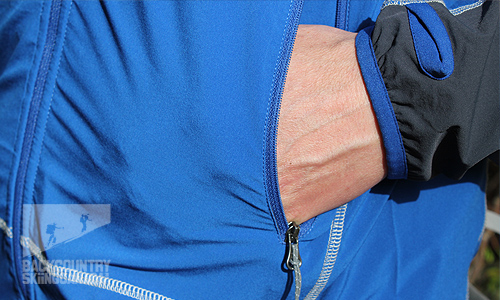 Zipper Garage with chin guard so things are comfy.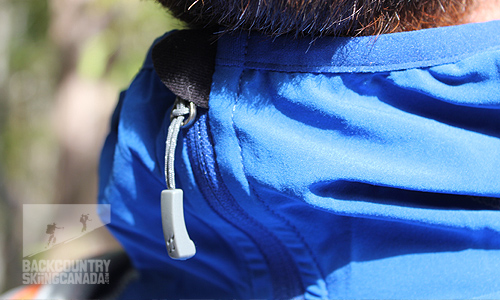 Zipper and pockets on the Rab Solar Jacket are pretty much identical to those on the Rab Zephyr Jacket.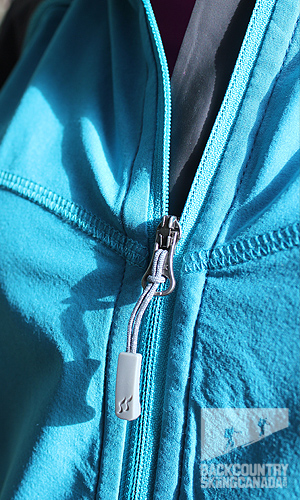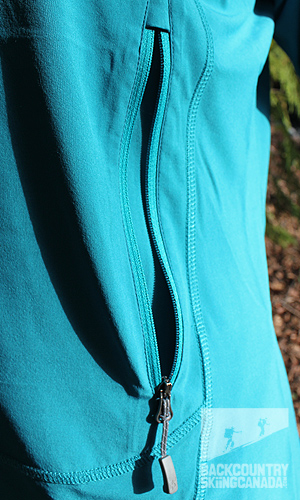 Fabrics:
Matrix SWS is made up of 86% Polyster / 14% Spandex and is 131g/m so it is relatively light compared to the Matrix DWS found in the shoulders and upper sleeves. It has a UPF rating of 50+ and has built in "active odour control" which is a Polygiene Treatment based on silver salt so it is environmentally friendly and is said to last the life of the garment. Thanks to the fabric's 75 denier (the mass of the fibre in grams of 9,000 meters) warp which is the lengthwise fibres and its weft (transverse fibres) of the same 75 denier, the fabric has an air permeability rating of 8-10CFM.
The Matrix DWS on the other hand has a make up of 90% Nylon / 10% Spandex at 182g/m. This fabric is slightly thicker and hence has a Warp of 90d (or denier) and a Weft of 90d which provides an air permeability of 3-5CFM and a UPF of 30+. This fabric is also Bluesign certified which is an environmental certification for the textile industry to ensure things are done with the planet and the worker in mind.
A close up of the flat seems and softshell Matrix SWS and DWS fabric on the Rab Solar Jacket.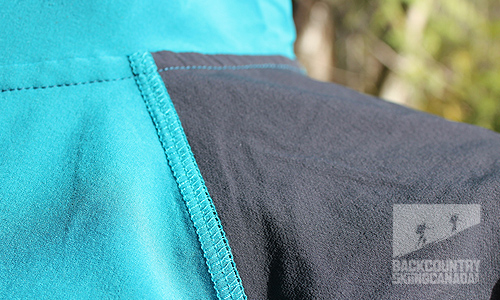 Verdict:
The last thing I need is another jacket or layer taking up space in my closet so naturally only those that truly work in the mountains find a place in my arsenal of outdoor clothes. The Rab Zephyr Jacket (and for the ladies the Rab Solar Jacket) has been a huge asset in a few of my spring outings thus far. I thought that the Rab Scimitar jacket was the only soft shell I needed… not so. It has not been replaced by the Zephyr but instead merely augmented by it. The Scimitar is the best soft shell jacket I own hands down but I would qualify the Rab Zephyr jacket as more of a shirt or ultra light shell in comparison. It's not an outer layer for when it's cold in the alpine like the Scimitar but rather a mid layer for high aerobic activities or an outer layer during the coming cool summer nights or warm spring and fall days. The Rab Zephyr Jacket has worked well on spring ski tours and mid spring hikes. When the weather gets warmer it will be ideal in the alpine for mountaineering and rock climbing since (as mentioned before) it is light, breathable, compact and protects you from the sun and light wind. The only areas of improvement in my mind for the Zephyr and Solar jackets (and both are very minor) is to include some sort of micro adjustment at the bottom hem as I like to cinch things up and keep out any snow or breeze. The second item is the thumb loops on the sleeves. These are orientated at right angles to your thumbs so they are somewhat restrictive. Not a biggy for me as I have never been a thumb-loop-user. On the flip side my favourite feature has to be Rab's legendary massive pockets as they are standard issue on both the Rab Zephyr and Solar Jackets. As well, the amount of stretch and weather protection these pieces offers up is pretty optimal given their weights. (Ok that was three things.) Oh, and the "active odour control" for those who stink on the trail… (not me of course).
SPECS:
Women's Rab Solar Jacket:
Price: $110 CAN
Sizes: 8-16
Colours: Fuchsia, Turquoise, Beluga
Weight: 225g / 9oz
Men's Rab Zephyr Jacket
Price: $110 CAN
Sizes: S, M, L, XL, XXL
Colours: Breaker, Mineral, Beluga
Weight: 345g / 12oz
PROS:
- A light versatile jacket for a mid layer or outer layer
- Simple design keeps it light
- Under helmet hood when you need it for warmth
- Full zip for easy on and off
- Two massive hand pockets
- Great range of motion for climbing, ski touring and hiking
CONS:
- No hem adjustment to keep it cinched in and the breeze out
- A basic layer without any additional pockets or features
- Thumb loop orientation is restrictive
- Pockets are not totally pack and harness friendly but that's ok as I prefer a hand pocket
Rating: 8/10
Innovation 1.5/2
Function 2/2
Aesthetics / Fit 1.5/2
Features 1/2
Quality / Price 2/2

This is only our opinion. Do you disagree? Did we miss something? Are we totally out to lunch? Join the discussion in the forums here, and let us know what you think. People like/dislike gear for different reasons so chime in and we'll get a well-rounded evaluation.
Back to the rest of the reviews.
---