Rab Zephyr Jacket and Rab Solar Jacket - REVIEW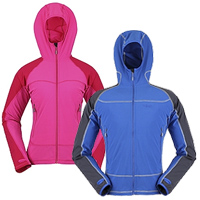 Rab has a new light weight soft shell jacket on the market called the Zephyr Jacket for him and the Rab Solar Jacket for her. Both are pretty much the same design but the Solar Jacket takes into account the a women's physique and their colour palette preferences. The men's Zephyr Jacket weighs in 120 grams more than the Solar Jacket but given the larger sizing this is only natural. Both the Rab Zephyr and Solar Jackets are relatively light and compact-able given they are a soft shell layer. They are essentially the little brother (and sister) to the Rab Scimitar jacket (and pants) which we reviewed previously here. They are more of a summer outer layer and spring, fall and winter mid layer given the diminutive thickness of the fabrics.
You can win one of these fab Rab products by simply telling us what they're made of and casting your vote over here. The draw it at the end of July so hurry up and enter.
For the complete review have a read over here.