Pieps Checker, Pieps iProbe and Pipes Bivouac Bag
Pieps is a manufacturer of quality backcountry skiing products and best known for their line of avalanche transceivers, namely the Pieps DSP Transceiver which won our coveted Gear of the Year award in 2012. There is more to Pieps than just transceivers though so we figured it was about time we profiled a few of their lesser known products in our gear review section. Today we will look at three Pieps products: the Pieps iProbe One 260, the Pieps Bivouac Bag and the Pieps Checker. Have a read below for our thoughts on each of these Pieps products.
Pieps iProbe One 260
Every backcountry skier is already familiar with what a probe is and does so I will forego the details and just get right to the meat of how the Peips iProbe ONE 260 is different. First off, Peips has obviously given a nod to Apple's successful naming campaign in coming up with the name "iProbe". The iProbe ONE 260 is basically a 260mm probe with an integrated digital receiver in the tip so that it can help detect and locate an active avalanche transceiver (according to the standard EN300718). The iProbe has an optical and acoustic target indicator built in and will work with every standard transceiver on the market. If the iProbe One is within a range of approximately two meters of a transmitting transceiver a brief audio signal will be emitted and the target indicator light will blink. When the iProbe ONE is within 50cm a continuous tone will be emitted giving the user better information as to exactly where the avalanche transceiver and victim may be located.
There is also a deactivating function that can deactivate any transceiver equipped with iProbe ONE support. This function may sound scary but it can help with multiple burials. Once the iProbe ONE is moved more than 50cm away from the deactivated transceiver it will then be automatically re-activated. The probe shaft itself is made of carbon fibre and aluminum and has an integrated velcro tape to keep the probe compact when not in use.
The iProbe ONE 260 is another tool for accurately pinpointing buried transceivers and in our testing it was very effective in locating transceivers in single and multiple burial scenarios. Even thought the deactivating function worked flawlessly that feature still makes me feel a bit uneasy.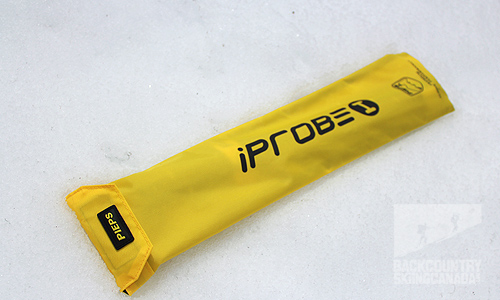 Folded up the iProbe does not take up much more space than a traditional probe and as you can see in the photo below the probe itself is identical to other probes on the market.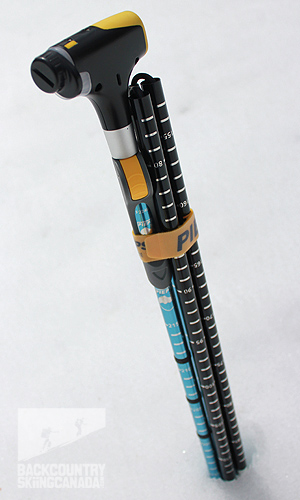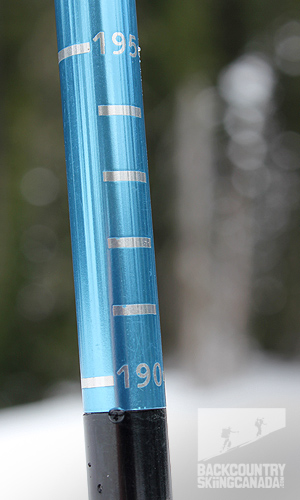 This is where all the technology lies as well as the power supply and on/off switch.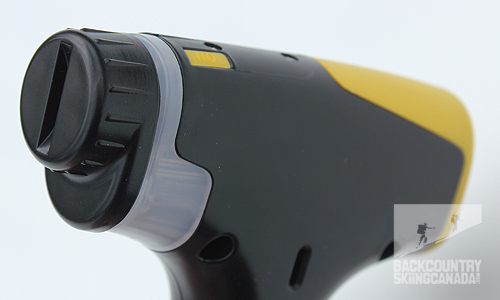 The tip of the iProbe looks like any other probe from the outside.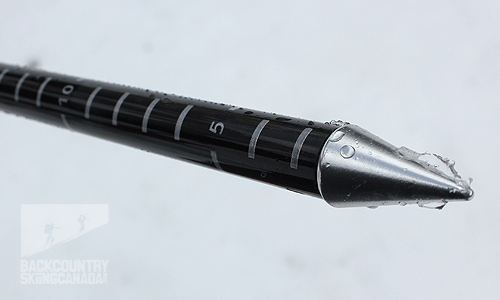 The locking mechanism is super solid.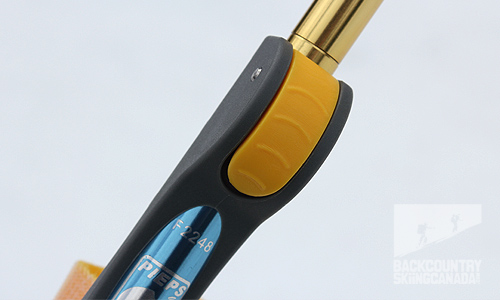 SPECS:
Price: $185.95
Weight: 290g / 10.23oz
Probe length: 2.2m
Probe target range: 4m
Receiving frequency: 457 kHz (EN300718)
Power supply: 1 AA Battery
Battery lifetime: 150 h
Approaching range: 2 Meter
PROS:
- Helps accurately pinpoint the location of a buried transceiver
CONS:
- more technology to depend upon
- battery compartment easily opened when turning the unit on
Rating: 8/10
Ease of Use 1.5/2
Technology 2/2
Features 1.5/2
Weight 1.5/2
Quality / Price 1.5/2
---
Pieps Checker
The Pieps Checker is a small device which checks that a transceiver is transmitting a signal. This is something which is mandatory at any backcountry ski trailhead. You simply press the button on the Pipes Checker and if you hear an audible tone then your transceiver is emitting a signal. The unit is very small, easy to use and a very reasonable price however it does function in the same manner that your own transceiver would if you were to perform a transceiver check.
Small and only a single button so operation is a no-brainer.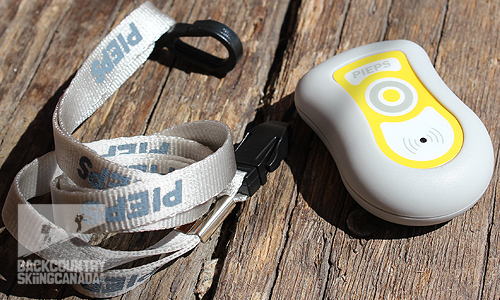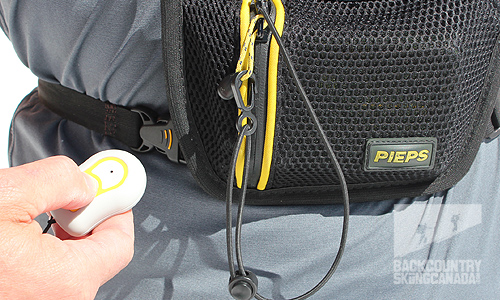 SPECS:
Price: $29.95
Receiving frequency: 457 kHz
Power supply: Internal Li-ion Battery
Battery lifetime: 5 years
Maximum range: 100 cm
Weight: 19g / .67oz (incl. Battery)
Dimensions (LxWxH): 51 x 35 x 17 mm
PROS:
- Small and simple to use
CONS:
- Another piece of gear that performs a function your transceiver can already perform
- Battery is not user replaceable
- Does not check transceiver search capabilities so it is not a complete transceiver check
Rating: 7/10
Ease of Use 2/2
Technology 1/2
Features .5/2
Weight 2/2
Quality / Price 1.5/2
---
Pieps Bivouac Bag
Safety is always first in the mountains and the new Pieps Bivouac Bag is one product that answers this call. It's light and compact and when the s#%t hits the fan you'll be really glad you had it with you. Unlike other bivy bags I have had in the past (namely, those very thin and easy to tear foil ones) they never see the light of day and somehow manage to get poked full of holes on every fold and crease line rendering them useless when you actually do need them. The Pieps Bivouac Bag is built tough and doubles as an insulated/padded seat for ski touring lunch breaks or sitting on a rock while hiking. I like the dual purpose nature of the Pieps Bivouac Bag as it means that I will actually use it! The exterior uses bright signal colours and a silver coating on the inside called "Thermo-Light", which bounces back any body heat to keep you warm in an emergency. The materials are robust, light-weight (only 325g) and made of rip stop nylon material so this product will last. It's water and windproof so no need for an emergency to use it, if the weather turns for the worse break it out and stay dry and warm. It measures 190x85cm (as a seat pad it measures 30x24x2.5cm) and folds up to a compressed size of 24x6.5x6.5 cm
Compact storage size so it takes up next to no room in your pack.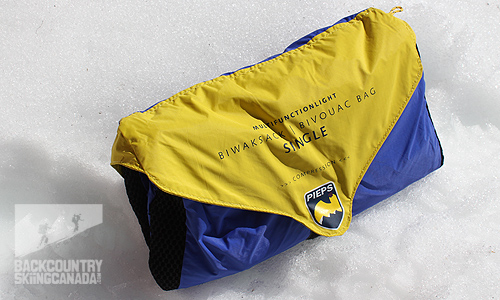 The Pieps Bivouac Bag easily accommodates a six foot plus subject.

Adjustable neck collar to keep the snow out, but the addition of a hood would be ideal.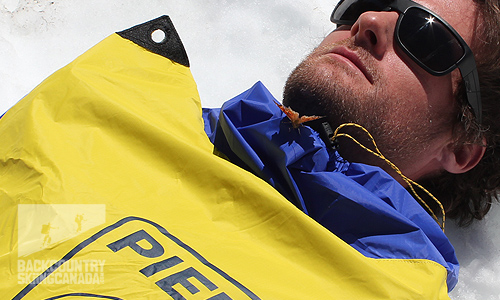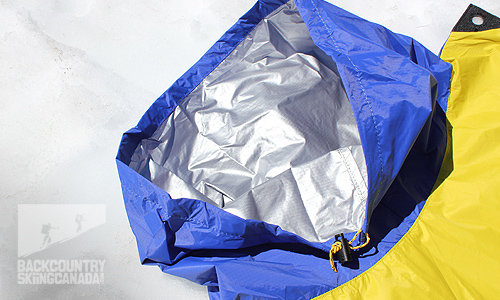 Reinforced corners which allow for the constructions of a rescue toboggan.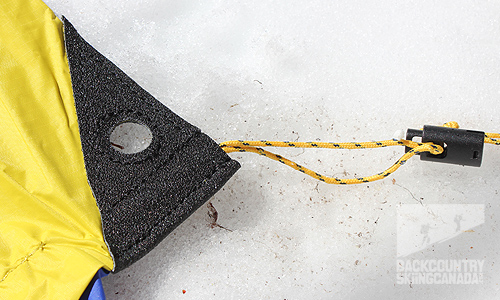 It also doubles as a seat cushion to keep you up and off the snow at rest stops and lunch breaks.
>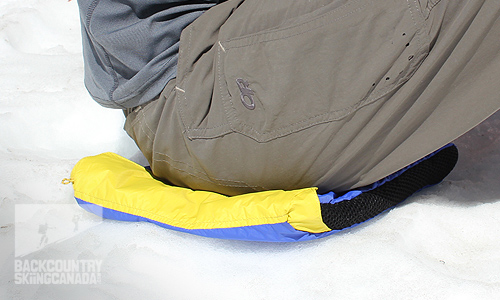 SPECS:
Price: $79.95
Weight: 325g / 11.5 oz
PROS:
- Great seat cushion when you stop for lunch
- Built in grommets along the bag are ideal for attaching a rope and making a rescue sled
- Velcro case is simple and can be compressed to half size if needed
CONS:
- Case should be integrated into the bag so you don't lose it or have it blow away
- A hood would be ideal to protect the subject inside
- The bottom flap has a single velcro tab and a full velcro closure would be ideal to keep out wind and snow.
Rating: 8.5/10
Ease of Use 2/2
Technology 2/2
Features 1/2
Weight 2/2
Quality / Price 1.5/2
---
Verdict:
Overall, some innovative new products from Pieps. The Pieps Bivouac Bag has to be my personal favourite just due to its simplicity and multi functionality. The Pieps Checker and Pieps iProbe are also certainly very useful products for backcountry skiers and they provide some additional technology that will hopefully push the industry and also keep users safe.

This is only our opinion. Do you disagree? Did we miss something? Are we totally out to lunch? Join the discussion in the forums here, and let us know what you think. People like/dislike gear for different reasons so chime in and we'll get a well-rounded evaluation.
Back to the rest of the reviews.
---