Ortovox Zoom+ comes with a harness and cord that keeps everything attached.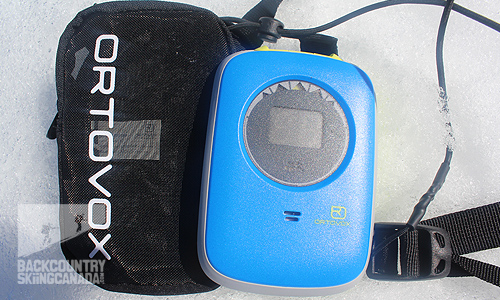 The Ortovox Zoom+ Transceiver is the perfect tool for beginners learning methods and techniques for locating a burial victim. It is extremely use friendly, here's why:
It's the most basic of transceivers, with only 2 buttons: on/off & send/receive. Pretty hard to mess this one up!.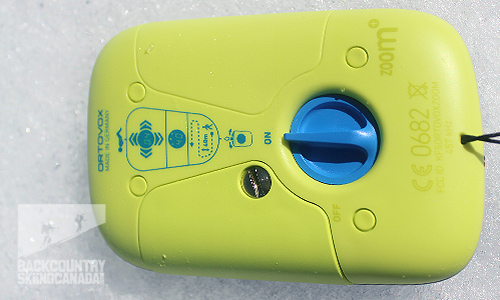 When you switch from transmit to receive, a diagram on the screen reminds the user to search using the single person search technique in a zig-zag pattern, just incase there is nobody else to give direction. There is a five point light indicator to show which direction the signal is coming from, with audio cues to indicate when you should be into your find search.
LED light indicators in 5 directions and a large proximity display.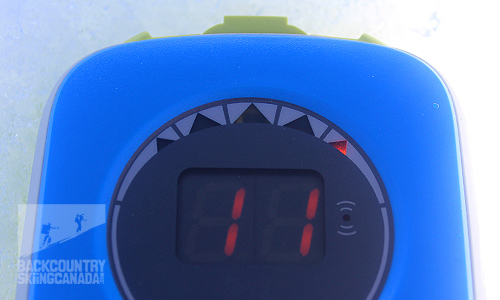 Incase there is a second avalanche and searchers are buried while in search mode, the Zoom+ will switch back to send if it detects no movement within 120 seconds (2 minutes). So ensure your harness cord is attached so you don't drop your beacon! Also it is very simple to press the button to pop the tabs back together incase you see it coming.
Send & Receive: easy to switch either way, just pull tabs or push the button.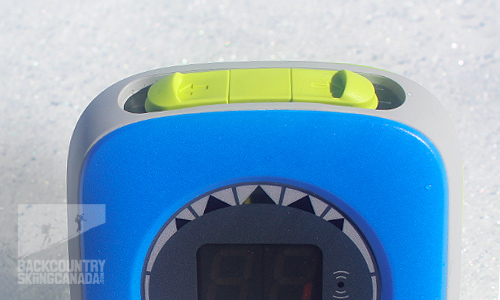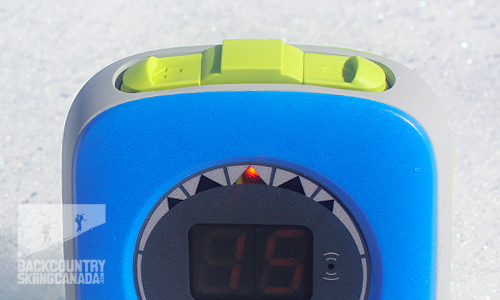 Ortovox's patented smart antenna technology aligns itself with the companies' longtime history in backcountry safety and survival gear. The 3 antennas allow signals to be picked up regardless of how the beacon is oriented under the snow. This allows the signal to be located sooner, which could be the difference between life and death.
Features:
- Digital Receive Function
- 3 Antennas - Smart Antenna Technology
- Easy switch tabs from transmit to search.
- Microprocessor Control
- On-screen Display
- 5 way LED Directional Display
- Search Acoustics
- Multiple Victim Indicatior
- Automatic Switch back to Transmit after 120 seconds.
- Protective rubber coating
- Comes with harness
- Waterproof
- Self tests upon startup
The Zoom+ is so smooth and feels great in the palm of your hand: "like a stone polished by a river".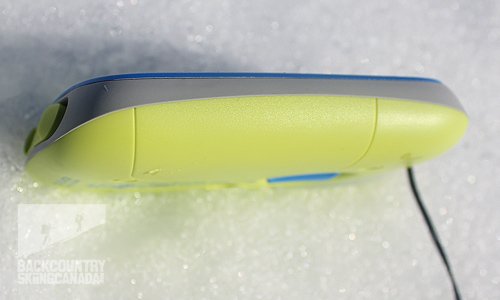 The Zoom+ works just fine and isn't uncomfortable to wear. Knowing the less experienced members of your group will be able to use it will give you piece of mind.

Verdict:
Regardless of whether or not you are a skilled skier/snowboarder or have the most entertaining personality ever, if you do not know how to use a transceiver then you are not coming with me into the backcountry. Luckily for noobs the Ortovox Zoom+ is the perfect tool for first time users. The harness isn't top of the line, but the price point is right on the money with what you would expect for this essential tool. Its sleek design and bright colors add attraction to its ease of use. There is a longer list of cons than what you would expected from an Ortovox device, and improvements could be made, but the bottom line is that this is a product for beginners. Coming from a reputable company it is a product you can trust and it will work when you need it most, but don't substitute a good product for ongoing education and proper knowledge of backcountry safety and survival.
SPECS:
Price: $299 US
Weight: 200g / 6.4oz
Range: 40m Maximum
Battery: 1 AA Alkaline battery with 250 hours duration
Colours: Blue & Yellow
Size: 116 x 79 x 23 mm / 4.5 x 3.1 x .9"
Comparable with: BCA Tracker 2 / Mammut Element
PROS:
- User friendly, basic that performs.
- Large LED screen.
- 5 direction indicators with LED lights
- Intructions on basic solo search technique appear upon switch to receive.
- Audio Indicator increases rate and tone as you approach signal.
- Self testing.
CONS:
- The location of the speaker that give auditory cues is easily covered by thumb or fingers.
- A slight ticking noise is made when the Zoom+ is in transmit mode.
- Harness is very basic, almost cheap.
- AA battery is odd, as most headlamps use AAA, adding extra's to your kit.
- The transmit light indicator is on the front, as oppose to the top or sides, where it could be more visible while wearing it.
- On/Off & Send/Receive buttons are not glove/mitt friendly, could be larger.
- LED screen was difficult to read in direct sunlight.
Rating: 8/10
Ease of Use 1.5/2
Technology 1/2
Features 1.5/2
Weight 2/2
Quality / Price 2/2

This is only our opinion. Do you disagree? Did we miss something? Are we totally out to lunch? Join the discussion in the forums here, and let us know what you think. People like/dislike gear for different reasons so chime in and we'll get a well-rounded evaluation.
Back to the rest of the reviews.
---