Mountain Hardwear UltraLamina Sleeping Bag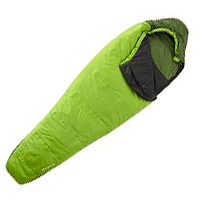 Overnight trips in the backcountry require survival gear that will keep you comfortable, warm and dry. If you plan on camping, a proper sleeping bag is imperative to hold up against any weather you may encounter. Mountain Hardware's premium synthetic, UltraLamina 32 is designed to be light weight, but adequate for warmth and comfort in 32 degree Fahrenheit or 0 degree Celsius temperatures, meaning it is a great summer bag, but might not be enough at higher elevations during shoulder seasons. A water-repellent and wind resistant sleeping bag like this one will ensure you keep dry and warm, regardless of your shelter and its welded construction enhances loft and eliminates cold spots.
Making changes with the 2013 model, the UltraLamina 32 has one two-way zipper that zips about two thirds of the way down. The bottom zipper, which allows for ventilation if needed, is insulated with material to make it accessible from the inside without letting heat escape when closed. Also Mountain Hardware decided to pull the hidden pocket: to save on costs or weight is unclear, but this is one less feature that users seem to have liked.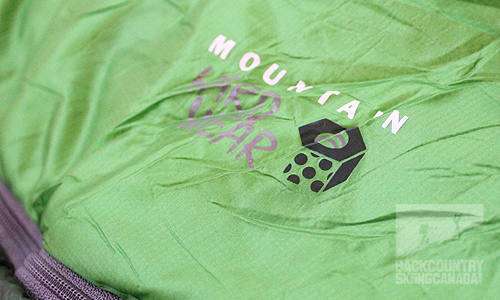 The upper section of the zipper is equipped with a climbing style cord for ease of zipper movement and a Velcro patch to secure snugly. Pictured above, the Velcro hooks on the right hand flap are saved by and extra loops section.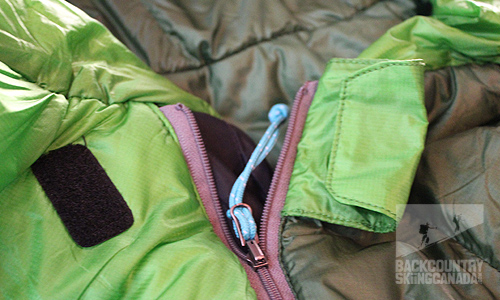 The Ultralamina 32 weighs less then two pounds and comes with a stuff sack and storage sack, staying lightweight and occupying little space.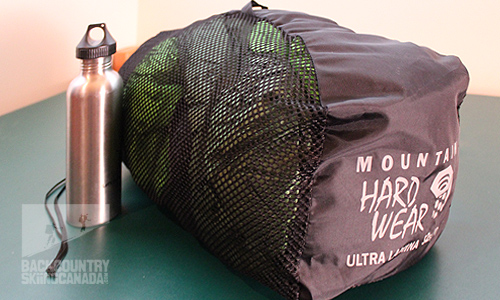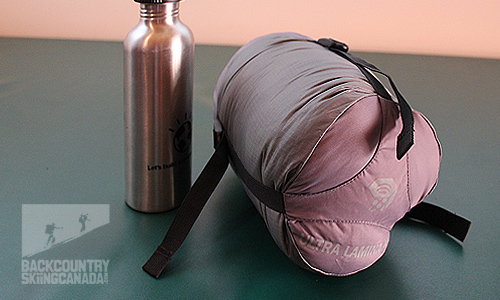 The footbox is deigned for comfort, so you can relax and remain in a neutral or anatomical position, as you like. The dimensions seem a little restricting for those with larger sized feet.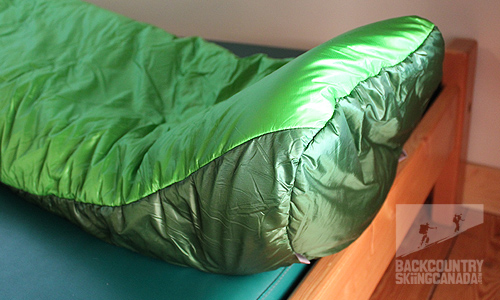 This sleeping bag is extremely comfortable and two separate draw cords around the face ensure a snug, custom fit to protect from the elements.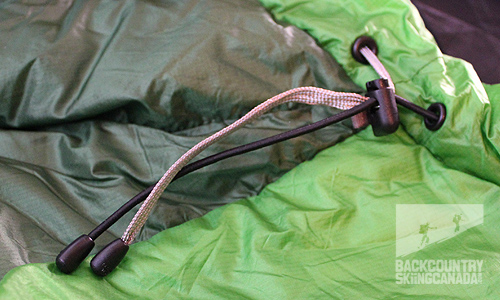 Features:
- Mountain Hardware's lightest & warmest synthetic sleeping bag.
- Mummy cut.
- Lamina™ construction enhances loft and eliminates cold spots.
- Ultralight shell is soft, waterproof and highly wind resistant
- Thermic Micro™ fill is soft, lofty, compressible and durable
- Footbox allows natural foot position.
- Single #3 3/4-length zipper minimizes weight, adds ventilation option.
- Face gasket and hood tailored for comfort.
- Sil-Nylon compression stuff sack.
- Mesh storage sack.
Materials:
Insulation - Thermal.Q™
Lining - 20D Nylon Taffeta
Shell - 15D Ripstop
The Ultra Lamina 32 is made up of unique construction known as Thermal.Q. This new design uses stiff fibers in a 3D grid structure to compare with down insulation. Fine fibers around the stiff ones fill in the gaps and creates a warmer insulation that is also lightweight, compressible and has a nice rebound from such compaction. Mountain Hardware states, "Thermal.Q Elite is, ounce for ounce, the warmest synthetic insulation ever made."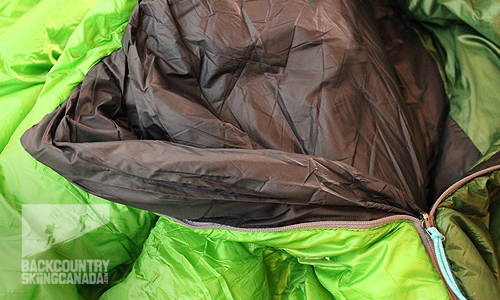 The UltraLamina 32 was very warm inside Kokanee Glacier Cabin.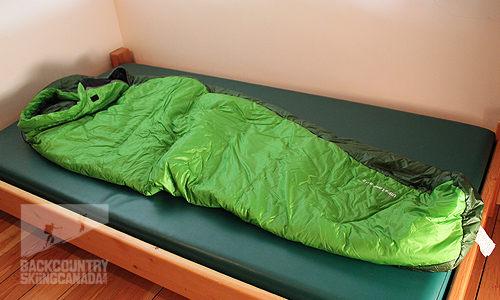 Verdict:
I have found this sleeping bag to be more then adequate for my summer camping needs. While staying prepared with proper base layers I haven't found myself awakened by shivers, but have noticed that I am quite warm, so the ventilation feature has been quite handy. By eliminating the double zipper feature from last years model, the UltraLamina 32 has become more lightweight and compressible for easy storage and minimal added weight to your pack. I have found the water-repelling fabric has already come in handy and the overall material comfort is spectacular. However the dimensions of the footbox seem narrow as foot movement becomes restricted throughout the night. I haven't had any problems with the zippers catching on the nylon and can't see a left-handed user having problems with the right-handed system and vice versa.
If down insulation is more your thing and you have some additional cash and you want to save 100 (or so) grams then consider the Mountain Hardwear Phantom 32 sleeping bag. If this still isn't warm enough then you could have a read of our Mountain Hardwear Hibachi review as it is a down sleeping bag and rated to -11°C.
This reviewer counting sheep way past our set alpine start time.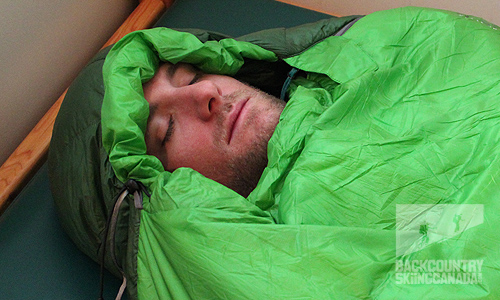 SPECS:
Price: $255 CAD / $240 USD
Weight: 775g / 1lb 11oz
Temp Rating: 0°C / 32°F
Fill: Thermal.Q (synthetic)
Stuff Size: 17x25cm / 6x10"
Color – Backcountry Green
Sizes – Mens/Womens, Regular/Long, right-handed/left-handed
PROS:
- Extremely comfortable: materials, footbox, mummy bag and ventilation.
- Lightweight and compressibility.
- Includes storage sack and compression sac
- Three different hook loops to hang & dry/vent bag after use.
CONS:
- There is no short model available.
- Only available in one color.
- No hidden pocket.
Rating: 8.5/10
Warmth 1.5/2
Compressibility 1.5/2
Features 1.5/2
Weight 2/2
Quality / Price 2/2

This is only our opinion. Do you disagree? Did we miss something? Are we totally out to lunch? Join the discussion in the forums here, and let us know what you think. People like/dislike gear for different reasons so chime in and we'll get a well-rounded evaluation.
Back to the rest of the reviews.
---