Mountain Hardwear Hibachi Down Sleeping Bag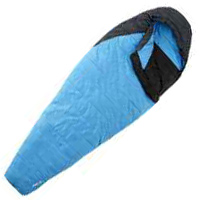 I have coveted Mountain Hardwear sleeping bags since reviewing the Mountain Hardwear Phantom 32 Down Sleeping Bag last spring. It won our 2012 Gear of the Year Award. Based on this experience, I was eager to review the Mountain Hardwear Hibachi -9°C down sleeping bag. The Hibachi is named after a traditional Japanese heating device and us North Americans will know the name from the portable cast iron car camping BBQ from the early eighties. Either way Mountain Hardwear's product naming is cleverly telling you that the Hibachi sleeping bag will keep you warm. The Hibachi bag is a three-season 600-fill Q.Shield™ Down sleeping bag designed for summer alpine backpacking trips and hut based winter ski touring trips. With a lower limit rating of -11°C, Mountain Hardwear gives the Hibachi a more conservative -9°C rating; that additional 2 degrees is a nice buffer when things get cold.
The big news with the Hibachi is that its down has been treated with Mountain Hardware's relatively new Q.Shield™technology. Q.Shield enables down to repel moisture. When down repels moisture the sleeping bag retains its loft and keeps you warmer even in wet conditions. In comparison, untreated down becomes soggy and clumpy when wet and looses its ability to keep you warm. Its good to keep in mind that the Hibachi is water resistant and not waterproof; although you can't take it swimming you can trust it to repel the moisture created in a tent. In short, Q.shield effectively removes the main reason why some argue synthetic bags are better than down. Case closed.
Unlike the Hibachi BBQ which requires a good amount of charcoal and work to heat up, the Hibachi sleeping bag simply uses a 600 fill down, the bag's shape and the bag's baffle design to keep you cooking. No work involved. The traditional mummy shape keeps the sleeping bag close to you (the heat source) while still providing enough room inside for those restless sleepers. The traditional zipper draft tube and adjustable hood keep drafts out while the 5 inch baffle design keeps the down evenly distributed to prevent cold spots and helps maintain loft and, therefore, warmth.d after a few weeks and the overall shoe became perfectly comfortable.
Features:
- Q Shield™ is a treatment that is applied to the down that resists heat robbing moisture and loss of loft in damp conditions
- Comfort mummy cut maximizes warmth without constriction
- Tight 5" baffle spacing keeps down from shifting and prevents cold spots
- Single-handed drawcords simplify adjustments
- 30-denier ripstop nylon shell is lightweight and tear resistant; fabric is treated with a Durable Water Repellent (DWR) finish to repel moisture
- Full-length, 2-way #5 zipper stays in place when the bag is partially unzipped for ventilation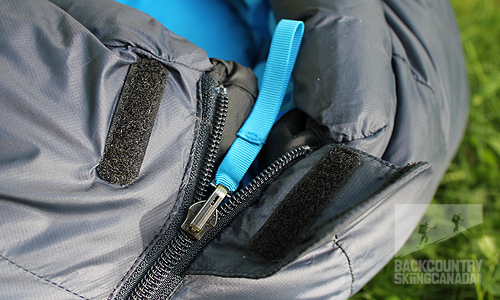 - Insulated draft tube with anti-snag panel prevents cold spots along zipper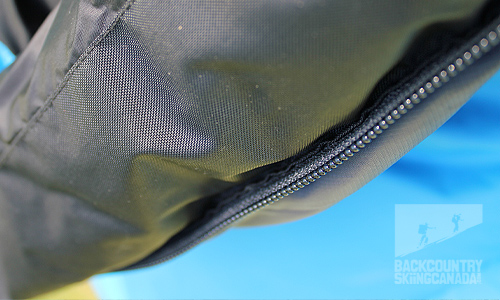 - External chest pocket for storing night time necessities like earplugs and such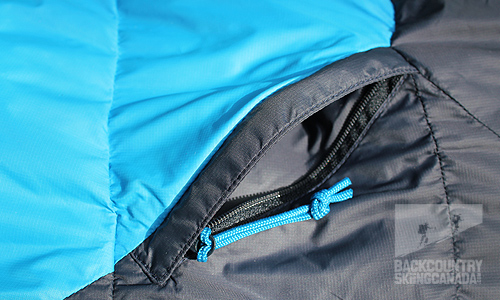 - Comfort Footbox follows natural foot position for warmth and comfort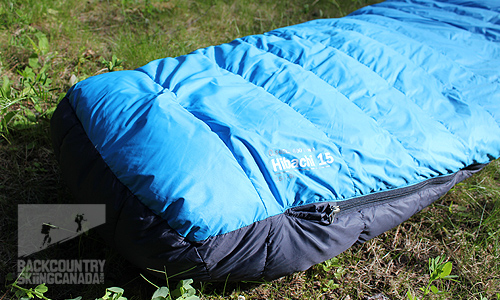 - Face gasket and 8-baffle tailored hood block drafts at the hood opening and seal in warmth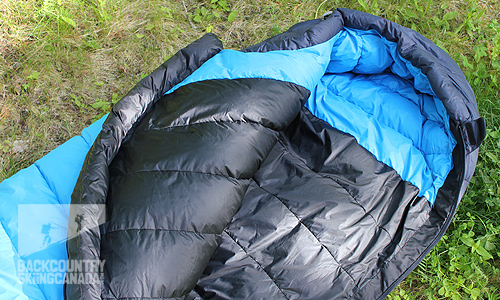 - Nylon mesh storage sack and stuff sack included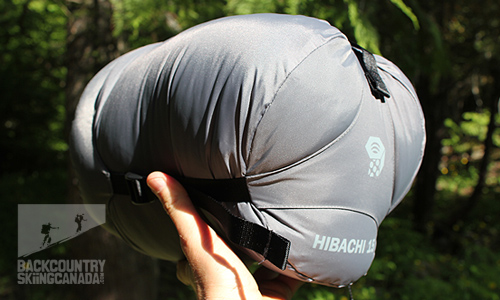 Fabrics:
Insulation: Q.Shield™ Down 600-Fill. Down fibres are protected from moisture so they retain loft and insulation properties. Q.Shield won't wear off.
Lining: 30D Taffeta
Shell: Ripstop Hi-Five™ 30D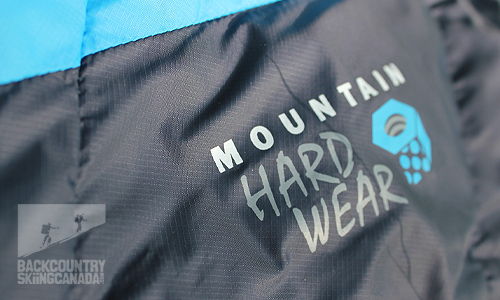 Verdict:
Rather than review the Mountain Hardwear Hibachi Down Sleeping Bag in isolation Backcountry Skiing Canada decided to simultaneously review several down sleeping bags this spring with a rating around -10°C. This allows us to better to tell you how this particular bag stacks up against the competition. We choose seven of the latest down sleeping bags from Deuter, First Ascent, Sea To Summit, Sierra Designs, The North Face, Big Agnes and of course Mountain Hardwear.
So how did the Mountain Hardwear Hibachi Down Sleeping Bag stack up against the rest?
Although the Hibachi had a similar temperature rating to the other bags, it was the only 600 down fill bag we tested, the rest being 675, 800 and even 850 down fill. As a result, the Hibachi had less loft than most of the other bags we tested. Having said that, comparing the loft of a 600 fill down bag to the 800+ fill down bags is not a relevant comparison. I did find, however, that the Hibachi was not as warm as the other sleeping bags tested and this may have been due to the lower loft.
The Hibachi was one of only three bags to offer water repellent down. Like Sierra Designs DriDown, Qshield is Mounain Hardwear's proprietary water repelling technology. Mountain Hardwear coats each individual down plume at the microscopic level with a DWR or Durable Waterp Repellent material. Mountain Hardwear then goes on to test the Qshield coated down their rain room to validate the fact that Qshield down performs better than untreated down and resist moisture better. I didn't have any cool testing technology such as a rain room but I did have multiple days in a tent with below zero night time temps. These are ideal conditions for traditional down to start to hold moisture, loose loft and thus make you sleep colder. For this reviewer, night five and six were just as warm as night one and this is the real test of Qshield.
In terms of comfort, the Hibachi was not the most comfortable bag to sleep in. This was in part due to the 30 Denier lining which has the advantage of being more abrasion resistant and tough but is not as soft and supple as the 10 denier bags we reviewed. The main reason the bag was not as comfortable as it could have been was misleading labelling for the length of the bag. Specifically, the "regular" size states a 78" length but I found it a little small for my 6' frame. The foot box while articulated was also not large enough in my opinion and when compared to other manufactures offerings it was easy to see just how small the Mountain Hardwear foot box was. This has more to do with the Hibachi model, however, as other Mountain Hardwear sleeping bags that I have tested had more than enough room for my size 10'ers. The "long" version of the Hibachi sleeping bag would no doubt offer up more room in this area and solve the problem. The fit at the shoulders and head was more than adequate in the regular size and allowed for back or side sleeping depending on your preference.
From a functionality perspective the Hibachi bag performed well. The zipper was easy to use and didn't snag thanks to the heavier material surrounding the zipper. The lock out feature also prevented the zipper from wandering down the bag when you set it to a particular location to vent excess heat, which was nice. The single handed hood adjustment, which was standard on most of the bags we tested, was present on the Hibachi sleeping bag but the bag did not have a neck collar draft tube. The Mountain Hardwear Hibachi Down Sleeping Bag was the only bag tested that did not include some sort of draft protection around the neck and for winter cabin use this is a must have. A mesh storage sac and a very durable compression sac were provided. The compression sac provided the ability to not only compress the bag but also protect it while in your pack.
Most of the other sleeping bags tested offered some sort of internal or external pocket for storing ear plugs, iPod or a headlamp and the Hibachi sleeping bag was no exception. The external pocket had a zipper and was ideally located out of the way, however, it was very small and this reviewer could barely even fit my very average sized hand inside to retrieve items such as earplugs or iPod. Overall, the pocket is in a good location, has a secure zipper closure but was too small to be very useful.
Overall the Mountain Hardwear Hibachi Down Sleeping Bag offered up great water repellent down that actually works at a very fair price but when compared to other bags we tested it was lacking some of the features and comfort that this reviewer was looking for.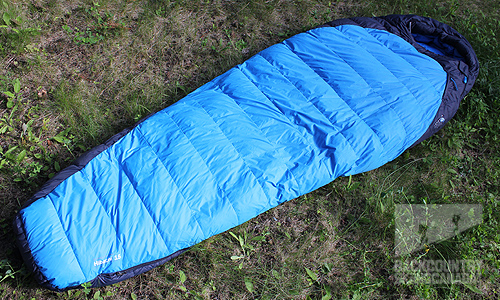 SPECS:
Price: $350CAN
Weight: 1.25kg / 2lb 12oz
Size: Regular
Dimensions (length / shoulder / Foot / Hip): 198 / 157 / 97 / 147cm, 78 / 62 / 38 / 58 inches
Fill: Q.Shield 600-Fill
Fill weight: 708g / 1lb 9 oz
Loft: 15cm / 6in
Stuff-Size: 20 x 40cm / 8 x 16inches
Temperature Rating: Comfort -4°C, Lower limit -11°C, Extreme -31°C (Note: Mountain Hardwear rates the Hibachi as a -9°C sleeping bag)
Warranty: Lifetime
PROS:
- Very reasonable price
- Q.shield Down
- Zipper draft tube is heavier fabric to resist snags
CONS:
- Regular size just fits a six foot tall person so a little tight
- Foot box room is limited and not articulated
- Chest pocket is too small
- No draft collar
- Slept a little cold but likely due to 600 fill down instead of 800 fill
Rating: 7.5/10
Warmth               1.5/2
Compressibility    1.5/2
Features              1/2
Weight                 1.5/2
Quality / Price     2/2

This is only our opinion. Do you disagree? Did we miss something? Are we totally out to lunch? Join the discussion in the forums here, and let us know what you think. People like/dislike gear for different reasons so chime in and we'll get a well-rounded evaluation.
Back to the rest of the reviews.
---