Whether the GPS market is feeling the squeeze from mobile phone makers, like Apple, or they simply want to go beyond the standard GPS unit and offer a digital hub experience in the great outdoors, it is clear that the GPS unit as we know it has changed for the better. Specifically, the construction of the Magellan eXplorist 610 GPS is, in a word, solid. A metal case and recessed screen protect it from drops and scratches and the waterproof (not water resistant) case will take on rain, snow and the occasional puddle. While its size is in line with other GPS units on the market, it is bulkier than most electronic devices we are accustom to.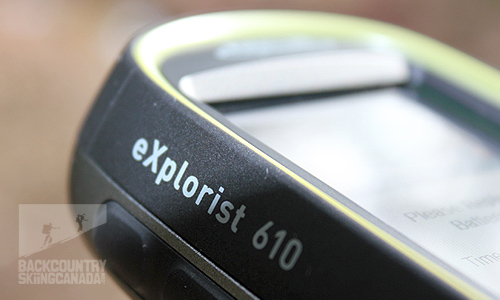 Storage:
For a relatively small device (think three iPhones stacked on top of one another) the Magellan eXplorist 610 GPS offers up a lot of storage space; but, as you know, you can always use more. In total, there are 3.65 GB of storage space. Of this the applications require 0.12GB, the user data approximately 0 .71GB and the Canadian West maps 1.62GB, which leaves 1.90GB available for your route data, photos, videos and audio. Load up the US Summit Series map and World Editions and you are left with only 0.55GB of free space.
Battery Life:
According to the manufacturers, the Magellan eXplorist 610 GPS offers16 hours of play time from two AA batteries, you can even specify alkaline, rechargeable or lithium batteries in order to better optimize your juice. For longer trips, such as, the 6 day Wapta traverse where we tested this unit, you can prolong your battery life by placing the Magellan eXplorist 610 into suspend mode to effectively turn off the unit while still maintaining GSP tracking. I also kept the backlight display turned way down to conserve power and tried not to fiddle too much with it after setting it up for a day of tracking our progress. Using these precautions, the single set of batteries I installed did last for the entire 6 day adventure. Unfortunately, I did find that the battery level indicator dropped in half during the first day, which was a bit worrisome, although turned out to not be accurate. In contrast, if you prefer to keep the unit on the entire time, you will quickly burn through a lot of battery power so rechargeable batteries are your best option. Beware, however, that their power levels are not always accurately displayed.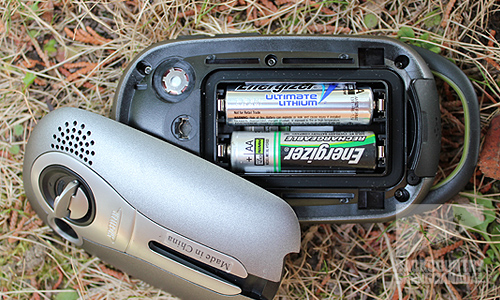 Interface:
A digital device is only as good as its GUI (graphical user interface) because if you have to constantly pull out the manual to figure things out then the chances of you using the device to its full potential are slim. The Magellan eXplorist 610 GPS has only two buttons (three if you include the power button) and these are on the left side and are fully customizable. The rest of the navigation is accessed via the touch screen and what Magellan calls their 'Four Corner Menu,' which includes one icon in each corner of the display. These icons include: the One Touch menu, the Options menu, the Dashboard menu and the Main Menu. The OneTouch Menu appears in the upper right and is a favourites screen, the Options Menu appears in the lower right and displays a contextual menu, the Dashboard Menu appears in the upper left is a pre-set button where you can choose one of nine options such as compass, barometer, altimeter, etc. and finally the Main Menu appears in the lower left and contains all your device options.
Main Screen. Dashboard Screen.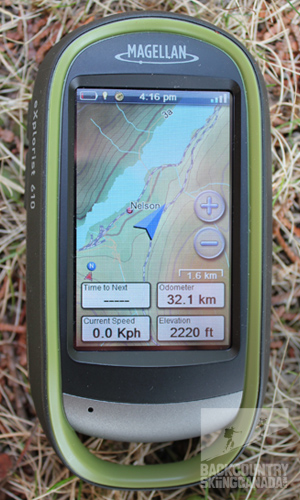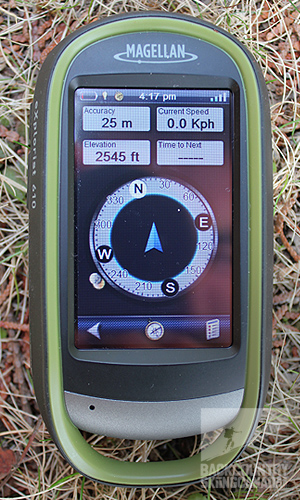 Options Screen. Tools Screen.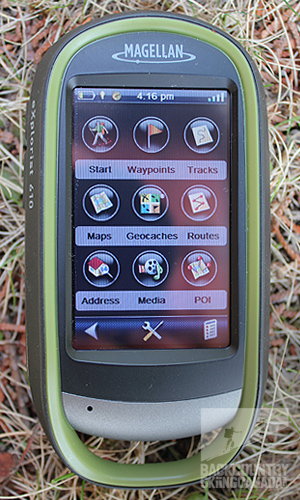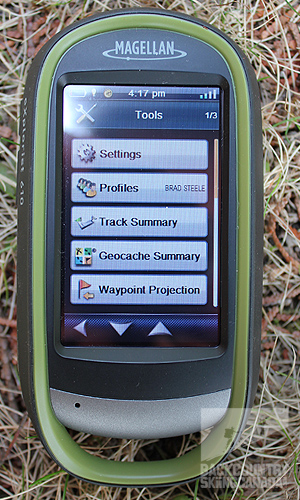 One Touch Screen. Sub Menu.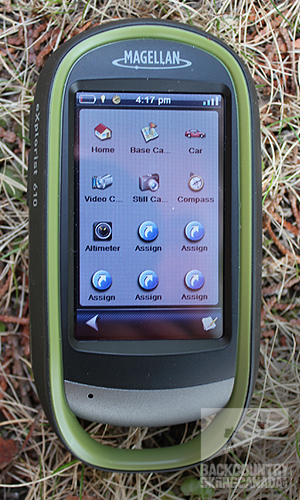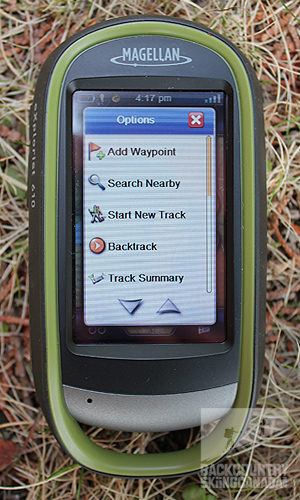 Features:
Display: 3" Resistive Touch Screen colour display with 240x400 resolution
Altimeter: Barometric altimeter
Camera: 3.2 mega-pixel camera with auto focus
Video: 320x240 resolution size
Audio: Built in microphone and speaker
Compass: 3- axis electronic compass
Waterproof: Rated to IPX7 standards (immersed in up to 1 meter of water for 30 minutes)
Accuracy: 10-16 feet
Interface: mini D to USB
Receiver: SiRFstarIII chipset
Video Capture mode.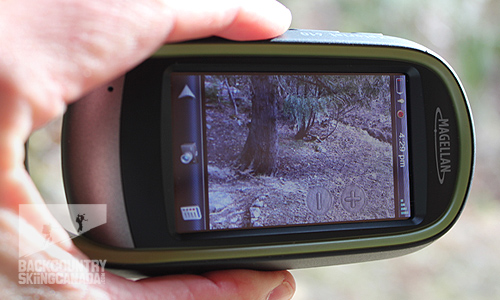 Verdict:
There is a lot to like about the Magellan eXplorist 610 GPS: it is built super tough, connects to satellites almost instantly, and provides very accurate data. I took the eXplorist 610 on a 6 day backcountry ski traverse in the Rocky Mountains and it performed well.
After a little practice, I found that the touch sensitive display worked well and could be used with a thin ski touring glove on which was nice. On the other hand, the touch screen could be finicky at times. Specifically, I had to remember this is a resistive touch screen and not an iPhone touch display so I needed to use some force. The display was bright enough to use in full sun on a glacier which is a must. Unfortunately, given all the features built into the 610 it does tend to chew through the batteries rather quickly so be sure to bring plenty of spares and use the suspend mode to save your juice.
The media capabilities of the Magellan eXplorist 610 GPS were nice to have, however, the photo quality is more in line with how you would use your cell phone camera and, therefore, is really only good to have in a pinch. For my backcountry skiing trip, I still lugged along my digital SLR in order to get quality snaps. The video feature was similarly nice to have but at 320x240 is far too small to be of any real use. You also learn very quickly that you have to tilt the Magellan eXplorist 610 GPS 90 degrees to the right in order to capture a photo or video in landscape mode. To me it would be a good idea for Magellan to rotate the camera inside the eXplorist 610 so that it did this in its standard orientation.
The industrial design of the Magellan eXplorist 610 GPS is appealing as it means you do not have to baby the device, however, at 1.45" thick it does take up some room in your pack. The recessed display protects it from scratches but because of its depth it also collects snow, water and dirt in inclement weather and can make accessing the 4 Corners difficult with gloves on. I also noticed that when you are syncing to your computer the mini USB cable plugs in at an angle and does not allow the unit to sit flat on the table, a minor design flaw.
When it comes to usability the Magellan eXplorist 610 GPS did an admirable job of creating an usable product. There is a lot of information to pack into such a small screen and for the most part it works well. Having said that, there are some inconsistencies within the UI (User Interface). I found that, once you get used to it, the user interface is fairly intuitive and, although the split keyboard takes some getting used to, it is a welcome feature if you are typing with gloves on. In contrast, a dedicated home button would save numerous back clicks when you are buried in sub menus
The biggest downfall of the Magellan eXplorist 610 GPS is that the processor is underpowered; this was most evident in the 30 second boot time and while switching over to photo or video mode. Also, I think Magellan is missing the boat by not having a dedicated website that you can download your data to. As a result, you need to know how to work with gpx and klm files as well as Google Earth and/or Google Maps.
Although these websites are well used, the benefits of having a dedicated Magellan website would include: having one place to store all of your data, allowing for the creation of charts to show your vertical gain over time as well as facilitating the creation of a community of Magellan users. Having such as community may enable users to, not only compare their data, but also, potentially, to share backcountry skiing or hiking routes.
The bottom line is that with this many features the Magellan eXplorist 610 GPS will take you where your smart phone GPS cannot and allow you to extend your digital life into the backcountry in order to experience, capture and share your backcountry skiing adventures.
The photos and video below were shot with the Magellan eXplorist 610 GPS and the route data was captured with the 610 then posted to Google maps.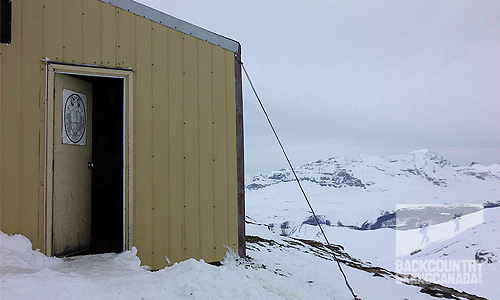 SPECS:
Price: $449.99 US
Weight: 6.87oz / 195g
Size: 2.57" x 5.04" x 1.45" / 65.3mm x 128mm x 36.8mm
Power: 2 AA batteries (battery life is approximately 16 hours)
Storage: 500MB plus expandable with micro SD card
Memory: 4GB
Processor: 400MHz
PROS:
Pre-loaded maps. Multimedia capabilities (audio voice memo, video, photos) that can then be geo-referenced. Satellite location was consistent and super fast. User Interface customization was a plus. Able to put it in suspend mode to converse battery life.
CONS:
Processor is slow to switch to photo and video mode as well as start up. No dedicated Magellan site to upload all of your data to and then share and analyse. User interface needs some refinement to make it more intuitive and user friendly; however, there is a lot of information to pack into such a small space. Battery display is not accurate and chews through battery power quickly.
Rating: 7/10
Ease of use 1/2
Features 1.5/2
Quality 1.5/2
Size / Weight 1.5/2
Price 1.5/2

Join the discussion in the forums here, and let us know what you think. People like/dislike gear for different reasons so chime in and we'll get a well-rounded evaluation.
Back to the rest of the reviews.
---