Evoc Patrol 40 L Ski Touring Pack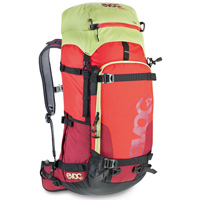 EVOC's new Patrol 40L+ and Pro 20L backpacks are innovative, ergonomic and designed with a safety focus that shouldn't be overlooked. I've been using the EVOC Freeride Guide 30L for the past season and have been pleased with its functionality and durability, so I was looking forward to putting the new 2014 siblings through the paces. Below is a quick run down of the packs' features and impressions. 
Don't miss the more in-depth video review below and be sure to read the full review on the Evoc Freeride 20L Ski Touring Pack over here.
The EVOC Patrol 40L+ is labeled a "spacious professional touring pack for freeriders and freeskiers," and it certainly fits the bill. But I'd argue it goes one step further, offering ergonomics and technical features that would satisfy a discerning ski mountaineer. I enjoyed my time testing this impressive pack on multi-day touring trips.
The EVOC Patrol 40L+, as per its namesake, offers a full 40 Liters of storage with +5 Liters optional thanks the height-adjustable top cover/compartment. There's a lot to talk about with the EVOC Patrol 40+, so let's start from the top.
The top compartment features two spacious fleece-lined pockets for glasses, goggles, cameras or any other more delicate items requiring easy access. Underneath is a water resistant pocket with a see-through cover, great for quick map viewing and access. Adjustable straps front and back allow it to expand to accommodate the 5 additional liters of storage in the pack's main compartment.
The Patrol 40L+ is built like a traditional top load backpack but features a handy two-zipper side panel that allows access throughout the compartment without unpacking and repacking. In addition to the main compartment, there is an easily accessible outside compartment dedicated to avalanche equipment, skins and the proprietary "emergency plan" panel – just another example of the highly functional design of this impressive backpack.
The back of the Patrol 40L+ is suspended by a plastic back support with a removable aluminum beam running the spine. This is covered by firm foam channels covered with a spandex material that is comfortable but stiff enough to be supportive but not wallowy – a fine balance with packs of this size. A detachable, anatomic hip belt features load stabilization straps, climbing gear fix loop and a handy pocket for camera or snacks.
Additional features include an innovative (x2) ice tool attachment system that neatly tucks away the sharp picks, vertical ski attachment, snowboard carry system that tucks away when not in use (slick), 4 lateral compression straps and one top compression strap with metal buckle, and a 3L hydration sleeve. It's also worth noting a version of this pack is also available with the zip-on ABS airbag system.
Features:
- Material: Nylon 210/D Ripstop PU coated, N420/D PU coated, N840/D PU coated, Air: Mesh, Spandex, Atilon PE Foam
- Extendable main compartment (+ 5 l of volume) with quick side access
- Height-adjustable top cover compartment with waterproof zipper and integrated water-resistant pocket for small items with transparent lid
- Snowboard/snow shoe attachment system with aluminum buckles (stow able)
- Ski attachment system (vertical)
- Quick-access avalanche equipment pocket with emergency plan
- Wide anatomical hip belt (detachable) with integrated load stabilization straps
- Innovative ice pick/ski pole attachment system
- Reinforced climbing gear (carabiner, quickdraws etc.) fixation loop on hip belt
- Large adjustable side pocket
- 4 lateral compression straps + 1 variable top compression strap with aluminum buckle
- Webbing loops to attach external elements and additional equipment
- Fleece-lined goggle pocket
- Hydration system compartment for up to 3 l of liquid, with side exit
- With separate helmet holder
The EVOC Patrol 40 has lots of room and functional features to boot. This is one is a winner on multiple fronts.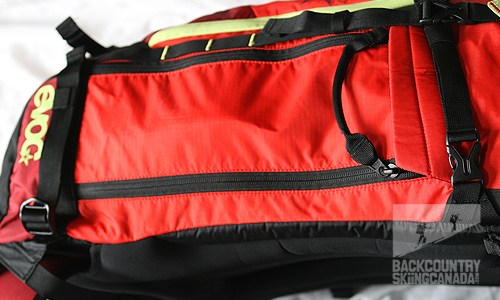 The practicality of a top-stuff sack and the convenience of easy side access.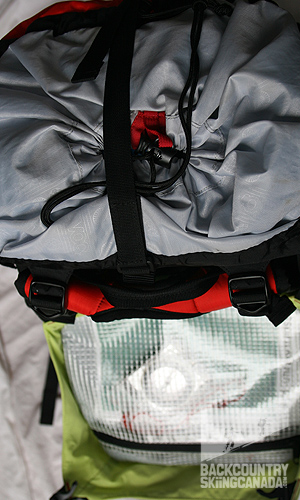 While the Patrol 40 doesn't have the CE-certified back protection, it's frame is covered by a well padded yet firm foam that provides comfort but without being wallowy, meaning it skis nicely when loaded.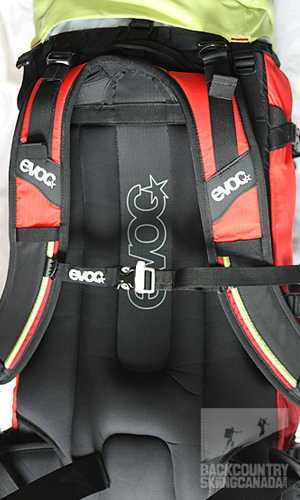 The top compartment features two fleece-lined pockets, one bigger and one smaller, as well as a clear, water resistant bottom compartment for maps and such.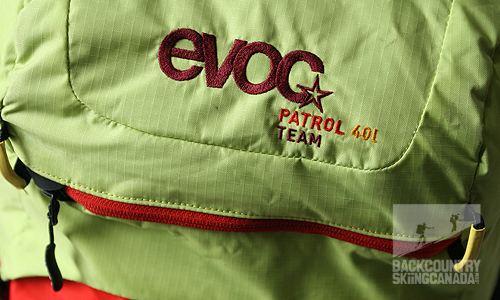 Hip pockets are a major bonus on ski packs, be it for the quick refueling snack or, as is always in my case, a camera.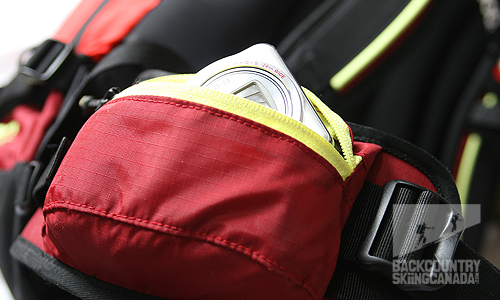 Gear belt loops: a clear statement that this pack is built for more serious mountaineering endeavours, and it's up to the task.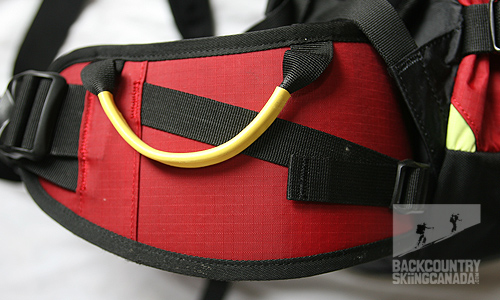 The external, roomy avi gear pocket is excellent for quick access and keeping things stored nicely. The Patrol 40 collapses nicely for a day pack when after you've set up camp.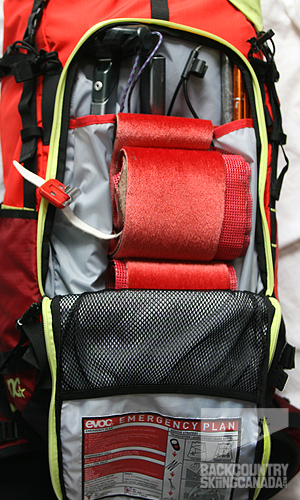 Top stuff: the expandable top allows an additional 5 litres of storage if required.

Ice axe fasteners allow the sharp end of the tool to be tucked away to prevent hanging up on anything. Slick.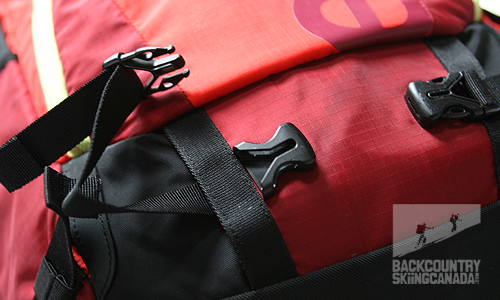 Verdict:
There is very little to fault in EVOC's Patrol 40L+ backpack and a lot to love. I found it satisfied nearly every expectation of a larger pack for big days and extended trips. The weight distribution was excellent when fully loaded. Once base camp was established, the pack compressed nicely into a comfortable daypack. The ease of access to compartments, especially the outside gear pocket, provided a level of comfort knowing anything I needed was close at hand. After several months of use, the pack has shown little sign of wear save some dirt on the brighter bits, and I wasn't treating it nicely. While the Patrol 40L+ may be on the pricier side, it is worth the investment.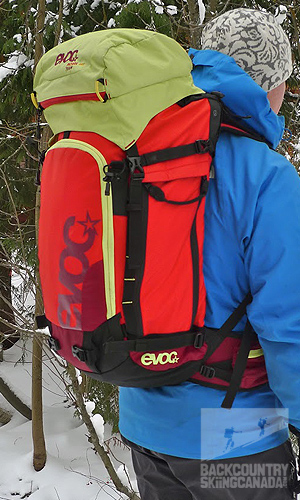 SPECS:
Price: $270 CAN
Volume: 40 Litres (+ 5 Litres)
Weight: 1800g / 3.97lb
Size: 30 x 68 (75) x 20cm / 11.8 x 23.6 (29.5) x 7.8"
PROS:
- Comfortable, supportive and ergonomically sophisticated
- Skis great and suitable for mountaineering
- Quality construction
- Functional design provides easy access and storage
- Great for multi-day trips and compresses to work as a capable day pack
CONS:
- Bright colours of the "Team" model can get dirty easily (black/blue version available)
- Weight? It may be slightly heavier than some comparable minimalist packs, but for the functionality it's an insignificant penalty
Rating: 9/10
Comfort / Fit       2/2
Features              1.5/2
Durability            2/2
Function              1.5/2
Quality / Price     2/2
This is only our opinion. Do you disagree? Did we miss something? Are we totally out to lunch? Join the discussion in the forums here, and let us know what you think. People like/dislike gear for different reasons so chime in and we'll get a well-rounded evaluation.
Back to the rest of the reviews.

---
Backcountry skiing is an inherently dangerous activity that requires experience and knowledge to travel safely. Any of the routes on this site may be dangerous depending on conditions. You are responsible for your own safety in the backcounty—the team behind backcountryskiingcanada.com disclaim any responsibility for any injury resulting from people travelling on routes described on this site.  To read our Terms of Use and get all the details, read HERE. 
---