Evoc Pro Team 20L Ski Touring Pack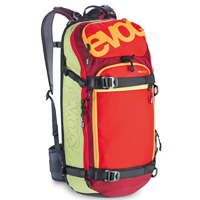 EVOC's new Patrol 40L+ and Pro 20L backpacks are innovative, ergonomic and designed with a safety focus that shouldn't be overlooked. I've been using the EVOC Freeride Guide 30L for the past season and have been pleased with its functionality and durability, so I was looking forward to putting the new 2014 siblings through the paces. Below is a quick run down of the packs' features and impressions.
Don't miss the more in-depth video review below and be sure to read the complete review of the Evoc Patrol 40 L Ski Touring Pack over here.
The EVOC Pro 20L packs a punch for such a small pack. I tested the Red/Pink/Yellow Day-Glo "Team" version, which garnered a lot of compliments, but there is a more subdued "teal" version as well as a women's specific yellow version.
The EVOC Pro 20L comes in small, medium/large and extra-large versions, ensuring a good fit for just about any body type. It features a durable PU-coated Ripstop fabric and neoprene in areas such as the belt for added flexibility and comfort. Claimed weight for a M/L is 1330g, which is slightly heavier than more minimalist packs in this size, but that's for good reason when you factor in the proprietary back protector
The EVOC Pro 20L's CE-certified Lightshield Back Protector is comfortable, breathable and offers that extra bit of protection when things go belly up. For the aggressive freerider out there, this added protection provides a bit of confidence in a sport where back injuries are a possibility. It also offers additional support and protection from the sharp bits (avi tools) stored inside. If desired, the protector can be removed, but for the minimal weight difference, I can't see why.
Where the 20L differs from its 30L sibling is the avi gear storage is in the main compartment, with additional storage in the outside pocket for other supplies. This is likely due to the limited 20L size, maximizing the space available. As with all EVOC packs, an "emergency plan" is printed on the inside of the avi gear compartment – a simple, quick reminder tool if you find yourself in an avalanche or rider injury situation.
Additional features include a functional snowboard/ski attachment system allowing for diagonal and vertical carry options; an insulated hydration sleeve in the shoulder strap with dedicated water storage pocket; fold-away ice pick attachment loops; 2-step zip system providing access to the outer and inner gear storage compartments; and a spacious, fleece-lined upper goggle compartment. Two hip pockets (an addition from the previous year's models) offer handy access to a small camera and energy bars.
Features:
- Material: Nylon 210/D Ripstop PU coated, N840/D PU, Air Mesh, Neoprene
- CE-certified Littleshield back protector (EN 1621-2)
- Snowboard/snow shoe attachment system with aluminum buckles
- Ski attachment system (diagonal and vertical)
- Fold-away ice pick attachment loops
- 2-step zip system
- Fleece-lined goggle pocket
- Quick-access avalanche equipment pocket with emergency plan
- Extra hip belt compartment to carry small items
- Webbing loops to attach external elements and additional equipment
- Isolated hydration tube routing in the shoulder strap
- Extra hydration pack compartment for up to 3 l of liquid
- Available in 3 sizes: S, M/L, XL according to torso length
- With separate helmet holder
The EVOC Freeride 20 has a slim, supportive profile and frame that is one of the most comfortable I've skied with.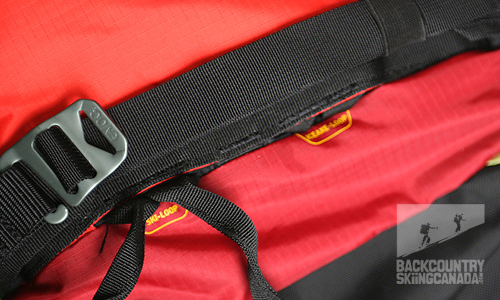 High quality zippers are used throughout all of EVOC's packs, with rubberized gussets attached to the zipper handle for easy use with gloves on.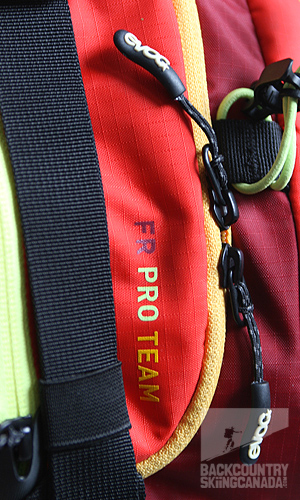 Compression straps offer a quick and useful vertical snowboard carry system. Tucked into the bottom are loops that come out for horizontal ski carry and a single ice ax attachment. I dig the bright colours of the Team version, but there's a more subdued Freeride 20 if looking earthy is your thing.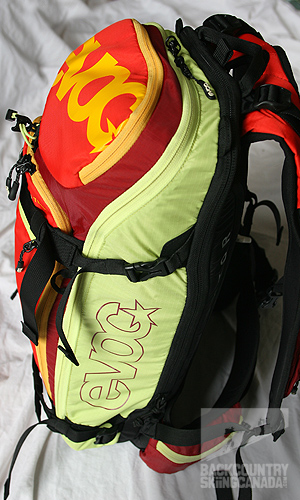 Stitching throughout EVOC produces is clean and durable – an attention to quality you'd expect for the price.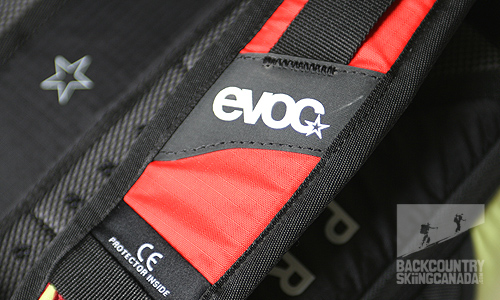 Fleece-lined goggle compartment means scratch-free and easy storage.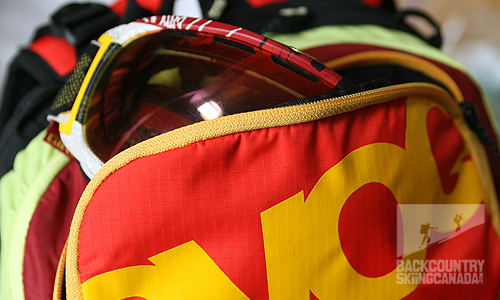 The EVOC Freeride 20L has the avalanche gear storage pockets located inside the main compartment. I'm a fan of separate, external avi gear pockets but in a pack of this size it makes sense for it to be inside.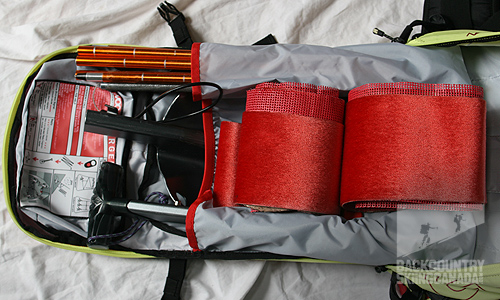 EVOC emergency plan…the tips are simple, useful and a nice reminder in the heat of the moment.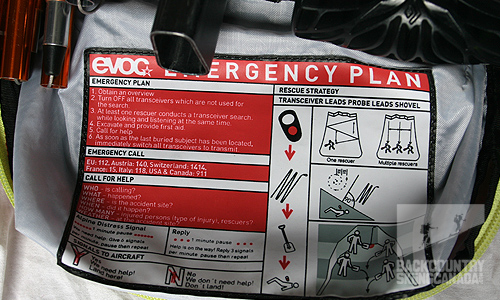 EVOC Freeride 20 full to the brim. While the comfort and features of this pack are excellent, its limiting factor is there's just not enough room for more than slack touring or shorter day trips.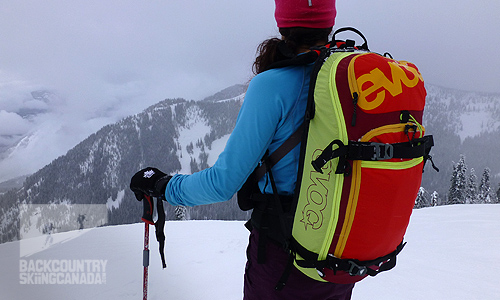 Verdict:
The EVOC Pro 20L backpack has just about everything you want in a small ski touring pack for the hill, off-hill jaunts, short day trips or sled touring. Incorporating a CE-certified back protector is a major bonus for those who ski a little harder than the rest. It may be a bit more expensive than similar sized packs by other brands, but then again you're getting more than just a pack.
I found the EVOC 20L Pro comfortable, durable and liked the look of the bright colours, though it does show dirt more easily. If you're a weight weenie looking for absolute minimalist design, this may not be the pack for you. But for those who are out to ski big lines, air it out or just like the idea of a little added protection in a sensible pack, the EVOC Pro 20L is a great choice.
SPECS:
Price: $210 CAN
Volume: 20L (M/L)
Weight: 1330g / 2.93lb
Sizes: S, M/L, XL
Dimensions: 27 x 56 x 14cm, 10.6 x 22 x 5.5"
PROS:
- Ergonomic fit, comfortable hip belt and supportive strap system
- Back protector
- Smart, accessible design
- Quick and easy ski/board storage options
- Handy hip pockets for quick food and photo ops
CONS:
- Bright colour of the "Team" version shows dirt more easily
- Top strap of the snowboard attachment needs to be undone to access outside pocket – as a skier I found this slightly annoying but not a big deal
- 20L size is good for on-hill, slack country and sled-access touring, but not adequate for longer day trips and beyond
Rating: 9/10
Comfort / Fit 2/2
Features 1.5/2
Durability 2/2
Function 1.5/2
Quality / Price 2/2
This is only our opinion. Do you disagree? Did we miss something? Are we totally out to lunch? Join the discussion in the forums here, and let us know what you think. People like/dislike gear for different reasons so chime in and we'll get a well-rounded evaluation.
Back to the rest of the reviews.
---