Black Diamond Quadrant Alpine Touring Boot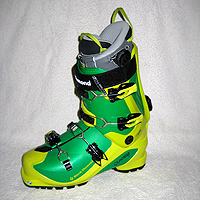 Black Diamond recently shipped us a pair of their new Men's Quadrant Alpine Touring Boot which is part of their new Efficient Series. The Quadrant should be hitting the store shelves as I type so we wanted to get you the goods on it now and we will update this review once we get some time on the skin track to let you know how it performs in the field. This review is admittedly just a first impression.
Having been a Scarpa boy for many years before this I was reluctant to switch to Black Diamond but I have to admit I was pleasantly surprised by what the Quadrant had to offer. Many have complained about the flouro colour scheme of the new Quadrant boot and they may not appeal to everyone - I cannot say I am a huge fan, but I have always been concerned about a quality user experience over fashion any day. [at least your buddies won't loose you when it is puking out]. The Black Diamond Quadrant are not meant to be an alpine/backcountry cross over boot they are a dedicated backcountry boot for fast ascents and skiing the pow, but they should also rock a pair of fat alpine boards on the hill when required.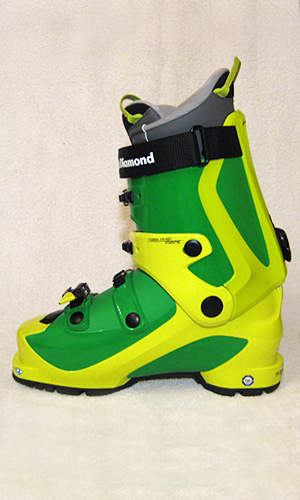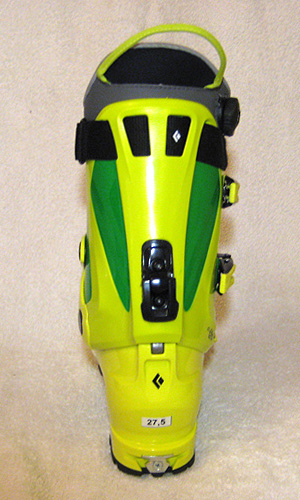 Performance counts not only on the down but on the up as well and that is where the new Black Diamond Men's Quadrant Alpine Touring Boot apparently comes into play (we'll validate that claim soon) it is a light weight four buckle boot that is said to maintain the ski performance of a freeride boot and is at home in the backcountry or on the hill. They pack a lot of technology into the boot [read on] for a reasonable $619US price tag.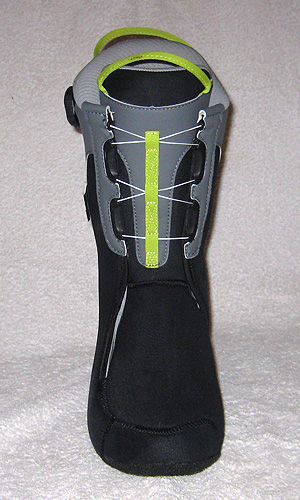 Weight:
Counting Grams but still demand performance? At only 1715 grams per boot or 3.43kg for the pair [size 27] these boots are not the lightest in their field [compaired with the Scarpa Maestrale AT boot at 3kg] but are definitely on the lower end. Even though they are light weights they are still beefy and feel stiff enough to take on deep powder, hard pack and anything else that is thrown at you out there. Black Diamond saved some precious weight on the buckles and the Boa System [see below] but maintained performance by not skimping where it matters most.
Boa system:
The light weight Boa system lets you dial in the fit and pressure of the liner through out the day quickly and easily to ensure a snug fit. This updated Boa system uses a light weight spectra-like cable instead of a metal cable used in other BD boots like the method and factor - and requires less twists to secure than earlier versions.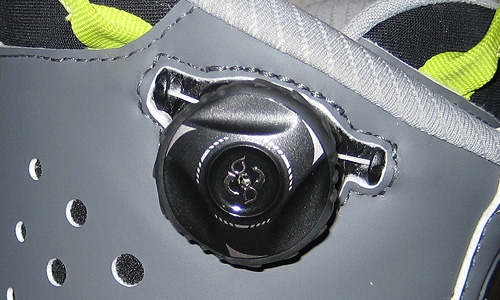 Buckles:
The two buckles on the upper cuff of the Quadrant fold back and lock wide open (first picture below) but stay clasped due to their slight overlap or "close out" (second picture below) which will be vey useful in walk mode to give your feet some additional room to rest. The buckles themselves are micro adjustable Quickwire buckles which are ultra light and has allowed Black Diamond to shave a few grams off the total weight.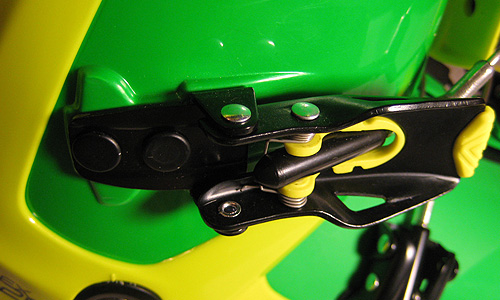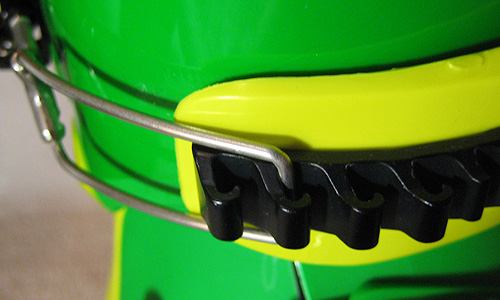 Triax Pivoting Cuff Technology:
The stiff high performance triax frame technology allows the upper cuff to pivot up and out of the way in walk mode on the top sliding pivot point (see the space to the right of the pivot point in the image below), where as the bottom pivot point is fixed and transmits power in ski mode. This feature technically should allow you to conserve your energy by giving you a greater range of motion and a long stride to save your hamstrings from fatiguing.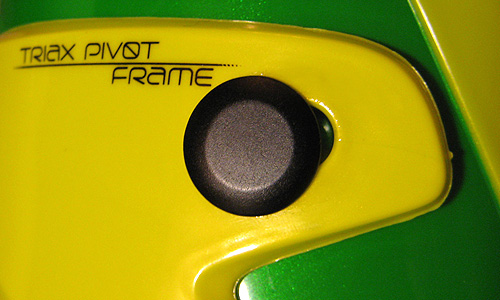 Range of Motion:
By integrating the Triax Pivot Technology Black Diamond has allowed for a very larger range of motion in ski/walk mode with a flex rating of 120. In walk mode you get almost a full 40 degrees (approximately 20 forward and 20 back) which will give you a long natural touring stride on the up track.
20 degrees forward: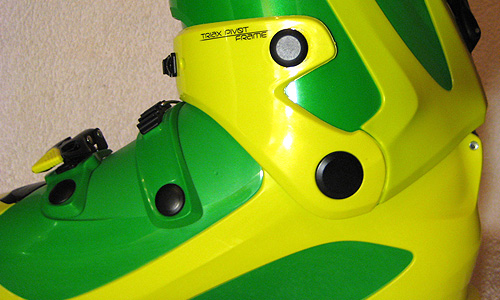 Neutral: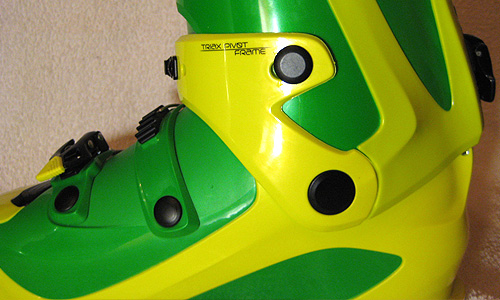 20 degrees back: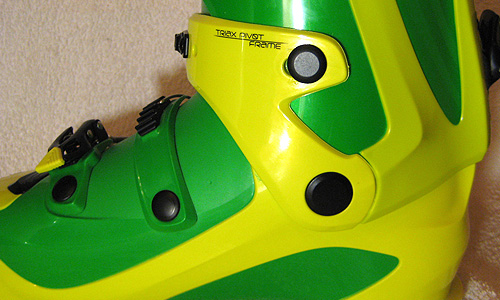 Materials:
The shell is constructed out of Pebax with an alpine overlap construction which will make for a progressive, controlled flex on the down. The liners have a built in achilles pad to anchor your heal to the foot bed when skinning and skiing, the liners' cuff is made from Polyolefin which is warmer and has more padding than previous Black Diamond boots. Black Diamond did not skimp on the sole [as some manufacturers do to save on weight]. The sole is a rockered rubber outsole with integrated tech inserts to provide better grip and durability. The Quadrant also comes with integrated Tech (Dynafit/G3) fittings so you can use them with your ultra light ski setup.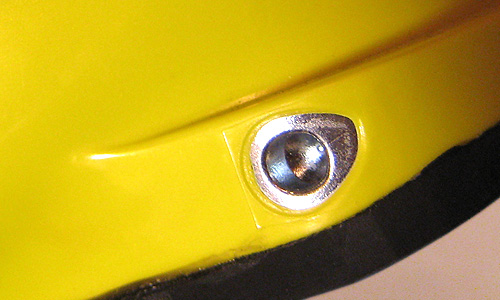 SPECS:
Price: $619 US
Weight: 3.43kg / 7lb 10oz
Colour: Green / Yellow
Flex: 120
Sizes: 24-30.5
Awards: Backcountry Magazine - Editors' choice award for 2011
PROS:
Black Diamond seems to have the winning formula with the Quadrant three density triax frame boot - light weight but still stiff enough to qualify as a high performance boot. They are comfortable [after professionally fitted] and offer exceptional value for the features they offer.
CONS:
The toe box can be a little cramped if you have a wide foot but a good boot fitter can make them feel like slippers in no time - be sure to have them use a toe cap when fitting as this will give you the extra room you need. Some would save the sizing is a little on the small side but that is just out of the box so be sure to get them professionally fitted and that will solve the issue.
Rating: 8.5/10
Fit/Comfort 1.5/2
Cuff Rotation 1.5/2
Function 1.5/2
Weight 2/2
Quality / Price 2/2

Join the discussion in the forums here, and let us know what you think. People like/dislike gear for different reasons so chime in and we'll get a well-rounded evaluation.
Back to the rest of the reviews.
---
UPDATE:
It's been several months since I started ski touring with the Black Diamond Quadrant and the weight difference is quite noticeable to my previous pair of Scarpa boots. With a multiple of 10 to 1 of weight on the back vs weight on your foot - any savings is welcome.
The 40 degree range of motion thanks to the Triax Pivot Technology is a huge plus given how much time you spend walking vs skiing when you ski tour. My shins love me on the skin track and they even ski the inbounds with surprising strength and hold my foot firm.
---