Because customers have such a key role in the creating of the ski, the Bigbend process is an important part of the endeavour. Sure, I love the skis, and I promise I'll get into that later, but I also really appreciate the communications, expectation management and tough love that Daryl and the Bigbend team delivered. Take a gander at the website (bigbendskis.com) and you'll be able to understand the process pretty quick. 
The "build form" is where you input all the relevant info regarding the build of your ski. The range of questions is impressive. The Bigbend folks enquire about things like your current ski and what you like and don't like about it; any skis that you have been drooling over, and why; what dimensions you are thinking of, rocker profile, sidecut, etc. Importantly, the questions accommodate both the gear weenie who wants to provide all the specs for his or her perfect ski and the amateur who wants to provide a little input and get advice on the kind of ski they might want. In fact, for many questions, there is an answer option for customers like: "I want to review my choice with the ski builder." Or "I'm not sure, please provide a recommendation." In this way, customers have a big say in what the ski will look like and how it will perform. It's a customized process that's a big part of what makes the skis so dang appealing.
Let's talk about the end result, shall we? The skis that we had built are complicated skis that yield very simple results. This type of ski is called "5 points," I think. There is a lot of rocker up front, mild camber underfoot, and a little rocker in the back. At 186cm and dimensions of 142-114-126, the skis' weight of 4.44 kg/pair is pretty respectable.
Here's a shot of the whole ski(s). There is definitely some complicated geometry going on with these boards.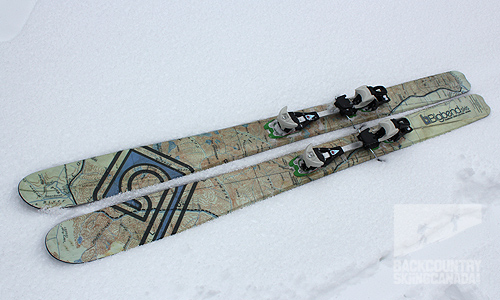 Here's a detail of the topsheet and "shark nose." The stock topsheet graphic is a 1915 recon map of the "big bend" in the Columbia River around Revelstoke here in the BC Interior. It's part of Bigbend's "Graphics that give" category—a percentage of sales go to the Revelstoke Museum and Archives. I have had one person stop me because they recognize points on the map—and this was in Colorado.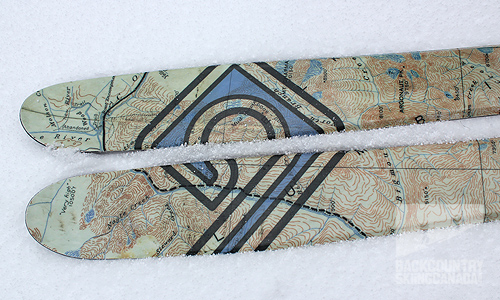 Just to finish the map story—there's more documentation on the tail. Overall, a very nice looking ski.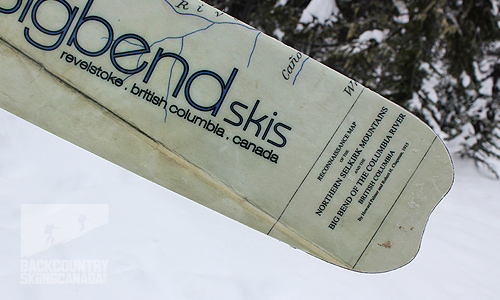 At 400mm, the ski's tip is more rockered than any I have skied in the past—and more fun. The tail rocker is less, at 300mm, making for a better touring ski.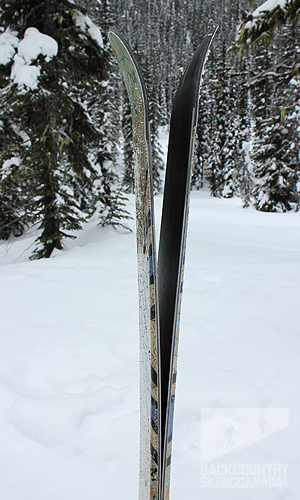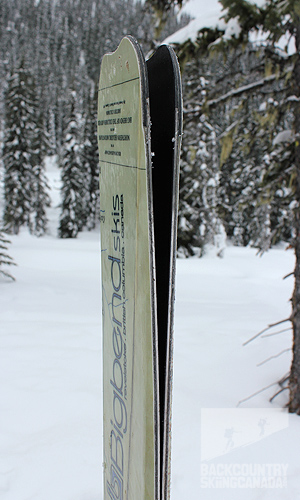 Taller than the trees. The intention of this shot is to show the camber. Just a little for pop and tourablility.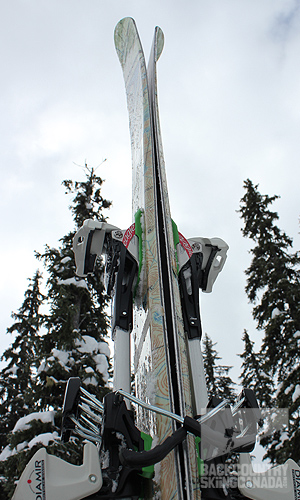 Materials/Feature (from the builder):
- 2mm hardened steel edge stock w/ deep-set flange (rolled and stamped in Austria).
- Vibrational dampening incorporated along the entire edge length.
- UHMW tip and tail fill integrated into the layup and connected to the wood core within a Kevlar matrix.
- Durasurf 4001 1.4mm base (straight black base w/o die-cuts means less material waste and a smoother gliding surface).
- Custom, hand milled, X-laminated full-length birch wood core.
- Full length, uni-directional carbon fibre core reinforcement... adds 'pop' and structure w/o extra weight. Also increases the life of the camber/rocker profile by reducing internal stress on the fiberglass composites over time.
- 20oz quadraxial base glass and 20oz triaxial top glass.
- Kevlar web reinforcement mid-ski acts as a binding footing.
- Sublimated nylon topsheet (Isosport product professionally printed by Millar Studios).
- Custom camber/rocker profile.
- Hand shaped tips and tails.
One more front and back plus cap detail.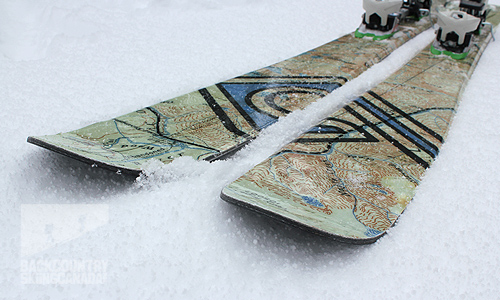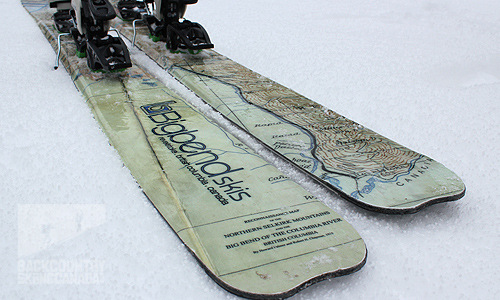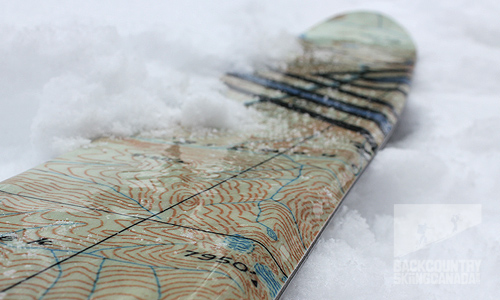 Fritschi Diamir Eagle bindings:
We mounted the Bigbends with the Fritschi Diamir Eagle bindings which recently won the Backcountry Magazine - Editor's Choice Award. The Eagles feature 'Diamir Gliding Technology' which places the pivot point on the toe piece 23mm behind the toe of your boot. This, combined with the moving baseplate, allows you to raise your foot until it is completely perpendicular to the ski, resulting in a more natural stride when skinning. The Fritschi Diamir Eagle Bindings are 2kg or 4lb 7oz – not the lightest on the market by any means. The Eagles have a DIN setting range of 3-10 and are $50US cheaper than the Fritschi Diamir Freeride Pros. The bindings work well with the Bigbend, which is a fairly beefy ski to begin with. Together, they make for an excellent lift area/slackcountry combo.
Verdict:
These skis are exceptionally fun, easy to ski and versatile. I've had them out on groomers, hard pack, bumps, powder in the backcountry—just about everything but ice—and they perform beautifully. One might think that a ski is hard to get on edge at 114mm underfoot but the Bigbends feel like carving skis on the corduroy. I think it's a big challenge to build a ski with this kind of rocker profile/camber/ dimension and make it all come together. In fact, I have skied on two pairs that didn't work at all. When a ski like this works, as it has with this example from Bigbend, it's a beautiful thing. The other clear plus of the Bigbends comes in working with a local builder. Daryl is incredibly attentive to detail, excellent at suggesting a little, but not too much, and is keen to work with customers in building their dream ski. The ski we have is the only one of its kind and that's pretty cool too. The whole notion of bespoke skis makes great sense for people who have skied on many different models and now know what they want. In buying from Bigbend, you are supporting a local business and a dude who is obviously passionate and committed to providing a good product. I can't say enough positive things about these skis.
SPECS:
Price varies depending on your menu selection and the time of your order. Expect to drop between $750 and $1,000. Order them before March 31 and save big. Topsheet-wise, you can go with your own, stock, or wood veneer.
Our model:
• 186cm length (effective edge = 98cm)
• 142/114/126
• Radius = ~18m
• Tip early taper = 250mm
• Tip rocker = 400mm
• Light camber
• Tail early taper = 200mm
• Tail rocker = 300mm
• Light tail up-turn
• Skin notch
PROS:
Endless. Locavore skis made with tender-loving care. Outstanding customer relations. The skis rip in all conditions I have thrown at them. They are one-of-a-kind and great conversation pieces. Buy some.
CONS:
Minor, minor. These aren't lightweight tourers and they weren't sold as such so I am happy. The topsheet appears to be less than 100% flush/flat. There are minute undulations—not a big deal at all. The pricing seems a teeny bit wonky. Perhaps the price of the topsheet should be somehow included in the overall price. No biggie.
Rating: 8.5/10
Powder Performance         2/2  
Groomer Performance       1.5/2     
Stability                            2/2
Weight                              1.5/2
Value                                1.5/2

Join the discussion in the forums here, and let us know what you think. People like/dislike gear for different reasons so chime in and we'll get a well-rounded evaluation.
Back to the rest of the reviews.
---