Comp - Freedom!!!
This one's all yours, enjoy! My partners in crime smile at me in anticipation of what we are about to experience. I look at the jealousy in their eyes and smile back.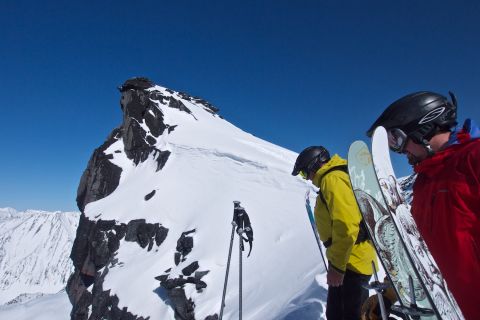 This must be a crime. This can't be legal. My helmet holds my head on my shoulders, as it threatens to float into the bluebird sky. The wind has disappeared, the sun is shining and the couloir that called us out just moments ago, is now sitting below us taunting us to take the ride.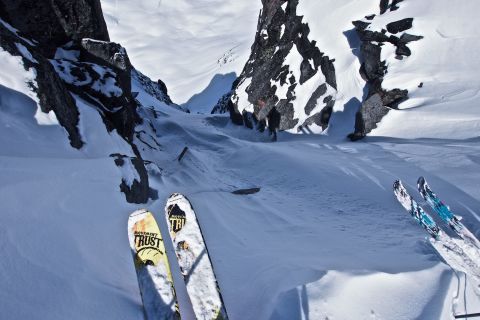 Beep, beep, beep… I countdown an imaginary race gate in my head as I prepare to launch. Sssshhhh… The snow sounds like it is telling my pounding heart to quiet down, as I step into my first turn. My spine tingles, this is awesome.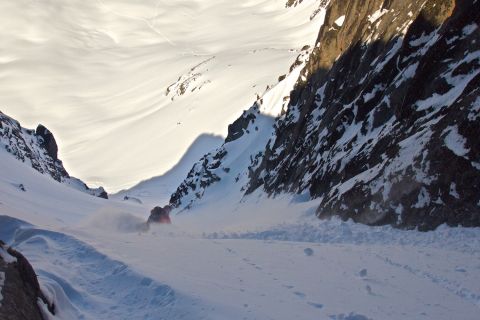 I manage to link up three more turns before the tailgating sluff forces me into the slow lane. There's no rush, I want this to last and need to experience it on my feet. Does anyone else giggle internally like a prepubescent schoolgirl while doing this, I wondered? I began picturing the superhuman freeriders that were models for the face of courage and laughed as their manly bearded faces emanated high-pitched giggles. Focus… I bring my thoughts earthward as the couloir opens up to a giant fan. The short Swiss butt wiggles get left behind as I step into a hard sweeping g-turn. The sun explodes on the open terrain.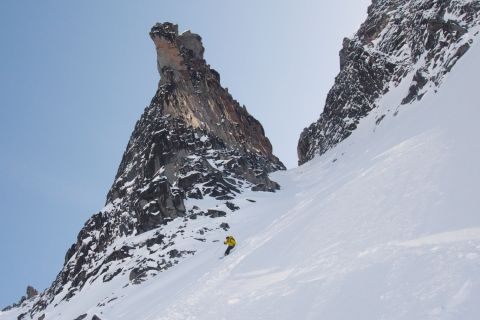 A small pinwheel sitting on top of the snow morphs into a racing gate and I aim for it. Rounding the gate, my edges suddenly lose faith in their captain and threaten to abandon ship if I don't ease up.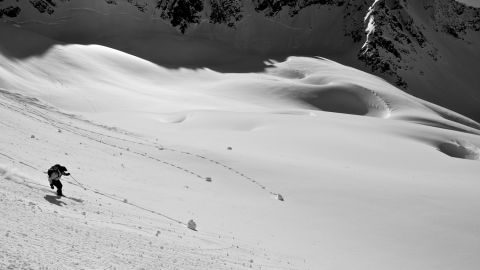 The sluff still hasn't crossed the finish line. The race isn't over. I open it up. My jacket is shaking uncontrollably. I must have passed its comfort zone. The air rams down my throat like a super charger redlining my lungs. This is what it's all about. This is freedom!
Our quest for freedom has landed us at Fairy Meadows cabin, high in the Selkirk Mountains.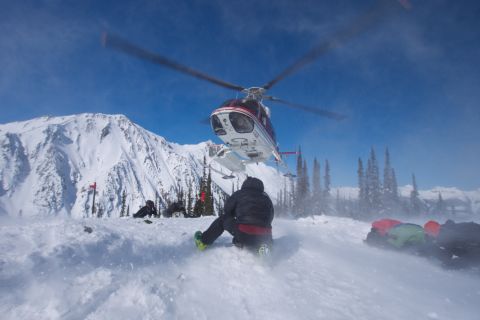 I'm joined by a couple of friends, one of whom I spent most of my college days with, abandoning class to get more turns. It's great to catch up and refresh some forgotten adventures.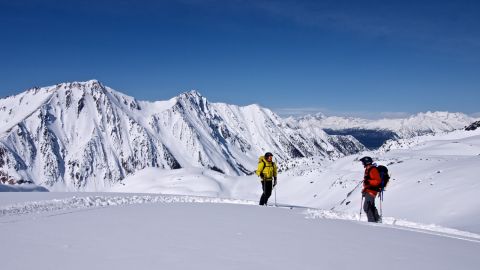 Chris throws us a beer from our God made snow fridge. We can't stop grinning. I know they're giggling internally too but don't call them on it. What a day! We just spent the last 7 hours floating 7,000 feet down both Houdini couloirs, followed by the aesthetic Gog Magog that launches you next to the Friendship Col and spits you out onto the Shoestring Glacier.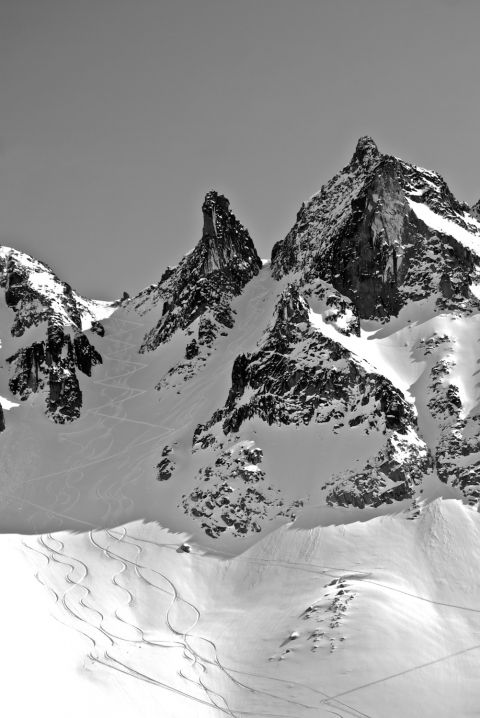 It didn't end there either, with more great turns all the way to the back door of the hut and one victory lap on the backyard hill. This is the life!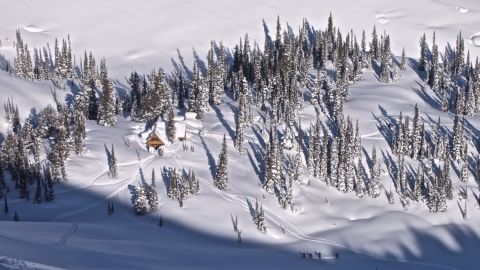 As an outsider to the public's obsession with celebrities and sports with men in tights, I often get asked, "Why?" I don't know how to answer this question.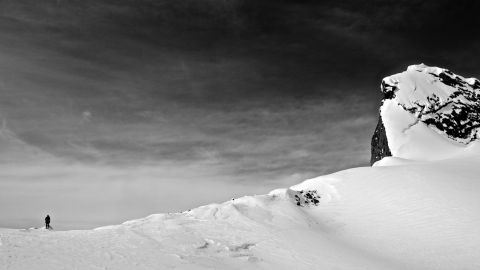 James was partly responsible for this obsession. In our second year of college, he introduced me to backcountry's gateway drug, a season pass at the local ski hill. Our school year suddenly consisted of skiing, skiing, test, skiing, skiing, project… interspersed with lapses in memory and hooliganism.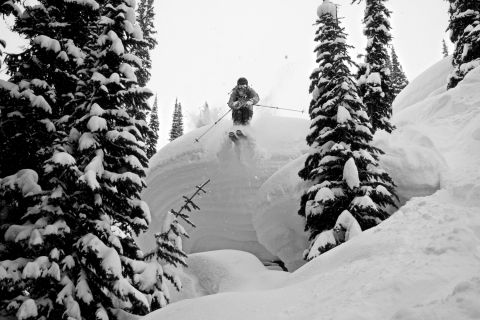 Our daily routine now involved a three-step process. We'd wake up to the snow phone guy, who had the youth like energy that only drugs or skiing could provide (he definitely giggled like a school girl, probably outwardly too). Next, we'd call around letting everyone know what the magic fresh level was for the day and to see if anyone had any gas money. Third, we'd calculate the only math formula that really mattered: (Number of classes missed + care factor) – (classes remaining + current grade) ÷ (snow and stoke level). The answer was almost always yes.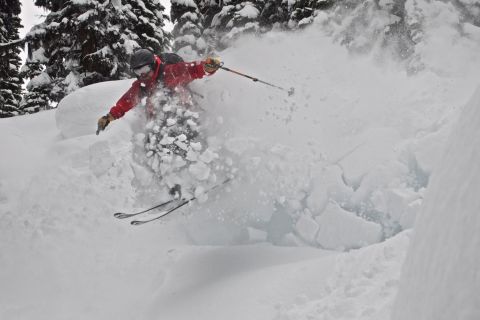 What is it that made this pursuit of fresh so intense? Snorting just a little bit of powder at the local hill suddenly had us searching, sacrificing and scraping by, just to get our skis on another score. Here we are, thirteen years later, and that drive is still just as real now as it was back In College. We're powder junkies.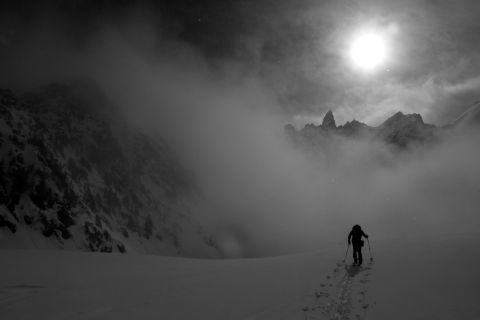 I always thought it would disappear and we'd settle into pensions, stocks, bonds and boredom. Instead, our drive strengthened and now we're often skiing matched squiggles next to the grim reaper, who's grinning from ear socket to ear socket, waiting for us to push it too far. Did we miss a chromosome in our DNA chain? What is wrong with us?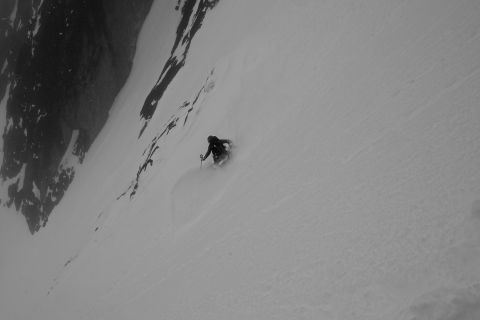 I snap back to reality and gaze around at a sea of glaciers covered in snow, pierced with majestic rock peaks.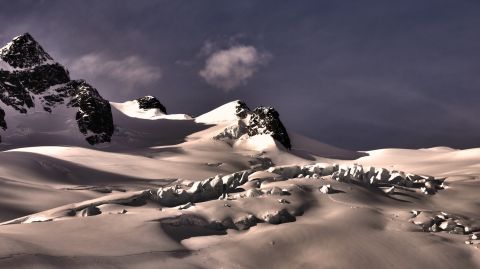 Tomorrow we have our eyes on the Outpost Peak Couloir that juts skyward and clearly taunts us from the dining room table. Who will have the last laugh, I wonder.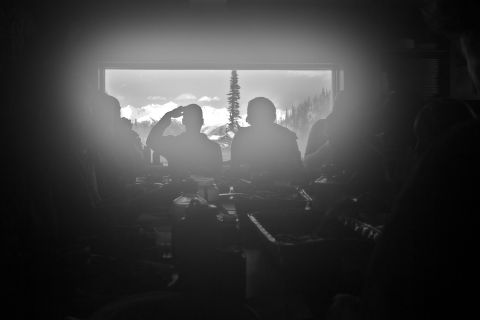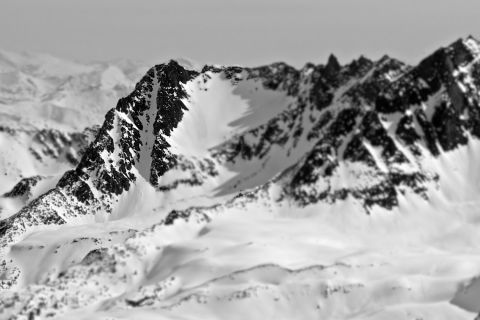 Life is simple out here.

We have a full week to travel uninhibited in this magnificent cathedral, free from the stresses of life.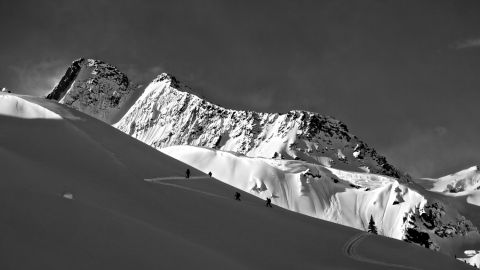 For the moment, we've pensioned off our day-to-day troubles.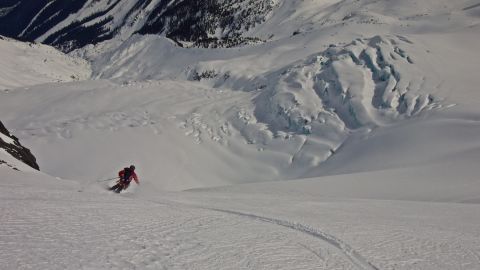 Our biggest concern is remembering to stock the fire in the sauna before dinner.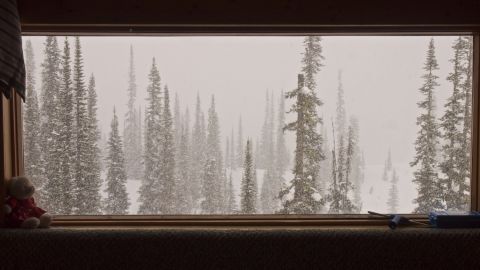 Laughing and living in a world that many never get to visit.

We'll see things that most will never see.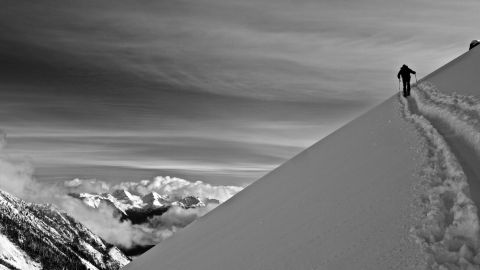 Be pushed to limits that most didn't know existed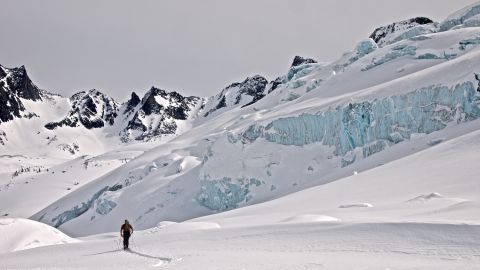 and experience bonds that only mountain adventures can form.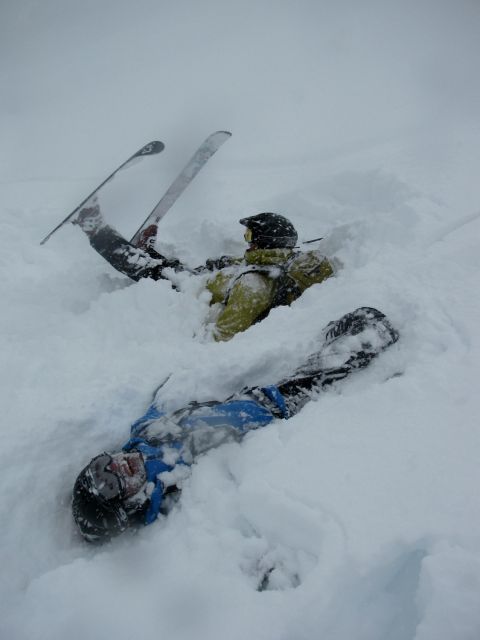 These are the only pensions, stocks and bonds that are on our minds.
The question "Why?" is abruptly answered in the panorama in front of us. It appears like a clan of Braveheart warriors being forced into a life they're unwilling to live and screams… FREEDOM!!!

No, what is wrong with us isn't the question. I sit down in my butt molded God-made powder seat and smile.
What is wrong with them?