Report Confirms Jumbo Resort Avalanche Risk
The proposed Jumbo Resort development is in the news again, this time with reports showing that it is at risk of avalanche danger. The following article is from the West Kootenay EcoSociety: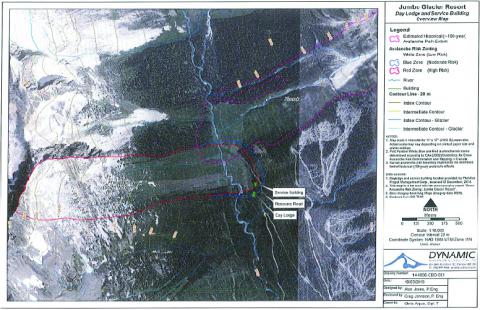 An Avalanche Risk Assessment comissioned by the developer of the Jumbo Glacier Resort has confirmed that the day lodge and service building foundations constructed last year are within the medium to high avalanche risk area.
The developer's Environmental Certificate requires that all buildings be constructed outside of avalanche hazard areas. In a letter sent to the Glacier Resort Limited's chief architect in December 2014, EAO Enforcement Officer Autumn Cousins stressed that the both the service building and the day lodge locations should be evaluated.
"Once again, this developer is putting expediency ahead of public safety and the environment," said David Reid, Executive Director of West Kootenay EcoSociety. "The Minister needs to cancel this Environmental Certificate and shut this project down before any more damage is done and before anyone gets hurt." West Kootenay EcoSociety has been a long-standing opponent of hte resort and is taking the Province to BC Supreme Court over the creation of hte Jumbo Glacier Mountain Resort Municipality.
The report finds that the service building sub-floor is located mostly within the high-risk red zone, with the remainder in the medium-risk blue zone. The report, completed by Dynamic Avalanche Consulting, notes that buildings are not usually permitted in the red zone.
The majority of the Day lodge sub-floor is within the blue zone, with the remainder in the low-risk white zone. The report notes that only industrial plants and buildings that are not continuously occupied are allowed in this zone. The day lodge fits within that description, according to the report. The report also lists other resorts with buidlings built in avalanche hazard areas, including Nelson's Whitewater Resort.
In October 2014, Glacier Resorts Limited poured two concrete floating sub-floors and a lift anchor just days before the Environmental Certificate was set to expire. Opponents of the project cried foul, noting that pre-construction requirements for environmental protection had not been met. The Minister of Environment must now decide whether Glacier Resorts Limited had "substantially started" the project by October 12, and whether the confirmed violations of the developer's requirements justify the cancellation of the Environmental Certificate. The avalanche assessment report adds additional violations to that list.
The report is available here in part 1 (7 MB PDF) and part 2 (14 MB PDF)