Monashees Backcountry Report
FEBRUARY 19 MONASHEE BACKCOUNTRY REPORT
Passing on a little article I write for the Sun Peaks Newspaper on Monashee backcountry conditions.
Hate to be a broken record, but the pattern continues of intense storms ending with rising freezing levels. The most recent being February 10 to 12.
This year powder skiing seems to be like surfing, all a matter of being there when the swell is up! Meaning that good powder skiing is found during the storm.
But what to do between the swells? Coffee shops in Revelstoke and Nelson are likely doing booming business! Backcountry skiers need to be creative and adapt to changing conditions.
January 25 freezing levels and rain hit most peaks in the Monashees – and across all of BC. Once this layer froze the backcountry was left with an unusual thick boiler plate crust. The biggest hazard was sliding out of control. This solid snowpack provided fast travel conditions and sunny skies, and great opportunity for ski mountaineering and exploring new terrain.
Different conditions necessitate creative use of terrain, and utilizing different techniques.
Often walking on the crust was much simpler and safer than trying to skin on skis and risk sliding and fall hazard. Ski crampons also are a great option for these conditions.
Sol Mountain guests on the way to Pride Rock in the Monashees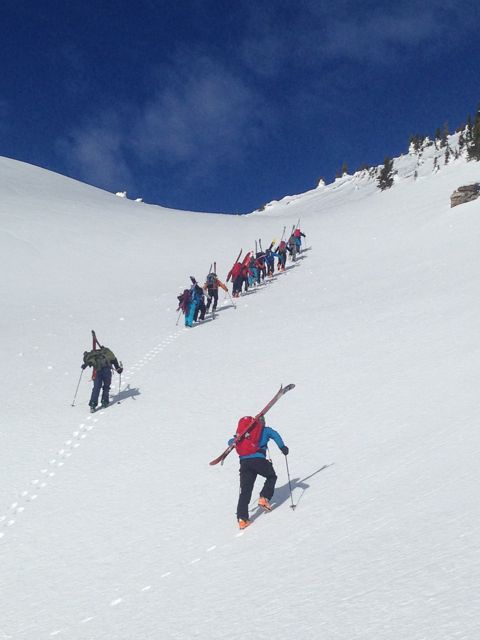 This year January seemed to be more like April. Hang in there, good chance January pow will come in April!
Any Splitboarders out there? Sol Mountain Lodge is holding their 3rd Annual Splitfest 6 Nights Mar 29 to Apr 4. The trip is fully catered and a great chance to pick up tips from the pros.
Aaron Cooperman
Sol Mountain Lodge