COMP - A WILDHORSE ADVENTURE
I could call this your typical Kootenay adventure, but where would the fun be in that. Being whisked away into Ski Land for an epic 4 day hut based ski touring adventure with 3 bros and a ton of snow with more forecasted to come sounds kinda normal (

for around here), but a unique Wildhorse adventure is what ensued, full of all kinds of experiences, twists, turns and great times not soon to be forgotten.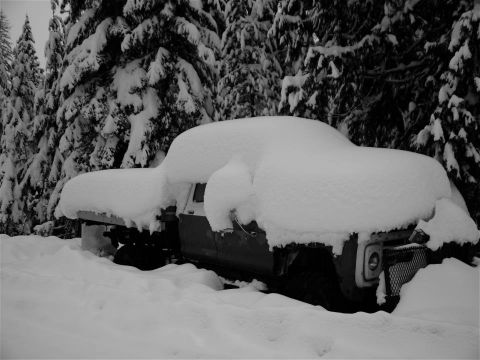 THE ADVENTURE
It all started with a scrumptious coffee at Nelson's day bar called Oso Negro, the meeting place and where the day's stoke often begins. From there a very snowy drive followed to the quaint village of Ymir just south of town. We crossed the bridge and started to drive up the snow filled Wildhorse Creek Rd. where even bigger snowflakes and coated cedars greeted our smiling faces. Tyler and Nick, our friendly escorts were busy digging out their snowmobiles and toboggans in preparation of our drive in. We piled our bags into one toboggan and jumped in the other, a combination of 2 toboggans strapped together with seats and a plastic shield to guard us from the fresh snow-wash of the snowmobile. The ride up was fantastic, 15kms of rolling forest service rd. to our first destination; the Cat.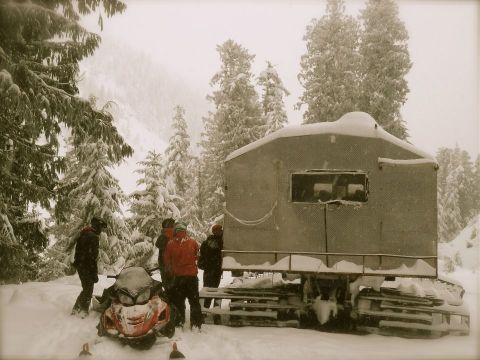 We jumped into the cat and Wildhorse Cabin was our next stop. Tyler drove the cat while Nick was free to go slash some pow with the snowmobile while he waited for Tyler's return. He zipped off with a huge smile on his face as we plodded happily up the ridge to our destination. 30 minutes later we were deposited onto Wildhorse Ridge and the Wildhorse Cabin at 2000m with a load of fresh snow and a very high dose of stoke. We shook hands with Tyler and were left to ourselves for the next four days!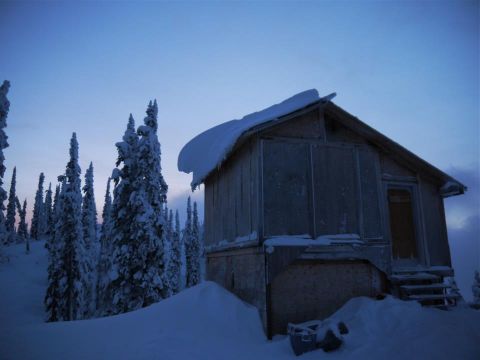 We didn't spend much time unpacking and instead opted to go skiing. The first afternoon was amazing, we basically could ski right out of our cabin into 30cm's of fresh blower. We got 3 runs in and orientated ourselves with our area and the ski possibilities. The hut itself was rustic but offered everything we needed. Beds, comforters, pillows, dishes, kerosene heater, tables, propane cooking stove and even a nice lantern that illuminated our little downstairs cave. We were to have the place to ourselves for the whole trip so we made ourselves at home. A big dinner and a couple of sips of whiskey later we were in bed excited for the big day to come.
Day two was the big day. We adventured into cloudy conditions where we were greeted with rhime on top of the more exposed slopes. We poked up into the Qua Peak area where we found some amazing north and east facing slopes. Our stability assessments and ski cuts produced small 10cm isloated slabs so we decided to stay out of the big alpine and instead skied some unbelievable open shots and glades. Our circuit seemed to be perfect we got 4 different runs in through cool larch forests and deep conditions. Our legs had just enough juice to make it back to the hut (we had to ski up 400m at the very end of the day back to the hut

) where our stomachs and thirst demanded quenching.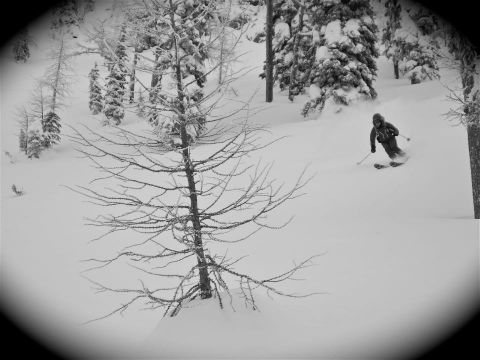 After a few drinks and an amazing curry dinner some serious Jenga playing ensued. The warmth of our hut, big day and our tasty Maple Whiskey sent us to bed early with a storm brewing outside.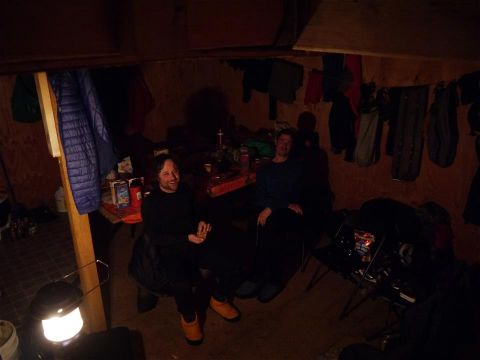 We were all awoken at some point during the night by powerful winds that seemed like they were threatening to blow our hut down. When we thought it was over it kept on blowing without relent. No good sleep was had so by morning we were all a bit slow getting out of our comfortable bunks. Now came going outside to use our high tech outhouse. The wind was still blowing so furiously that with our little pit toilet missing a side, using the bathroom was quite a hilarious challenge.
On day three we were greeted by wind scoured slopes everywhere and it looked like all our fresh pow from the day before was all but non existent. Our first run was discouraging but once we poked around we discovered a wonderful north-east facing slope that offered up some great skiing that was helped out by the influx of another storm dropping tons of snow that afternoon. We retired to the hut early that day, rested up, had dinner and played some Yuker. A wonderful card game passed down through our eastern Canadian generations

After a great sleep that night we were greeted by clear skies and fresh, dry snow the next morning. It seemed like a ending to good to be true. We packed up, cleaned up and set out early to get as much skiing in on our last day as possible in order to meet up with Tyler and the cat that afternoon for our ride out.
We skinned up a beautiful ridge right from our cabin to the summit of Wildhorse Peak where the skies broke and the sun showed its face. Stoke was high, the snow was light and fresh and I'll let the pictures do the rest of the talking.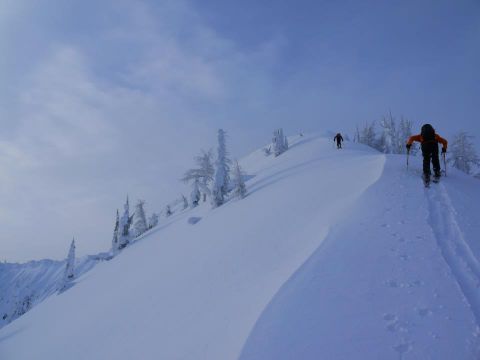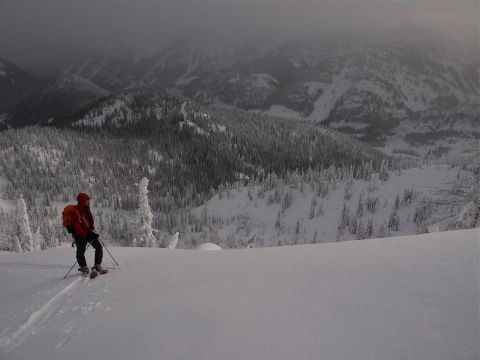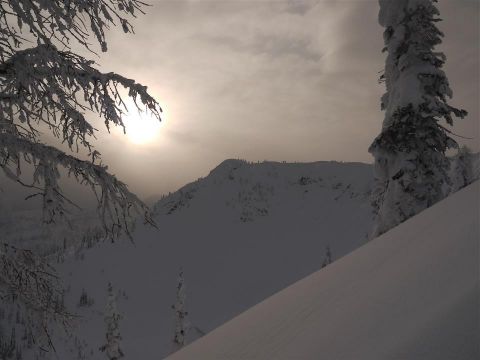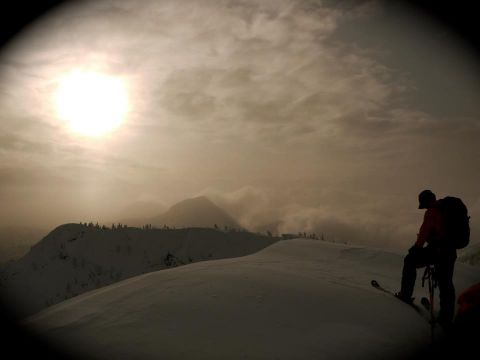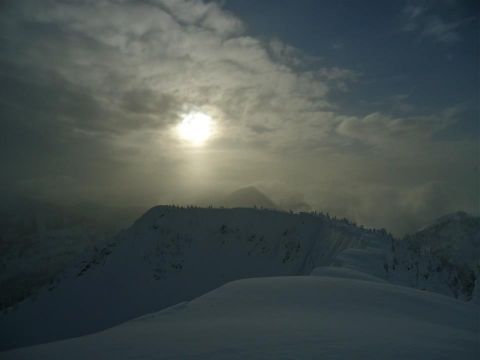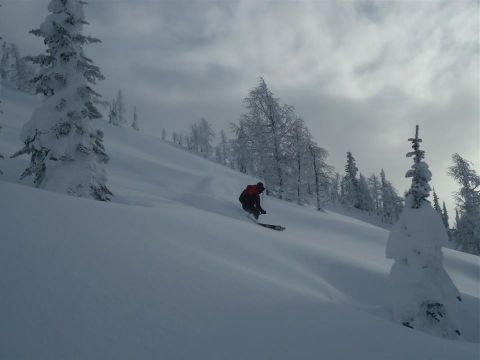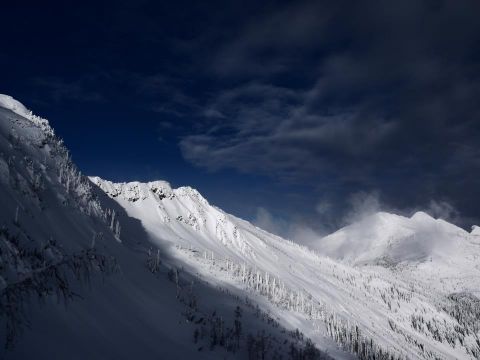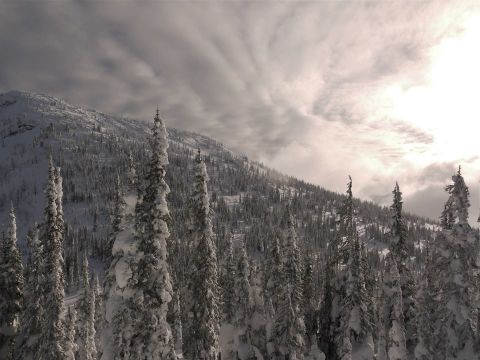 Needless to say, our last day of skiing was amazing, it really topped off the whole experience. Once we were packed up we had still not communicated with anyone for a ride out so we left our big packs at the hut to be picked up by Tyler and skied down confusing cat roads and wonderful glades while it was copiously snowing to the snowmobile/cat meeting spot. On the way down we finally got a radio call from Tyler saying that he was just heading into the Qua Valley to drop off some more skiers to the Qua Hut (1 hour ski from our cabin, and it was already 3:30pm) and that we would have to wait at the cat meeting point for at least an hour. It was assuring to hear his voice and know that we were going to get picked up and not have to ski down the logging road 15km to the trucks

.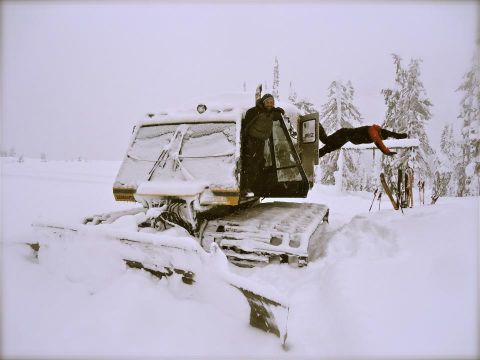 We sat in the front cab of the cat trying to keep warm and in high spirits (which wasn't very hard) sipping the last of the whiskey and reminiscing of the good times we'd had the last four days. Once dark fell Tyler and the lights of his other cat glistened through the trees in the distance. We were going home. It turned out that Tyler was all by himself out in the wilderness and that he had blew a track on one of the cats (which he had to fix by himself) that afternoon, hence why we ended up departing in the dark. We rode down in the back of the cat 15km back to the trucks where we found them buried in the weeks snow. Tyler waited till we could dig them out, we shook hands, thanked him for the adventure and we all went on our way.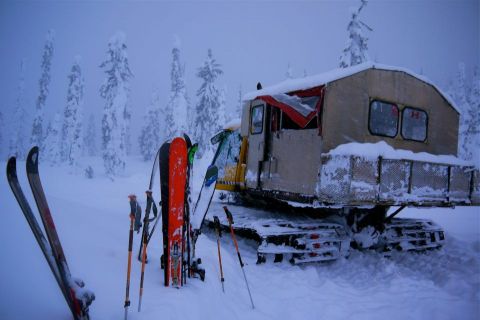 All in all it summed up to be one of the best skiing adventures I've ever had and I cant wait till the next one!!