Colorado Backcountry Skiing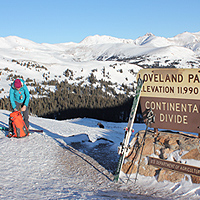 Last year around this time the Backcountry Skiing Canada team was on their second annual away game which brought us to Colorado for the SIA (Snowsports Industries of America) trade show, some skiing in the south-western part of the state, and up to Summit County just outside of Denver. Because this was only our second foray into trade-show land, we are still trying to work out some of the kinks and ensure maximum pleasure. Our trip to Utah in 2012 was an unkind introduction to "the greatest snow on earth." Like, there wasn't any. Hopefully when we head back in a weeks time things will be vastly different.
Read More about our Colorado trip which included an attempt at backcountry ski touring at Loveland Pass, or watch the video below.