Vapur MicroFilter - REVIEW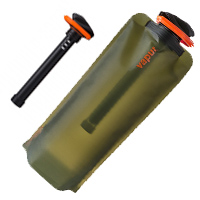 The Vapur MicroFilter is a nice upgrade to the standard Vapur Element Anti-Bottle as it can provide filtered water. As a bonus it can also function in the same manner as the Element; all you have to do is remove the filter. This flexibility provides dual purpose to the Vapur MicroFilter; use it around town or on short day hikes without the filter or bring the filter along on longer hikes and camping trips when you may run out of water on the trail.
Read the complete review of the Vapur MicroFilter here.