Outdoor Research VooDoo Pants - Review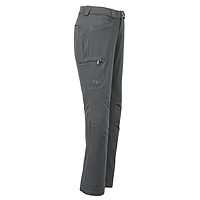 Designed for alpine climbing, the Voodoos have a trim fit. This means that they have tapered legs and a low profile waist that easily fits under a harness. I really liked the tapered legs and found them tight enough to keep the pants out of the way but loose enough to fit over mountaineering boots and to roll up in warmer weather. For my body type (5 foot 6 and 135 pounds), the Voodoos fit great in the leg (length and width), but are too big in the waist. My OR ski touring soft shell pants have an adjustable waist eliminating this problem, but the Voodoo waist is not adjustable. With the Voodoos, a size 8 fit fine in the waist but was too tight in the thighs. The size 10 fits well in the thighs but is too big in the waist. This is a common problem for me across brands; I hopefully await the day that manufacturers start making more sizing options available. The Voodoos do have belt loops, but I prefer not to wear a belt for climbing or while wearing a backpack.
Read the rest of the review in our gear review pages over here then come back and let us know what you think.