Outdoor Research Termini Shirt, Ferrosi Shorts and Equinox pants - REVIEW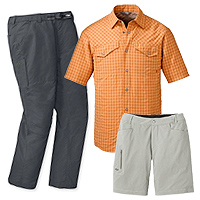 Outdoor Research or "OR," as it know by its friends, is a 27 year old Seattle, Washington based company that designs and manufactures a variety of outdoor clothes and gear for alpine, ice and rock climbing, paddling, hiking, backpacking and, of course, backcountry skiing. I have been a fan of OR's for well over 20 years since I first bought a pair of those iconic OR gaiters that started it all. Not only are their products well thought out and reasonably priced but they are guaranteed for life. Yup, guaranteed for the life of the product.
This review will cover a summer combo of the Outdoor Research Equinox Pants, Ferrosi Shorts and Termini Shirt; all clothes that will work in the mountains hiking and playing (while we all wait for winter's snow to return) and also in town as functional urban wear.
Read the complete review in our 'Off-Season' Gear Reviews, over here.