Mont-Bell Zeo-line 3D Long Sleeve Shirt - REVIEW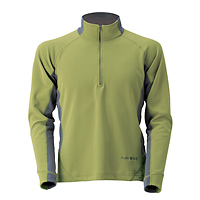 For late winter and spring skiing this year I slipped into Montbell's zeo-line 3D Thermal Long Sleeve Zip Shirt. Quite the mouthful isn't it? Fortunately it's a lighter and less complex piece than it's name implies. It's a polyester thermal base-layer or mid-layer that promises to be high-wicking and warm. As with many of Montbell's pieces, the technological benefits lie in the unique fabrics that they develop and source. In this case it's Zeo-line 3D fabric. From the sounds of it a lot of time and energy has gone into developing this fabric. First of all it is made up of two types of fibres. Antibacterial, conjugated fibres of wool-like polyester are woven into the underside of the fabric giving fleece-like feel. Anti-pilling, spun polyester fibres made with bulky thread make up the fine honeycomb weave on the outside.
Read the rest of the review here.