Fritschi Diamir Vipec 12 Binding - REVIEW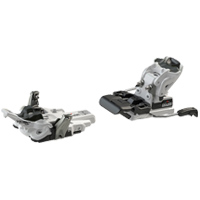 The Diamir Vipec 12 is the first tech binding from the maker of the popular Freeride AT frame bindings. These bindings set the standard for alpine touring (AT) bindings a few years back but now since tech bindings are king, we are seeing lots of manufactures entering this space. The Vipec has been on the market for a couple of seasons now, but in 2014/15 some significant upgrades were introduced.
The Diamir Fritschi Vipec is still the lightest tech binding with a DIN releasable toe. A feature that cannot be understated. This means that you always have some form of toe release, even in tour mode. This is an added safety feature especially when ski touring uphill in avalanche terrain since having your skis release in a slide increases your odds of survival. The only drawback to this feature is that I did find when side hilling on icy terrain the binding could pre-release. This however is just the trade off to a releasable toe piece and makes one tread more gingerly on icy side slopes.
Read the rest of the Fritschi Diamir Vipec 12 Binding Review here.