Black Diamond Ultra Mountain FL and Carbon Trekking Pole - REVIEW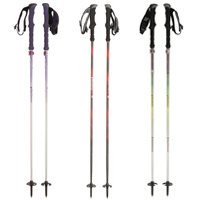 It's taken me years to realize that it's worth paying the price tag for a good set of trekking (and ski) poles. After years spent as a ski bum I became accustomed to using second hand equipment, (while patching up my worn out clothing with duct tape). I am happy to say that I have grown up into an outdoor enthusiast that appreciates the merits of well-designed gear.
As well as reducing the impact on your knees trekking poles have a multitude of uses: you can use them to pitch tents; they are a fantastic aid when crossing rivers; you can use them to splint legs and arms; they are a great tool in building emergency stretchers; they can be used to scare away bears (honest) and fend off stray dogs; they relieve the pain of a blister; they offer great balance when crossing slopes and hiking up and down mountains…the best ones can be used in winter as an essential item for skiers. Point made?
Plenty more to read in the full review over here in our Gear Review section.
Give the link above a click and find out how they compact down so small and what's new for this years poles from Black Daimond.