YETI recalls over 1.9 Million Coolers
There have been several thousand reports of magnets detaching from various YETI products which pose a risk of 'Serious Injury or Death'. This has triggered a recall of almost 2 million yeti products. These include the YETI Hopper M30 Soft Cooler 1.0 and 2.0, the Hopper M20 Soft Backpack Cooler, and the SideKick Dry Gear case.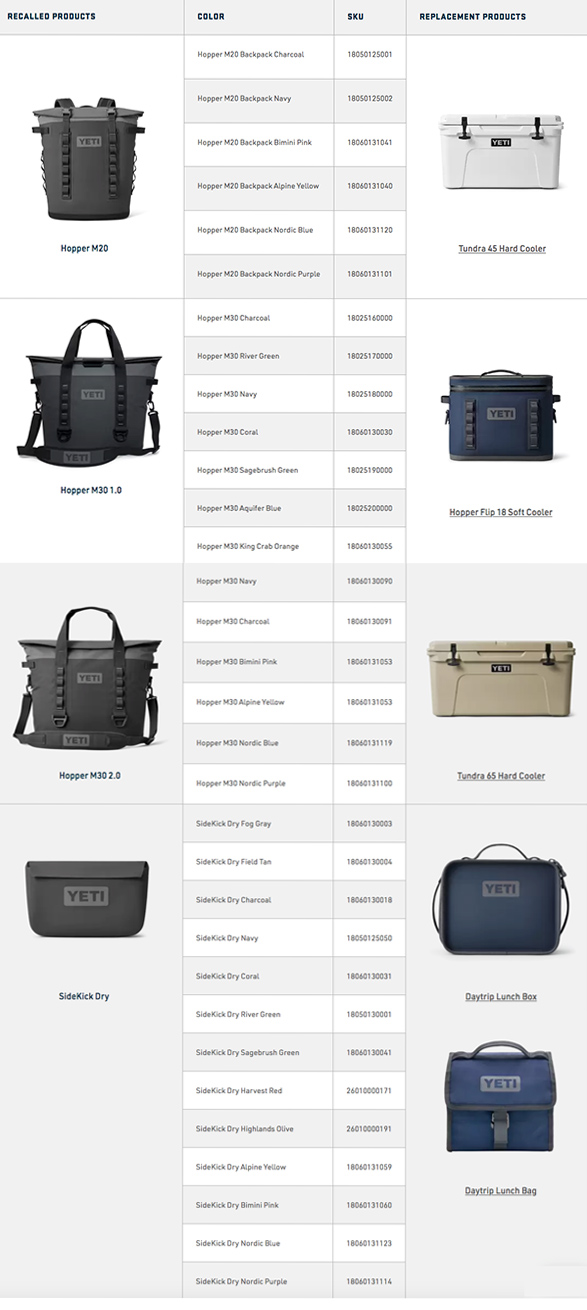 In cooperation with the U.S. Consumer Product Safety Commission, YETI is voluntarily recalling the Hopper M20, Hopper M30 1.0 and 2.0, and SideKick Dry products sold between March 2018 and January 2023. The magnet-lined closures on these products can fail and release the magnets, which poses a risk of serious injury or death if ingested. We ask all customers currently in possession of the Hopper M20, Hopper M30 and SideKick Dry to immediately stop use of these products.
YETI is offering either a suggested replacement product of equal or greater value than the recalled product or a full refund in the form of a YETI gift card with an additional value depending on product and market. Upon submission YETI will provide you with a prepaid shipping label and packaging material for you to return your product. Refunds (in the form of YETI gift cards) and/or replacement products will be sent only after YETI's receipt and validation of recalled products.
Please contact YETI toll-free at 1-833-444-3151 (7 a.m. to 7 p.m. CT) or email ProductRecall@yeti.com for more information.
Submit a claim here
.
Full press release here
.