Sneak Peek at Sierra Designs new 2018 Gear
The opportunity to test next year's Sierra Designs gear while hiking along the Continental Divide in the Indian Peak Wilderness is one trip you just don't turn down. The forecast for this area of the Rocky Mountains near Denver Colorado was rain, rain, and more rain. Luckily this is the ideal weather for real-life gear testing and even more lucky that those who forecast the weather are typically wrong. With three days and two night planned out in the mountains by experienced adventurer, guide, and author, Andrew Skerka, I knew we'd be in good hands and that the route wouldn't be a simple walk in the park.
Day one saw our group of writers, testers, and Sierra Designs employees hike up Buchanan Creek following a trail of the same name until the river's confluence with Thuderbolt Creek. We camped for the night in this location and admired views of the next day's challenge, climbing up and over 11,600ft Paiute Pass. The night was spent in the new Sierra Designs Sweet Suite Tent while snuggled up in their soon to be released Nitro 20 degree sleeping bag. With nighttime temps hovering just above zero degrees Celsius and frequent rain throughout the night it was reassuring to know the latest Sierra Designs gear had my back.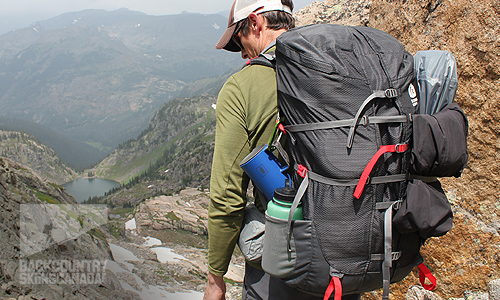 Day two took us along a portion of the 77 miles / 123km Pfiffner Traverse and up and over Paiute Pass. All of our food and gear for the three days was secured in Sierra Designs Flex Capacitor Pack which is an innovative new pack design that expands from 40 to 60 litres thanks to a built-in gusset on the backside. Most packs expand up and not out, forcing the added load to be higher on your back and thus less stable. Not the Flex Capacitor. Weighing in at just 2.5 pounds the Flex Capacitor Pack is incredibly light without any sacrifice of comfort being made. The genius behind the design is the simple internal DAC Y-flex suspension system that looks suspiciously similar to the Back to the Future Flux Capacitor and hence where this pack gets its tongue in cheek name from. I was impressed with the pack's comfort and its ability to carry what seemed to be far more than 60L of gear. Learn more about the Flex Capacitor Pack by watching this video overview: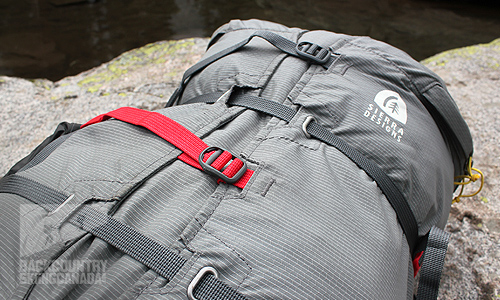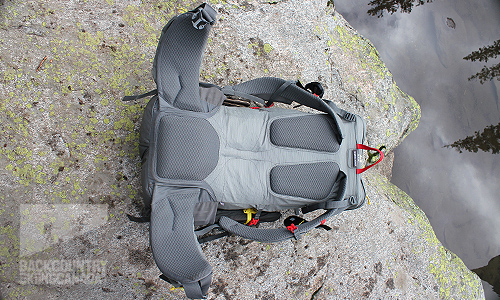 After descending Paiute Pass we camped at Pawnee Lake for the night and got more aquatinted with the in's and out's of the Sweet Suite two person, 3-season tent. While this tent is not the lightest 2 person tent in Sierra Designs 2018 spring line (this honour goes to the Studio 2 Tent), the Sweet Suite weighs in a hair over 3 pounds which is more than respectable when you consider the interior space and configuration options available. The abundance of vestibule space and optional star gazing set-up are some of my favourite options on the Sweet Suite, it's just too bad the weather didn't cooperate. Check out this video overview of the Sweet Suite to learn more: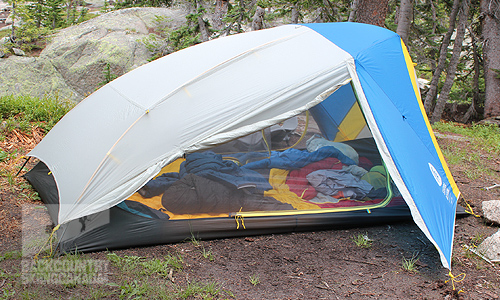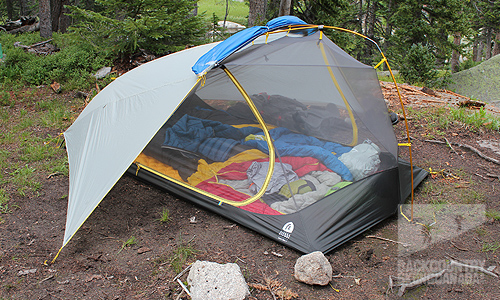 On day three we hiked out to the trail head with a brief stop at Mirror Lake which is just shy of Crater Lake, and while both lakes have stunning views of Apache Peak we only had time to make it to the first one. Overall we hiked a total of 35 km / 22 miles with 4,400ft / 1340m of elevation gain over the course of three days. While I'd had ideal conditions for product testing, I do wish we had a few extra nights to enjoy more of the Indian Peak Wilderness and take in more of the terrain and views.
For all the route details check out Backcountry Skiing Canada's Mountain Hub page or their blog post about the trip over here. We even have stats from the Garmin Fenix 5X GPS watch on our Garmin Connect page, here and here.
Sierra Designs also has a new one person tent called the High Side which integrates a innovate awning option should you have some trekking poles handy. Learn all about this new tent in the following video overview: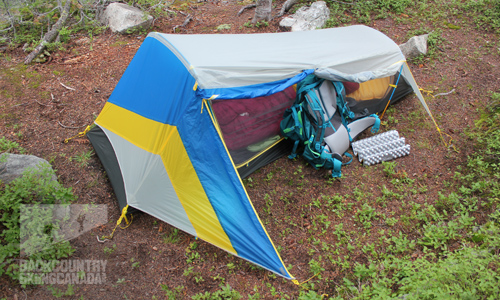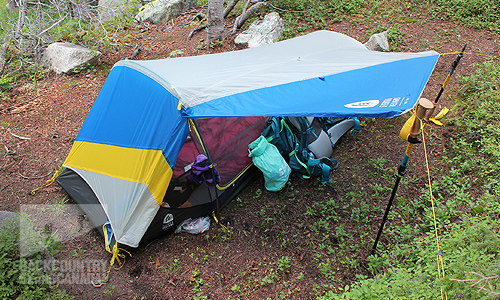 As mentioned above the lightest 2 person tent in the Sierra Designs 2018 line up will be the Studio 2 Tent, with slightly less room and weight than the Sweet Suite, the Studio 2 (and the 3-person version) are ideally suited for those looking to shed weight with out compromising on interior livable space. Watch the following video overview for the full story on the Studio 2 Tent: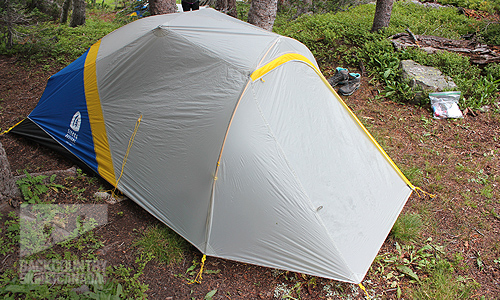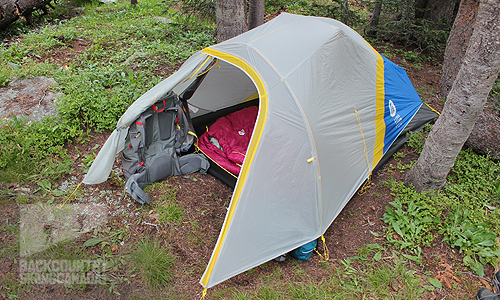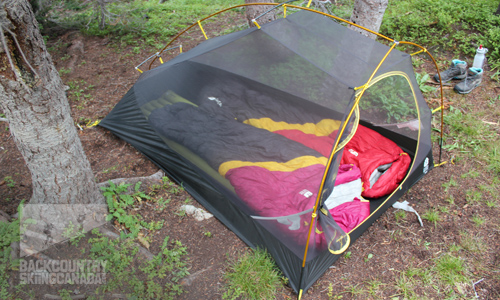 ---
Sierra Designs Sweet Suite Tent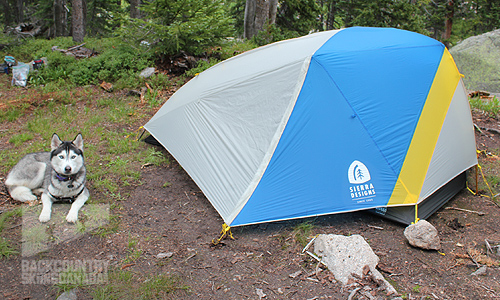 Features:
Unique pre-bent pole geometry creates exceptional interior space at a minimum weight
Two-doors and two vestibule design - provides all the space and convenience you need
Compact storage size - takes up minimal space in your pack
Fast and easy set-up
Materials:
Poles: Two DAC Featherlight Aluminum poles
Body Material: 15D Nylon No-See-Um Mesh
Floor Material: 30D Nylon Ripstop, DWR/1200mm PeU, FR CPA184
Rainfly Material: 20D Nylon Ripstop, Silicone/1200 mm PeU, FR CPA184
Specs:
Price: $379.95 US
Weight: 1.39kg / 3lb 1oz
Capacity: 2 Person
Seasons: 3 Season
Floor Space: 216 x 130cm (head) x 122cm (foot) / 85 x 51" (head) x 48" (foot)
Vestibule Space: 0.83 + 0.83sq m / 8.9 + 8.9sq ft
Head Height: 102cm / 40in

---
Sierra Designs Flex Capacitor Pack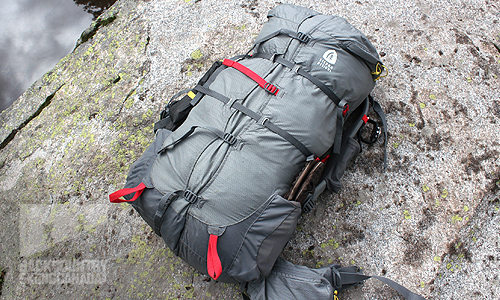 Features:
Expandable 40-60L volume (volume varies between sizes)
Ultralight weight design
2 torso sizes (non-adjustable)
4 hip belt sizes
U-shaped top access zipper
Zippered stash pocket on lid
Removable reservoir sleeve
Shoulder strap water bottle pocket
Stretch mesh side water bottle pockets
Two hip belt pockets
Compression straps
Ice axe/trekking pole loop
Materials:
Body Fabric: 100D Nylon-Poly Ripstop
Secondary Fabric: 420D Nylon Oxford
Stay Material: DAC Pressfit Aluminum
Number of Stays: 1 "Y-FLEX" stay
Specs:
Price: $199.95 US
Sizes: S/M, M/L
Hip Belt Sizes: XS/s. S/M, M/L, L/XL