Helly Hansen's LIFA INFINITY PRO is a game changer
Helly Hansen has a long history of innovation over their 144 year existence—yup, you read that right. The company was founded almost a century and a half ago by Norwegian Captain Helly Juell Hansen when he started soaking coarse linen with linseed oil to make water-resistant clothing for workers at sea. The company went on to pioneer waterproof/windproof and breathable material technology in their Helly Tech Fabric, and their LIFA base layer was the first technical base layer.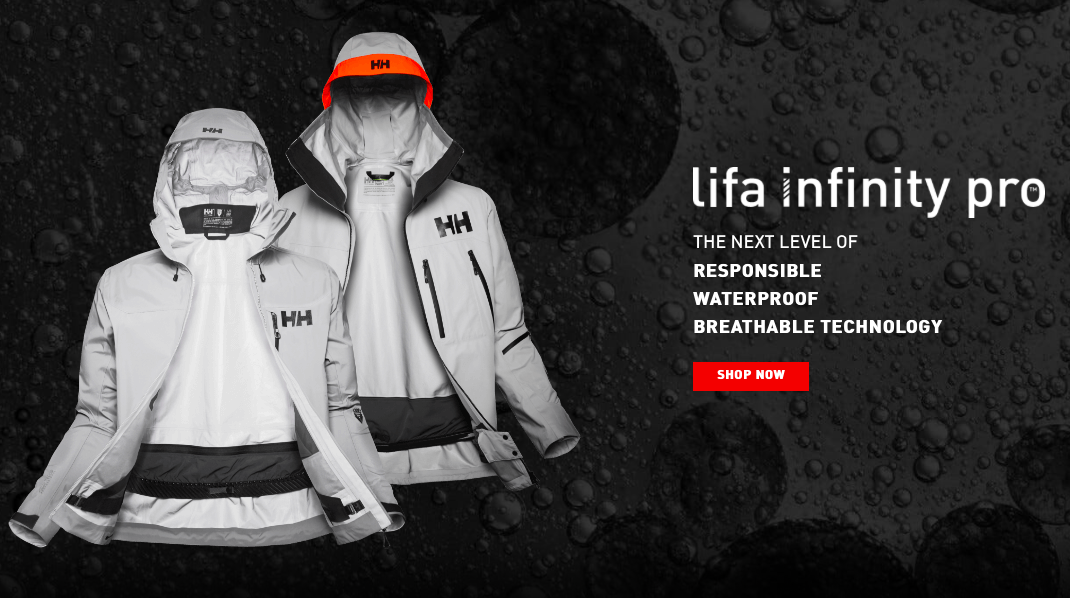 Helly Hansen's latest fabric is called LIFA INFINITY PRO and is the "Next level of responsible waterproof breathable technology". It uses Helly Hansen's LIFA fibres to achieve a lightweight hydrophobic fully waterproof and breathable membrane that provides durable water repellent (DWR) performance without the need for any chemicals. Not only does the DWR not use any chemical coating but it never needs to be reproofed like other traditional waterproof-breathable fabrics.
  LIFA INFINITY PRO has a highly breathable microporous polypropylene membrane that consists of nearly 75% air by volume with nanoscale pores for breathability. Helly Hansen created this unique structure through extrusion in a solvent-free dry process that stretches the LIFA  in different directions through a series of different temperature zones. The resulting membrane provides a waterproof, wind resistance, and breathability fabric that is used in men's and women's jackets and pants which are ideally suited for resort and backcountry skiing.
I got my first peek at Helly Hansen's new LIFA INFINITY PRO technology at the 2020 Outdoor Retailer Show in Denver Colorado as you can see in the following video, and it blew us away: 
  Last winter I then tested Helly Hansen's new Odin Mountain Infinity Shell Jacket which is made with LIFA INFINTIY PRO while ski touring for a few days at Callaghan Country Lodge near Whistler BC. Over the course of thousands of vertical feet of climbing and skiing the LIFA INFINITY PRO technology performed as promised and I was super impressed by how rugged, comfortable, and compact the Odin Mountain Infinity Shell Jacket was.
If you're looking for a new backcountry or resort shell jacket or pants then
click on over here to see Helly Hansen's full selection of LIFA INFINITY PRO apparel
.