Yaesu FT-270 VHF radio
Back Country radio!
The FT-270R is a compact, high-performance FM hand-held providing up to five Watts of RF power, along with big audio output (800 mW) and unmatched protection against the elements!

Protected against water ingress to IPX7 specifications (submersion for up to 30 minutes at a depth of 3 feet), the FT-270R features long operating time, thanks to the supplied 1400 mAh NiMH Battery Pack.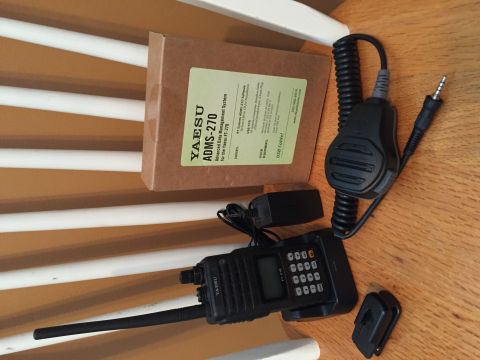 This radio is great for backcountry communications. Use it when traveling radio controlled logging roads for added safety. Can be used with various emergency services frequencies for emergency situtations i.e ski patrol, SAR, BCAS, heli/cat ski operations, mountain resort repeaters etc
If you are interested i can provide more details with programming radio freqencies.
Comes with external speaker mic, programming software, desktop charging cradle and swivel radio belt clip.
Radio is also broadbanded to transmit and recieve 136-174Mhz
$300
Contact: