White Planet book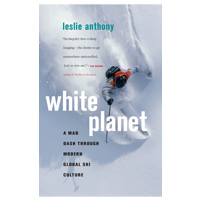 Leslie Anthony needs little introduction. As the long-standing editor and writer for Powder Magazine, Creative Director for Skier magazine and contributor to Equinox and Explore magazines (among many others) for the past 21 years, he has been an integral voice in the evolution of the modern skier and of the locations where the deepest, driest snow falls in absurd depths. An award-winning author, poet and journalist, Anthony has become something of a cultural icon in the skiing world.

In White Planet (Greystone Books), Anthony encapsulates decades of world travel in search of deep powder skiing and a seemingly ephemeral yet surprisingly homogenous ski culture. The book largely draws from his many escapades as a correspondent for magazines, delving into the landscapes, characters and finicky weather patterns that define this global tribe dedicated to sliding on snow.

From Mexico to Japan, Chile to New Zealand, this collection of short autobiographical stories reveals sought-out destinations and the collective fear and celebration of mountains. Were this not an account of real adventures, it would be hard to believe the sometimes absurd and certainly wild stories. At the heart of it, White Planet begs envy, delves into the coherency of our own deep snow cultures and asks us to suspend our relatively benign lives to experience something more adventurous and profound.

However, these stories are more than simply personal accounts. Anthony weaves the deep history of skiing and the perceptions and musings of skiing's greatest icons, from the forefathers of powder skiing to contemporary legends of the sport. His experiences mirror and at times embody their perceptions and philosophical treatises in an articulate – if not at times academic - manner.

"Indeed, no other substance on Earth is as transformative as snow, which, perhaps, isn't surprising given that no other element has the chameleonic properties of snow's precursor, water," he writes. "And no other type of snow has the mutative capacity of powder. It is there, then it is not, settling, consolidating, moving with the breeze, deliquescing in the sun. Morphing all too quickly, it reminds us that the two-million-year-old blue ice on a glacier's face was once the stuff of face-shots."

But Anthony stops shy of trying to nail down our nebulous desire for powder snow, instead offering up numerous examples of how we all fail in any attempt to define what this insatiable desire means and the ultimate question of why we risk our lives, money and time in pursuit of cold smoke in our nostrils.

"Describing precisely why you did what you did was mechanistically impossible, because skiing is feeling versus understanding; the knowledge of experience," writes the author.

Anthony's "experiences" are the heart of this insightful book; his stories show rather than tell, reveal rather than convey, and ultimately bridge vastly different cultures to demonstrate a universal connection to skiing. In war-torn Lebanon, amid guns and high tensions, he finds something beyond the politics of popular culture: "…it seemed those ashes were finally being blow away by the winds of change and optimism. Hope was now replacing darkness with light and we were helping – the language of outdoor experience did cross barriers, and skiing was its most international dialect."

Despite this optimism, however, there is a sense of loss in White Planet. Not merely the potentially destructive reality of global warming, but also a cultural delusion of what skiing culture is becoming, or has become. In the final chapter, Anthony travels to China – where skis, clothing and just about every other snow trinket is manufactured – to examine their new found desire to build ski resort after ski resort, no matter how little snow, and build at the very least a façade of ski culture. The struggle between what actual skiing is and the popular commodity is apparent.
Regardless, Anthony leaves us with a sense of hope – standing amid the deep snows of an Indian forest buried in deep powder: "I finally understood what it all meant, what this feeling was. Like love, powder came and went from our lives. We enjoyed it when it was there, craved it when it disappeared, and, ultimately, survived on the belief that it would one day find us again."

Anthony's White Planet is a comprehensive and remarkably well written delve into the deep powder dreams we all share. For a passionate skier, it's impossible to read White Planet without feeling a sense of belonging to a distinct tapestry of mountain culture, woven one turn at a time.
SPECS:
Price: $21.95 CDN
PROS:
White Planet is comprehensive and remarkably well written.
CONS:
None.
This is only our opinion. Do you disagree? Did we miss something? Are we totally out to lunch? Join the discussion in the forums here, and let us know what you think. People like/dislike gear for different reasons so chime in and we'll get a well-rounded evaluation. Check back mid-season to see how our review stands up to our in-the-field testing.
Back to the rest of the reviews.
---

---
Backcountry skiing is an inherently dangerous activity that requires experience and knowledge to travel safely. Any of the routes on this site may be dangerous depending on conditions. You are responsible for your own safety in the backcounty—the team behind backcountryskiingcanada.com disclaim any responsibility for any injury resulting from people travelling on routes described on this site. To read our Terms of Use and get all the details, read HERE.
---