Vertex Standard VX-231 VHF Radio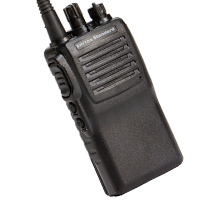 "Transceiver, probe, shovel" is the mantra most backcountry skiers preach prior to any ski tour. What happens though after you locate, pin-point and dig out the subject? If you have trauma or incapacitating injuries then your first aid training will come into play but this will only help stabilize the situation - you'll need professional help and fast. Many people never think beyond the relief of finding the buried person; a fact that is exacerbated by the reality that most training scenarios end once you find the subject, then all is well. Sadly, in real life this is not often the case. According to statistics and snow science guru Pascal Haegeli, trauma causes as many as a third of all avalanche fatalities. So once you dig out the subject, you need communication with the outside world and you need it to be reliable.
This is where a VHF radio comes in. In general a VHF radio will be more reliable than a cell phone as it is not dependent on…well, cell service and, therefore, provides a better chance of being able to communicate with those that can help in the field. I have recently added the Vertex Standard VX-231 VHF Radio from Amerizon Wireless to my safety gear. This is a compact and portable VHF radio that is pretty basic for even the biggest of technophobes out there. With a VHF radio at hand you are better able to contact nearby ski patrol, park wardens, cat/heli operations, guides or other members of your party. This could save valuable time when it matters most and give you a link to the outside world for help.
The Vertex Standard VX-231 VHF Radio has a 16 channel capacity with two programmable keys on the side and 5 watts of transmitting power. The list of programmable options is explained more below. The VX-231 comes with an 1150 mAh battery which provides 9 hours of operation with the battery saver enabled. Alternatively, you can upgrade to the 2000 mAh Li-Ion battery for up to 16.5 hours of battery life. Vertex radios are designed and tested to meet the U.S. military standards MIL-STD 810 C, D, E, F, for shock, vibration, rain and dust, so you can be pretty sure it will stand up to your day to day use on the trail.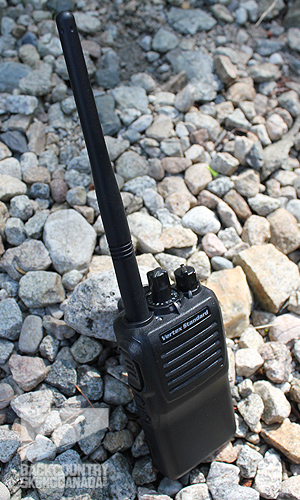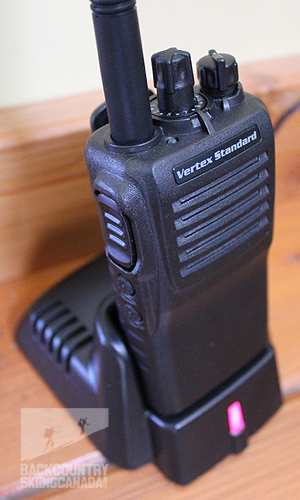 Features:
- Battery power: A 1150mAh lithium ion battery provides 9 hours of operation with the battery saver option enabled.
- Wide band coverage: Full VHF and upper range of UHF bands for extended frequency options.
- Auto-Range Transponding System (ARTS): Informs you when you and another ARTS equipped radio are within communication range by transmitting for 1 second every 55 seconds. If you fall out of this range for more than two minutes then the Vertex Standard VX-231 VHF Radio senses no signal has been received and beeps to alert you so that you can move back within transmitting range. This is a great feature while backcountry skiing or hiking with multiple groups.
- Two Programmable keys: On the left side of the Vertex Standard VX-231 VHF Radio there are two programmable keys that can be programmed for the following operations:
Mon - disables tone squelch
SQL Off - disables noise and tone squelch
SQL Set - manually adjusts squelch levels
Low Power - saves battery power by switching to low power mode, it's good to switch back to high power when in more difficult terrain
Scan - scans multiple channels at once for a signal
Follow-me Scan - checks a user assigned channel regularly while scanning other channels
Scan Set - allows you to delete from and restore channels to the scanning list
Dual Watch - same as scan but only two channels are monitored
Talk Around (TA) Scan - scans both the transmit and receive frequencies
TA - allows you to bypass the repeater and talk directly to another station when operating on a duplex channel system
TX Save Disable - disables the transmit battery saver function to save battery life
Rest - silences the receiver and resets for another call
Call - allows you to send a programmed 2-tone sequential tone
Speed Dial - sends to a pre-programmed auto-dial telephone number
Lock - locks the channel knob, programmable keys and push to talk switch
Simplified interface.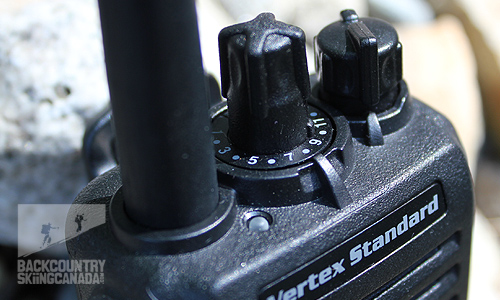 Push-to-talk and two programmable buttons.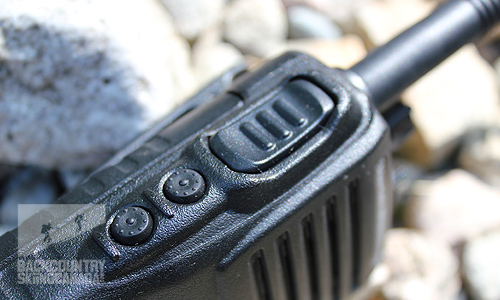 Battery compartment lock.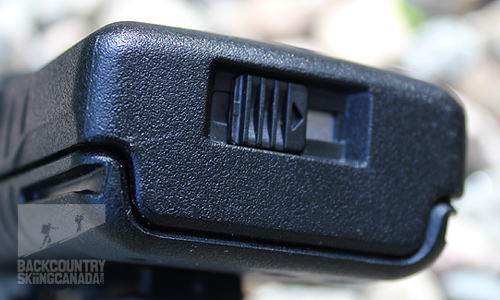 Battery pack removal/installation.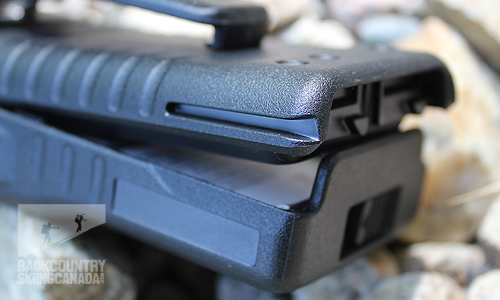 What's included:
- 5 Watt 16 Channel UHF Transceiver with Flex Antenna
- 9 Hour Lithium Ion Battery
- 3 Hour Rapid Rate Desk Top Single Unit Charging Station
- Heavy Duty Belt Clip
- Owners Manual
- Warranty Registration Card
- Free Custom Frequency Programming*
Radio with Vertex Standard FIF-12 USB programming cable.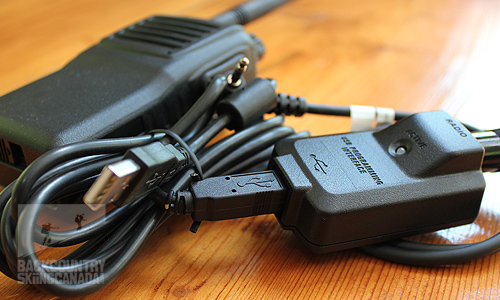 Verdict:
I am no technophobe and can generally grasp technology concepts fairly easily but when there is an option that is lighter, more compact and simpler I will take it every time. This is precisely the goal of the Vertex Standard VX-231 VHF Radio. While the VX-231 doesn't have many of the complicated features you can get on other VHF radios, it is cheaper, easier to use and easier to carry around.
Since the Vertex Standard VX-231 is not field programmable you have two options: you can get the distributor to pre-program your frequencies or you can purchase the programming cable and program the frequencies yourself at home (see photos below). At over $100, the programming cable is not cheap and unfortunately the software required only runs on PCs with no Mac version currently available.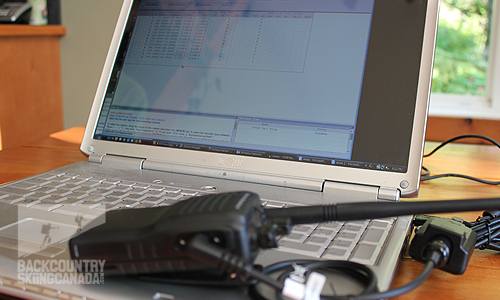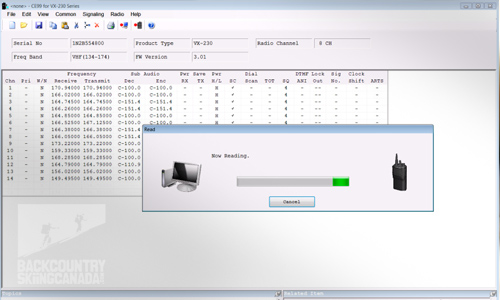 There are 16 channels on the Vertex Standard VX-231 VHF Radio and, although some may say this is too few, I found it was enough to cover the areas I consistently ski tour or hike in around where I live. For trips outside of my immediate region I did have to re-program a few channels to ensure I had the preferred frequencies for that area. I found, however, that this process is fairly painless once you install the driver and current software. To complete the reprogramming you simply: connect the radio to the computer, download the information from the radio, make your modifications via a point and click interface and then upload the new data. (The Vertex Standard FIF-12 USB programming cable is required to re-program the radio and is available from Amerizon Wireless for $119)
We here at Backcountry Skiing Canada HQ will use this radio primarily to: provide emergency communications (should it be needed), keep in contact with others while at backcountry lodges or to communicate with other members within our group should we become separated or just want to line up that epic photo sequence. For testing purposes this summer we used the Vertex Standard VX-231 VHF Radio in much the same capacity on multi day hiking and mountaineering trips. It was reassuring to have it in my pack as an emergency communication device and instrumental in communicating with base camp while climbing as a group during the day. I also liked knowing that the VX-231 is build for tough environments and, as such, I didn't have to worry about using it in incremental weather.
Overall this is a good quality VHF radio for the average backcountry enthusiast that wants some piece of mind without breaking the bank or weighing down their pack or brain with excess technology.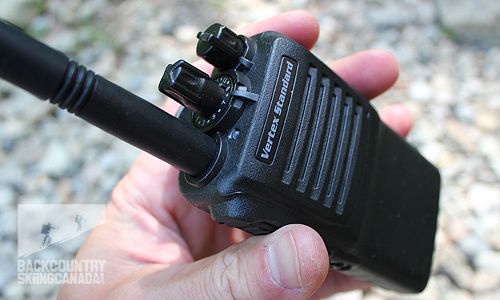 SPECS:
Price: $167.00 US
Size: 4.3" x 2.3" x 1.2", 110mm x 58mm x 30mm
Weight: 285g / 10.1oz
Battery: 9 hour Lithium-ion1380 mAh
Channels: 16
Warranty: 3 years
PROS:
Light, compact, simple to use, economically priced with a 3 year warranty, built to military standards for rain and dust. Did we already say simple to use and inexpensive?
CONS:
Not field programmable, no channel display, limited to 16 channels, programming cable is expensive, the software is not Mac compatible.
Rating: 8/10
Ease of use 1/2
Features 1.5/2
Quality 2/2
Size / Weight 2/2
Price 1.5/2

This is only our opinion. Do you disagree? Did we miss something? Are we totally out to lunch? Join the discussion in the forums here, and let us know what you think. People like/dislike gear for different reasons so chime in and we'll get a well-rounded evaluation.
Back to the rest of the reviews.
---
---
---
Backcountry skiing is an inherently dangerous activity that requires experience and knowledge to travel safely. Any of the routes on this site may be dangerous depending on conditions. You are responsible for your own safety in the backcounty—the team behind backcountryskiingcanada.com disclaim any responsibility for any injury resulting from people travelling on routes described on this site. To read our Terms of Use and get all the details, read HERE.
---