The Lodge.
The normal program is to stay in the lodge, a cozy two-storey space that sleeps up to ten guests in five distinct bedrooms. There's even one room downstairs to accommodate heavy snorers. Though we were in the sugar shack, we fraternized a little with the lodge dwellers and got a got sense of their experience. It's wood heat with a stove that keeps everything nice and toasty. The kitchen is fully equipped with pots, pans and everything you'd need for a week's stay. There's running water thanks to a nearby stream and a system that's functional but a little finicky. The downstairs is open concept with a dining area, chill-out space around the woodstove and the kitchen.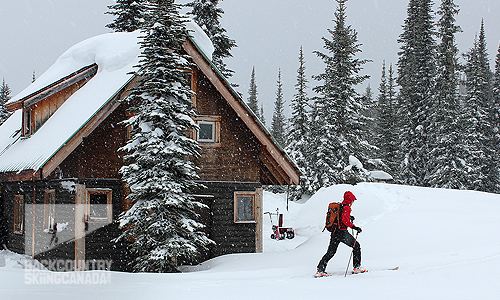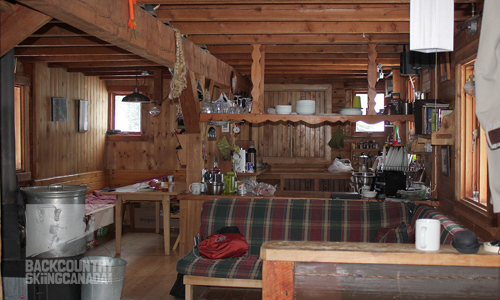 Outbuildings.
As well as the aforementioned sugar shack for hut custodians and ski guides, there is a fully functioning, six or-so-person sauna a little ways away from the lodge. In the same building, you'll find a shower that works from warm/hot water taken from next to the sauna's firebox. It's a basic rig with a bucket, pulley, and rope that functions perfectly and feels great after a day or two of touring. Adjacent to the lodge's front door, there's a wood shed with which you'll likely become familiar.
The Skiing.
Sure, many people go for the self-guided program. Having a guide though—especially one who knows the terrain like the back of his hand—means you'll go places you'd never go on your own. Leo, a certified ACMG ski guide, has been skinning and skiing in these mountains for decades and he endeavoured to give us a very thorough "overview" in our days there. Here, variety is the name of the game and just outside the cabin there are a number of great lines to be had. The names are admittedly arbitrary but, right around the lodge, there are shortish shots with names like Cabin Fever and Angel Basin. Another option, slightly east, and looker's right, is Woden's Path which is accessed by a fairly hairy traverse and delivers a lovely sustained vertical run, right down to the flats of McKean Lakes.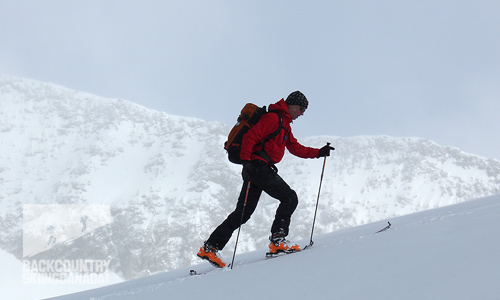 The skiable zones surrounding the lodge seem infinite and are a definite asset. If conditions are windblown or avalanches are sliding above the hut's 2200 m (6900') there's lots of stuff below to explore. One day we did a run called Under the Rhino. It was about a 45 minute skin to the run's kickoff and an incredible 920 m (3000' or so) vertical drop to the valley bottom. Again, thanks to Leo, we knew the best way up through the trees. It's one of those runs that seem to go on forever—as does the uptrack.
Another route we took to the same valley bottom (or nearby) was Praise Alley, accessed by an uptrack just west of the lodge. This was a tight-ish chute that demanded a non-stop ski and allowed us to stop our descent where we wanted. I think we hooked onto our old uptrack from the day skiing Under the Rhino. Handy.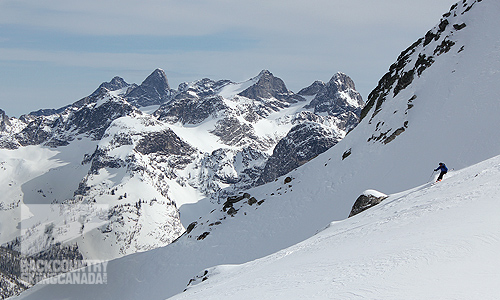 Probably the best day of the trip (for me anyway) was when we went into Hoder Creek Basin and skied down an incredible line called Rolling Thunder. Starting from an unnamed highpoint at about 2400 m (7900') and skiing down to the bottom at about 1600 m (5250'), the line hugs these massive granite peaks and wends its way down and down. The scale of the terrain at Valhalla Mountain Lodge is reminiscent of Roger's Pass and is equally dramatic. As with Under the Rhino, what goes down, must come up. That was a big day with a hell of a slog out of Hoder Basin.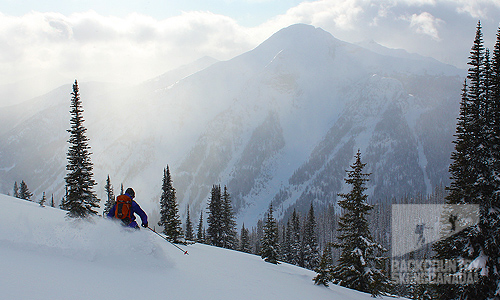 Who'd love it?
Apparently, most of the groups heading into Valhalla Mountain Lodge are mostly self guided and self catered. The group there with us that week was guided and self catered and it seemed to work out fine. The hut can accommodate any permutation you choose—from full assist to no assist (but there will always be a custodian). Apparently, many groups are happy to guide themselves because the neighbouring terrain isn't overly prone to avalanches. Of course, everything runs some years, but it may be less at Valhalla Mountain Lodge than elsewhere nearby.
The lodge is neither the most rustic, nor is it the most luxe—it's somewhere in-between. The "facilities" are outside, and there are always some key chores to carry out to maintain comfort (like getting firewood). I'd say the ideal candidate for Valhalla Mountain Lodge is an intermediate to expert skier, who is there for the skiing rather than getting pampered after it. I have been to about 5 or 6 lodges throughout BC and this one ranks in the top two for the quality of skiable terrain available. I'd love to get back in there someday soon to ski some of the lines we missed. I highly recommend the Valhalla Mountain Lodge Experience. Thanks to Leo and Bomber for the experience!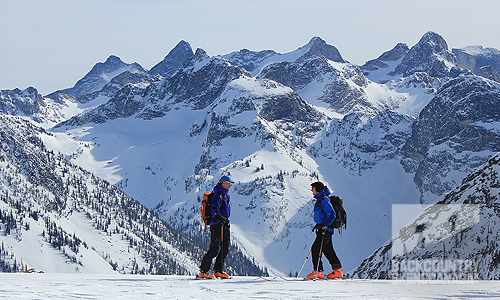 Specs.
Price: Self-guided, self-catered = $ 1150.00, Guided, self-catered = $1575, Guided and catered (based on 10 people) = $2035.
Location: Staging area is in Burton on the Lower Arrow Lake, about 20 minutes south of Nakusp.
The closest reliable airports are (note the absence of Castlegar):
Spokane, WA – 400 km
Kelowna, BC 200 km
Cranbrook, BC – 300 km
Rating: 8.5/10
Comfort 1.5/2
Accessibility 1.5/2
Terrain 2/2
Amenities 1.5/2
Quality/Price 2/2